Woman's Sarcastic Cancel Culture Rant as Louis CK Sells Out MSG Goes Viral
An influencer has poked fun at comedian Louis C.K. in a viral video after he sold out Madison Square Garden (MSG).
Talia Lichtstein stood outside the front of the iconic New York City stadium while a promotional image of C.K.'s show appeared behind her with the words "sold out" clearly visible.
Lichtstein sarcastically referred to the "cancel culture" that exists around male celebrities who claim their careers are ruined once they're accused of sexual misconduct. The comedian admitted to sexual misconduct accusations in 2017.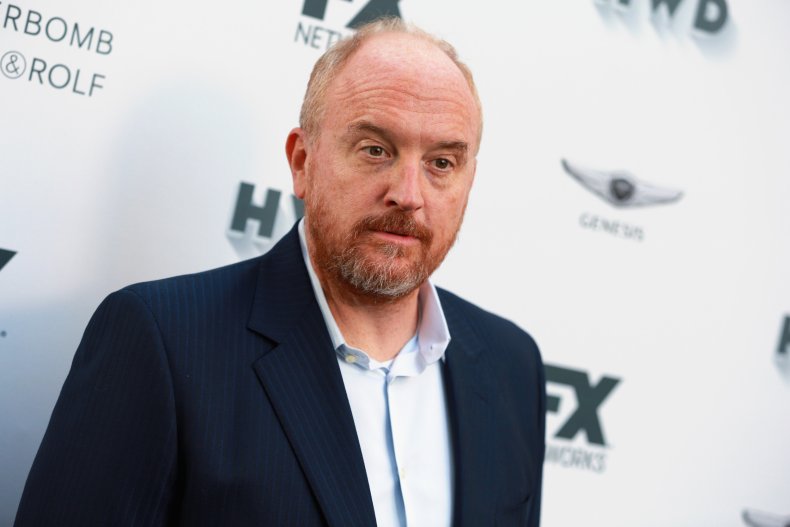 "I'm going to say something controversial, like hear me out," Lichstein started, while standing in front of MSG.
"Can we stop canceling guys who are such wonderful, brilliant artists over like, hearsay, like women have stories of them being creepy but like nobody knows the real story. And like yeah, sure a couple of people have the same story. Like okay, just so that we could tell that story that guy never gets to work again like even if he admits to it and he pays a settlement or he apologizes their career is f***** forever."
She continued: "They can never reach the same level of success, they can't sell the same number of tickets. They can't do what they love, or pursue their passion anymore. It can ruin their lives. Like, literally, we're ruining guys lives over this."
Lichtstein posted the video to her TikTok, where it got 1.3 million views and was then also shared by writer Meecham Whitson Meriweather to his Twitter account.
"Finally someone said it," Meriweather wrote on the tweet, which had been viewed 2.1 million times at the time of writing.
C.K. was accused by five women of sexual misconduct, including exposing himself and masturbating in front of them in incidents that occurred in the late 1990s and early 2000s.
"The stories are true. There is nothing about this I forgive myself for. And I have to reconcile it with who I am," C.K. said in a statement on November 10, 2017. "I have spent my long and lucky career talking and saying I want. I will now step back and take a long time to listen."
After his admission, C.K.'s film I Love You Daddy was canceled, as was his scheduled appearance on The Late Show with Stephen Colbert. HBO later dropped him from its November 18, 2017, special, Night of Too Many Stars: America Unites for Autism Programs.
He made a return to stand-up comedy in 2018 and in December of that year he received criticism for jokes about school shooting survivors, transgender people and people with mental disabilities.
C.K. then went on a comeback tour in 2019 and released a comedy special on his website in 2020.
He has even won a Grammy since the allegations came out. He scooped the 2022 Best Comedy Album award for his album, Sincerely Louis C.K.
Along with his current sell-out tour at major venues around the country, he has also starred in feature film Fourth of July, TV series Better Things, a TV special called Louis C.K.: Sorry, and worked as a writer on the podcast series, Long-Distance Relationship.