Julie Green, a self-proclaimed prophet and fervent supporter of former President Donald Trump, said during a recent episode of her online show that she received a message from God about how leaders currently in power are "about to take their ultimate fall."
Green frequently shares messages, which she says God sends to her, in videos posted on streaming channels for her Julie Green Ministries International. Past predictions have included that Democratic Representative Nancy Pelosi of California would die before the 2022 midterm elections and, more recently, that the indictments against Trump would "explode" and "all fall apart."
Green has been a featured speaker at right-wing ReAwaken America events, which also have featured guests such as former Trump adviser Michael Flynn and Eric Trump, one of the former president's sons. The younger Trump appeared on Green's show last week, and she told him messages from God to her indicate that the Trump family is receiving God's protection.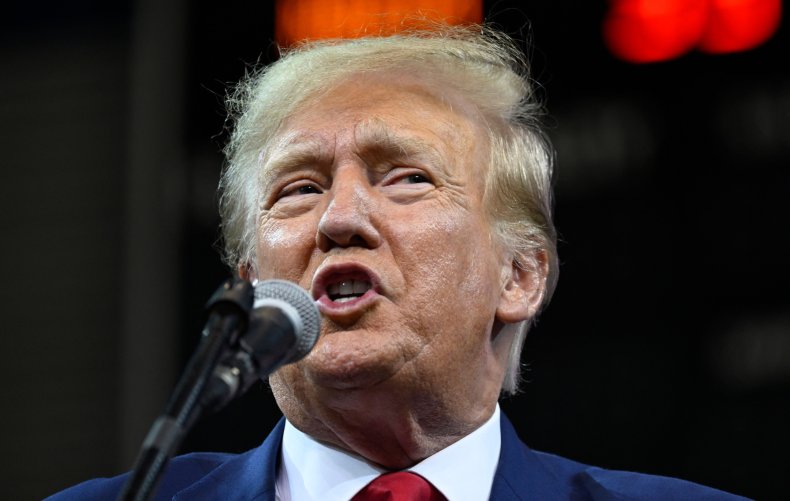 In the more recent "prophecy," Green suggested that God gave her a message about Democratic leaders who are enemies of Trump.
"Their ultimate destruction is near," she said. "You will see one big massive event unfolding in front of your eyes. It'll be hard for you to believe what you're seeing. Their walls are coming down."
Ron Filipkowski, editor-in-chief of the liberal media outlet MeidasTouch, posted a clip of Green's message regarding "enemies" about to take an "ultimate fall" on X, formerly Twitter.
"Fresh off her podcast with Eric Trump, MAGA 'Prophet' Julie Green has God take possession of her body to say that Biden and the Deep State will be destroyed by 'one big massive event .. The walls are coming down!'" Filipkowski wrote.
Newsweek reached out to Green through her website for comment.
Elsewhere in her "prophecy," Green continued with the message she said she received from God regarding these enemies.
"Their walls are falling in on them, and they will not stay in their power. They will not stay in their positions," she said. "They will not stay where they are. No, they will not. I am removing them. I am restoring you."
She added: "Things are going to happen quicker now."
In another video posted on Monday, Green said: "Washington, D.C. is about to look very differently" before saying Trump is the "rightful president." She then pushed the widely debunked claim that President Joe Biden did not rightfully win the 2020 presidential election.