Man Joking About Going to Abortion Protests to Pick Up Women Sparks Debate
A man's joke about picking up women at an abortion rights protest has gone viral, sparking a divided response online.
Protests erupted across the United States after the Supreme Court overturned Roe v. Wade on Friday, ending the constitutional right to an abortion. At least 10 states have effectively banned abortion since the ruling. In all, 26 states have laws indicating they could outlaw or severely limit abortions, according to the Guttmacher Institute.
The Supreme Court decision was met with disapproval from 67 percent of women and 51 percent of men, with a breakdown falling largely along party lines, a CBS News/YouGov poll revealed. The ruling was blasted by Democrats, a range of celebrities, President Joe Biden and companies that pledged to pay for their employees to travel across state lines for abortions.
Against the backdrop of fury from abortion rights protesters nationwide, a man's quip about picking up women at demonstrations went viral on Sunday.
"Who needs Tinder?" asked TikTok user @kinserb55 in a video with 1.4 million views. "We have abortion protests."
He smirked at the camera from within a crowd of protesters, predominantly women, marching with signs supporting abortion rights.
"Think smarter not harder y'all," he added. In the caption, a hashtag indicated his post was "satire."
He further drove the joke home with a comment below the clip that said, "Pro life? Pro choice? Nah I'm pro get some b**ches."
Reactions to the video appeared to be strikingly divided by gender. For the most part, viewers whose names or profile photos suggested they were men shared amusement and praise. Several called the TikToker a "legend," a "genius" and a "hero" and said he was "playing chess, not checkers."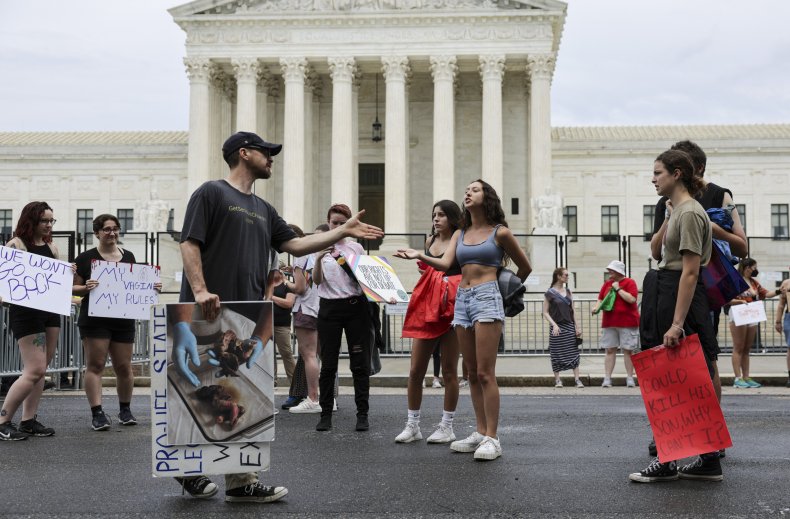 "Dude I did the same thing," said a user who went by Edward Ontiveros. "Just agree with them and they are all yours."
"Go to one and say your body your choice and they fall in love," agreed a viewer whose profile appeared to feature a man perched on a car.
"I used to go to the clinics and pick up b**ches," shared another admirer called David Traxler. "You know they don't want kids it's a win win."
However, a few women in the comments section said they were less impressed.
"This is why we don't trust men," said a user identified as Eliza Rose.
"This is why many of us prefer women," added viewer Cindy Oppedal Pasche.
Newsweek reached out to @kinserb55 for comment.