Marjorie Taylor Greene Accuses Georgia Republicans of Fraud in County Chairman Vote
Republican Georgia Representative Marjorie Taylor Greene has accused the Fulton County GOP in her home state of committing fraud in a recent election for chairperson.
In a tweet thread published on Thursday, Greene said that the county's GOP held a vote for a new chairperson on April 17.
"The party of election integrity collected votes in 9 red solo cups," Greene wrote. "The outcome was more votes than voters & existing chair Trey Kelly 'won.' But new people had joined. The people in outrage demanded a second vote..."
She said that in the second vote, delegates formed a single-file line and put their vote into a glass bowl themselves. As a result, Susan Opraseuth won the election, Greene said.
"Imagine that," Greene added.
"But somehow the party of election integrity has now awarded the old chairman, Trey Kelly his chairmanship back on appeal of a supposed technicality of words 'point of order' or 'objection,'" she continued.
"What matters to these Republicans?" she asked. "The people's vote? Election integrity? ...Or that they keep the same old good 'ole boys in charge that just organize a monthly breakfast?"
"No wonder Stacey Abrams is whipping GA Republicans ass," she concluded.
Newsweek contacted the Fulton County Republican Party for comment.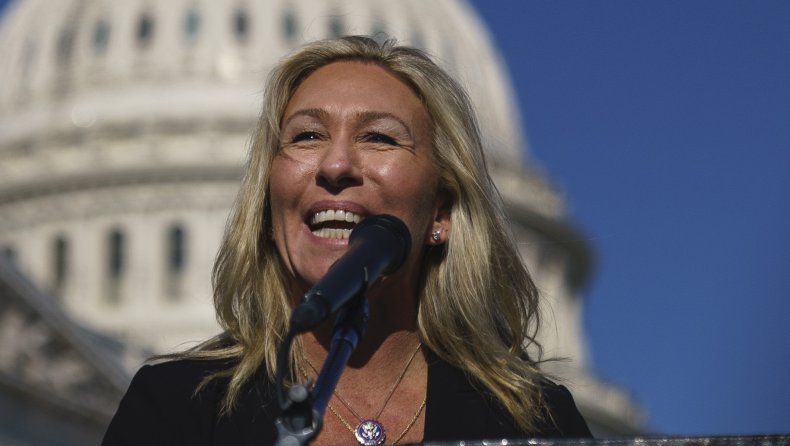 Georgia remains a focal point of Republican division and dissatisfaction following former Republican President Donald Trump's baseless claims that the state's top officials—Republican Governor Brian Kemp and Secretary of State Brad Raffensperger—allowed voter fraud to help now-President Joe Biden win the state in the 2020 election.
Kemp and Raffensperger both disavowed Trump's claims of statewide voter fraud. Nevertheless, in early April Kemp signed a new election law limiting absentee ballots and early voting, restricting ballot drop boxes and imposing new voter ID requirements.
In Trump's statement criticizing the law, he accused Kemp of having "caved to the radical left-wing woke mob" for allowing that state to maintain weekend voting. Trump said the left threatened to label Kemp as a "racist" if he ended the practice. Many Black churches complained that ending weekend voting would impact their "souls to the polls" initiatives that help congregants vote after Sunday church services.
Greene, a vocal Trump supporter, has echoed Trump's baseless claims that an unprecedented nationwide conspiracy of voter fraud caused him to lose the 2020 election.
After the 2020 election, the Trump campaign and Republican officials filed over 60 court cases alleging massive voter fraud, although only in the states that Biden won. Nearly all of the cases were dismissed or withdrawn from courts due to lack of evidence. Trump has since claimed that the states that he won in the election were entirely free of fraud.
Two former Trump Administration heads have said that there's no evidence that the 2020 election was rigged. Attorney General William Barr, Trump's head of the Department of Justice and the Department of Homeland Security said so. So did Chris Krebs, the former head of the Cybersecurity and Infrastructure Security Agency (CISA), the federal agency in charge of maintaining election security.
Greene has voiced support for extremist conspiracy theories in the past.
In her past social media activity, she said that an airplane never hit the Pentagon during the September 11 terrorist attacks, that all school shootings were faked and accused former Secretary of State Hillary Clinton of slicing off a child's face and wearing it. She has also proclaimed belief in many other conspiracy theories.
Her support for these conspiracies led House Democrats and 11 Republicans to vote for her removal from the House Committee on Education and Labor and the House Budget Committee near the start of February.