Marjorie Taylor Greene Accuses Government of 'Murder' Over Withholding Ivermectin for COVID
Republican Rep. Marjorie Taylor Greene on Sunday accused the federal government of "murder" for withholding ivermectin as a treatment for COVID-19.
"The government can't mandate a vaccine if there are treatments for covid, and early treatment of Ivermectin and monoclonal antibodies is a CURE in most cases," she wrote in a Telegram post. "Withholding these treatments is murder, and I believe the government is responsible."
Ivermectin is an anti-parasitic drug that some believe can treat COVID, but the U.S. Food and Drug Administration (FDA) and the National Institutes of Health warned that it is unauthorized for use in COVID patients.
Meanwhile, Health Canada also warned against the drug and noted that "there is no evidence that ivermectin in either [the human or veterinary] formulation is safe or effective when used for those purposes."
Still, Greene insisted that ivermectin is a "well known cheap safe effective drug that saves lives."
"In foreign countries, you can walk in a pharmacy and buy Ivermectin over the counter without a prescription like I did, and it has saved many lives," she said. "In America, the FDA tells pharmacies not to fill Ivermectin prescriptions if it's prescribed for covid."
"The media makes fun of people for wanting to take it, calls it horse wormer, & reported fake stories about hospitals overflowing with people overdosing on veterinary type Ivermectin," she added.
Greene's comments come a week after her personal Twitter account was permanently suspended after she racked up five strikes for violating the platform's COVID misinformation policies.
Twitter suspended the lawmaker's account after she criticized Republican Rep. Dan Crenshaw because he called for using FEMA resources to boost COVID testing sites.
"No FEMA should not set up testing sites to check for Omicron sneezes, coughs, and runny noses and we don't need FEMA in hospitals, they should hire back all the unvaccinated HCW [health care workers] they fired," Greene wrote on Twitter. "He needs to stop calling himself conservative, he's hurting our brand."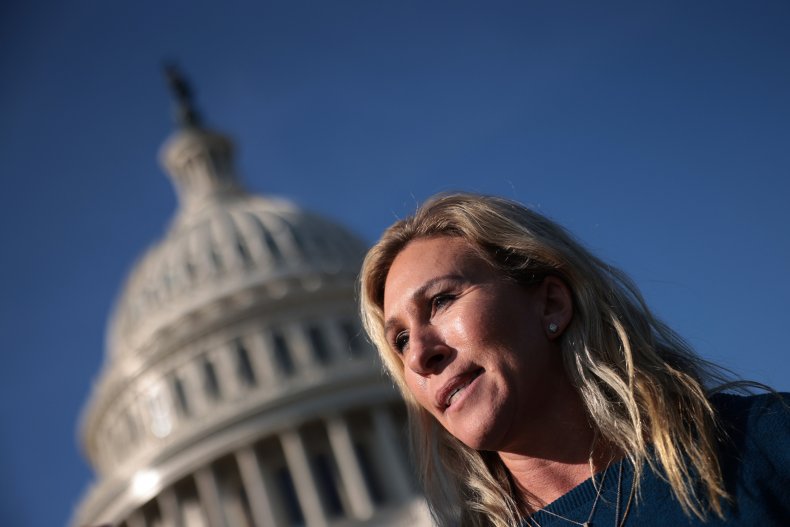 Greene slammed Twitter later that day for suspending her account and wrote in a post on Gettr that the social media giant is an "enemy to America."
"They can't successfully complete a Communist revolution when people tell the truth. Social media platforms can't stop the truth from being spread far and wide. Big Tech can't stop the truth. Communist Democrats can't stop the truth. I stand with the truth and the people. We will overcome!" she said in a statement sent to Newsweek on January 2.
She also tweeted in another instance that COVID variants are "hardly killing anyone." She was referring to the Omicron variant, her spokesperson told Newsweek in December.
In another one of her tweets, Greene said that COVID vaccines are failing and are not curbing the spread of the virus.