Republican Georgia Representative Marjorie Taylor Greene has allegedly violated a Georgia tax law by claiming permanent residence at two different addresses.
Greene allegedly filed two active homestead exemptions in her 2020 Georgia state tax documents, according to WSB-TV. A homestead exemption provides a large tax break for state residents, usually granting a $2,000 exemption from most county and school taxes.
The Fulton County Board of Assessors has said state residents are only legally allowed to claim one residential address for a homestead exemption.
Greene and her husband allegedly filed for two exemptions by listing two different residences in two different counties. One residence is located in Fulton County, the county which contains the state capital of Atlanta. The other residence is located in Floyd County, a region located in the state's northwest corner.
When asked about the filing, Greene's office accused the aforementioned news station of "being focused on paperwork, which is being taken care of." It added that the investigative journalist behind the story, Justin Gray, "needs to mind his own business instead of launching yet another pathetic attempt to smear me and my family."
Even if the Greenes claim that they mistakenly made two exemption claims, the penalty could cost them an amount that is double their tax bill. That amount could total $12,000 for the couple.
The penalty amount may not have a large impact on the politician's overall wealth. Greene's Floyd County home, purchased last year, is reportedly worth $610,000.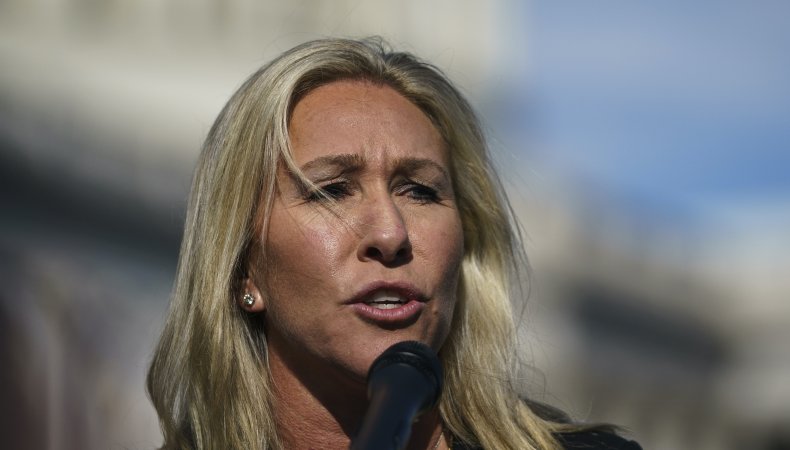 On January 20, Greene and her husband sold off their stock shares in Facebook, Google, Apple and Amazon. They made somewhere between $49,000 and $210,000 in their sale, The Daily Beast reported. The publication noted that during her electoral campaign, Greene railed against the "Silicon Valley cartel" of "Big Tech" for allegedly censoring conservatives online.
Greene was elected to Congress in November 2020 after running in Georgia's 14th Congressional District unopposed. She has become known as one of the Republican party's most far-right congressional members.
She has repeatedly echoed former President Donald Trump's baseless claim that an unprecedented conspiracy of nationwide voter fraud "stole" the election from him. In February, the House voted to remove her from her committee seats for supporting extremist conspiracy theories.
Greene's past social media activity claimed that an airplane never hit the Pentagon during the September 11 terrorist attacks, that numerous school shootings were faked and that a Jewish bank profited off of coastal wildfires started by a space laser. Greene has also accused former Secretary of State Hillary Clinton of slicing off a child's face and wearing it. She has also proclaimed belief in many other conspiracy theories.
This week, Greene referred to Democratic New York Representative Alexandria Ocasio-Cortez as "a hate-America terrorist sympathizer." In response, Ocasio-Cortez called Greene "deeply unwell" and added, "[She] clearly needs some help."
Republican Illinois Representative Adam Kinzinger said of Greene on Thursday, "It seems [Greene] just want[s] attention or cannot handle their emotions."
Newsweek contacted Greene's office for comment.