Marjorie Taylor Greene Says Kevin McCarthy Doesn't Have 'Full Support to be Speaker'
Republican Georgia Representative Marjorie Taylor Greene has said that Republican House Minority Leader Kevin McCarthy doesn't have "full support to be speaker" if the Republicans retake the House after the 2022 midterm elections.
"We know that Kevin McCarthy has a problem in our conference. He doesn't have the full support to be speaker," Greene said while speaking to Republican Florida Representative Matt Gaetz on an episode of his podcast that aired Thursday morning.
"He doesn't have the votes that are there, because there's many of us that are very unhappy about the failure to hold Republicans accountable, while conservatives like me, Paul Gosar, and many others just constantly take the abuse by the Democrats," Greene added.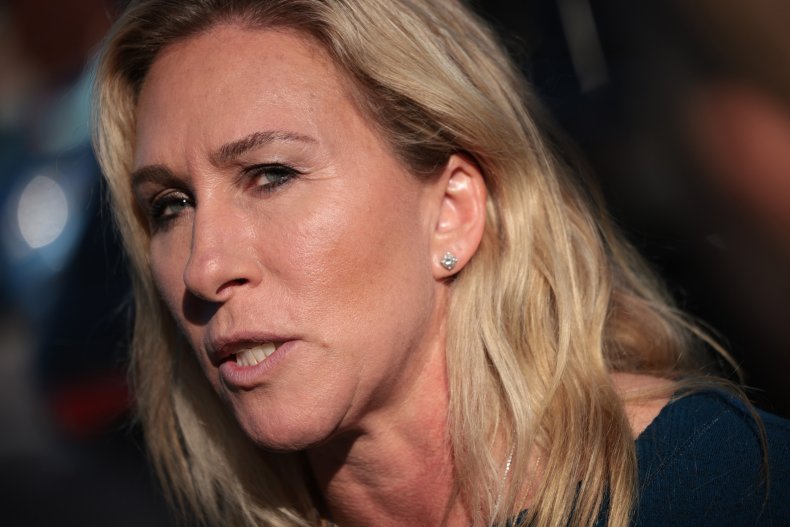 When asked about the abuse to which she referred, Greene's spokesperson Nick Dyer wrote in a statement to Newsweek, "Democrats have consistently targeted Congresswoman Greene since she was sworn in on January 3rd. Rep. Jimmy Gomez and over 70 other Democrats have a bill to expel her. Not to mention, the Democrats destroying Congressional norms and voting to remove (Greene) from committees."
He mentioned Missouri Democratic Representative Cori Bush yelling at Greene for not wearing a mask in the halls of Congress in a January 29 video. Dyer also mentioned Illinois Representative Marie Newman installing a transgender flag across the hall from Greene's office in opposition to Greene's stances against transgender inclusion in public accommodations.
Greene has been accused of abusive behavior as well for acts like referring to Democratic Minnesota Representative Ilhan Omar as a "brotherf**ker" and Bush as a "terrorist" for supporting the Black Lives Matter (BLM) movement. Greene has said that BLM has done more harm to the U.S. than the participants in the January 6 riots at the U.S. Capitol.
In January, Gomez (a California Democrat) introduced a resolution to expel Greene from Congress for her past social media posts calling for violence against Democratic politicians and promoting extremist conspiracy theories.
In Greene's past social media comments, she has advocated for violence against House Speaker Nancy Pelosi and former President Barack Obama, said that an airplane never hit the Pentagon during the September 11 terrorist attacks, said that a space laser started the California wildfires to benefit a Jewish bank and also accused former Secretary of State Hillary Clinton of slicing off a child's face and wearing it, as well as many other conspiracy theories.
In early February, the Democratic-led House voted to strip Greene of all her committee seats. Every Democratic House member and 11 Republican members voted in favor of unseating her.
At the time, Greene blamed "cancel culture" for encouraging the public uproar over her social media posts.
After being stripped of her committee assignments, Greene said her removal freed her to build a political network supporting Republican former President Donald Trump and to push congressional Republicans further rightward, The Washington Post reported.
Greene's reference about holding Republicans accountable likely refers to the 13 House Republicans who voted in support of the $1.2 trillion bipartisan infrastructure bill on November 5. The bill had already passed in the Senate with some Republican support in August.
Greene referred to GOP senators who supported the bill as "traitors." She also called for them to be removed from any House committee assignments they might have as punishment for helping Democrats pass President Joe Biden's agenda.
After the November 5 House vote on the bill, Greene tweeted out the office phone numbers of the 13 House Republicans who supported it. Some of the Republicans who voted for the bill have since received death threats.
If Republicans do regain House majority and McCarthy becomes speaker, he will have to balance the desires of his party's far-right and moderate factions.
Hard-right GOP lawmakers—such as Greene, Gaetz and other members of the House Freedom Caucus—have hailed Trump as the future of the party. Meanwhile, other GOP Congress members, including Illinois Representative Adam Kinzinger and Wyoming Representative Liz Cheney, have rejected Trump as a dangerous and anti-democratic influence.