Mark Kelly Agrees Minimum Wage Should Be Raised As Measure Is Debated By Congress
Arizona Democratic Senator Mark Kelly suggested he may support a $15 minimum wage on Friday, after his fellow state Senator Kyrsten Sinema said she would oppose including the effort in President Joe Biden's coronavirus stimulus plan.
"The current minimum wage can't support a family. You can't make ends meet," Kelly said on Friday, after reports that Sinema opposed the efforts received widespread attention.
Sinema and West Virginia Senator Joe Manchin have each made remarks suggesting that they would vote against certain measures in Biden's $1.9 trillion package.
On Friday, Politico published a report saying that Sinema rebuked the idea that raising the minimum wage is necessary amid the ongoing stimulus bill negotiations.
"What's important is whether or not it's directly related to short-term COVID relief. And if it's not, then I am not going to support it in this legislation," Sinema told Politico.
"The minimum wage provision is not appropriate for the reconciliation process. It is not a budget item. And it shouldn't be in there," she added.
Manchin has also opposed the efforts, stating that he believes $15 could be too costly for certain states, but that he would support a more moderate increase. However, Manchin has not publicly commented on his position regarding the measure being included in the stimulus package.
Sinema and Manchin's opposition has dealt a blow to progressive Democrats who hoped to approve the minimum wage increase through a united front, in order to avoid a GOP filibuster.
Democrats are currently using a process called budget reconciliation, which could allow the party to advance Biden's stimulus bill without Republican support. But in order for the bill to pass this way, every Democratic senator will need to vote in favor.
Since at least two Democratic senators have publicly opposed the $15 minimum wage being tied to the stimulus package, the effort will likely be scrapped from negotiations. Even Biden, who campaigned on the promise to raise the minimum wage, indicated that he doesn't believe it will pass in the stimulus bill.
"I put it in, but I don't think it's going to survive," Biden told CBS' Norah O'Donnell. "My guess is it will not be in [the stimulus bill]."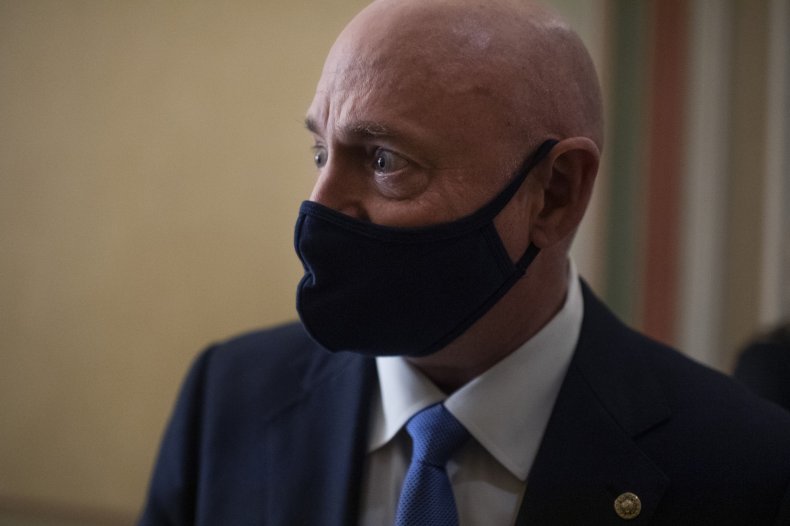 However, Kelly's signaling that he supports raising the minimum wage could prove important for progressive lawmakers who hope to pass the legislation at some point in the near future.
Last week, House Speaker Nancy Pelosi said just because it might not happen in the stimulus bill, doesn't mean it won't pass in future legislation.
"It doesn't mean it won't happen just because it won't happen there," Pelosi said. "There's so much in the package that has to be done right now, and we'll do the best we can."
Kelly previously signaled his support for raising the minimum wage from its current level, but has never explicitly promoted Biden's plan.
"The details matter in how you do this, and what's the timeline. In different communities, the economies are different," Kelly said in an interview this month, Politico reported. "I'll have to look at the details of what comes to the floor on the minimum wage."
The Democrat has long pushed for bipartisanship when it comes to stimulus negotiations, participating in talks between groups of Republican legislators and Biden officials.
"In order to tackle this crisis we're going to need to work together, Republicans and Democrats, to find common ground," Kelly said in a statement in December.
Newsweek contacted Kelly and Sinema for additional comment, but did not hear back in time for publication.
02/12/21, 6:24 p.m.: This story has been corrected to reflect that Kelly's comments did not state his opinion on supporting the wage increase if it is included in the stimulus package.