On Sunday, House Minority Leader Kevin McCarthy, a California Republican, accused Democrats this week of politicizing the January 6, 2021 attack against the U.S. Capitol. In response, critics on Twitter quickly resurfaced his remarks from a year ago, where he himself blamed former President Donald Trump for the violent events of that day.
Just over a year ago, Trump supporters stormed the Capitol in an apparent effort to disrupt the formal certification of President Joe Biden's Electoral College victory. The assault came after the former president for months claimed the elections results were "rigged" and told supporters at a nearby rally that day to head to the legislative building and "fight like hell" to save their country.
As the nation marked the one-year anniversary of the Capitol attack this week, Democrats—and some Republicans—raised concerns about Trump's continued assertion that the 2020 election was "stolen" in favor of Biden. In an interview with Fox News on Sunday, McCarthy complained about the Democrats' response to the anniversary of the assault.
"You've watched what they did last week when we were out—tried to politicize January 6," he complained. McCarthy claimed that "everybody believes what happened on January 6 was wrong, beyond wrong."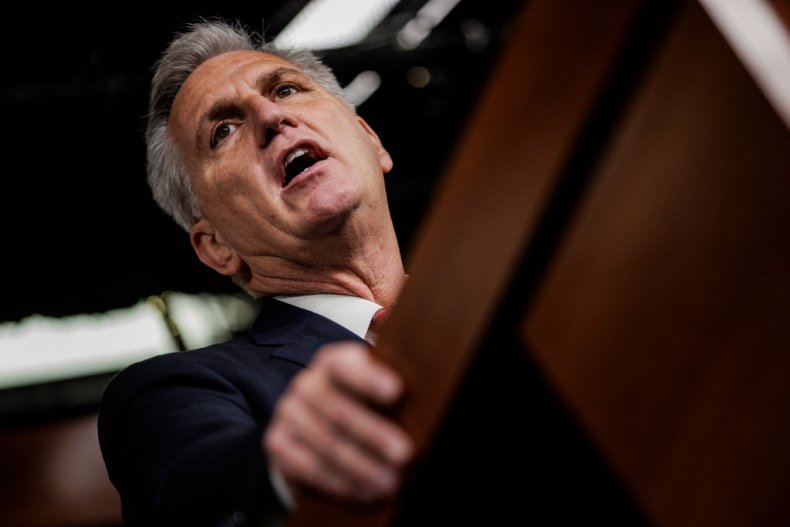 Some GOP House members have downplayed the violent attack, comparing it to a tourist visit. Others have suggested it was merely a protest or have spread misinformation, claiming it was conducted by left-wing activists.
Critics on Twitter were quick to resurface January 2021 remarks in which McCarthy condemned the attack and then blamed Trump for the violence.
"The violence, destruction and chaos we saw earlier was unacceptable, undemocratic and un-American," the GOP House leader said in a speech in the immediate aftermath of the January 6 violence. "It was the saddest day I have ever had as serving as a member of this institution."
A week later, in a January 13 speech, McCarthy blamed Trump directly for the attack that had occurred.
"That doesn't mean the president is free from fault. The president bears responsibility for Wednesday's attack on Congress by mob rioters," he said. "He should have immediately denounced the mob when he saw what was unfolding. These facts require immediate action by President Trump, accept his share of responsibility, quell the brewing unrest and ensure President-elect Biden is able to successfully begin his term."
McCarthy said Trump should face "censure" over the attack. Since then, the California Republican has patched up his relationship with the former president, continuing to support him as the leader of the GOP.
Anti-Trump Republican Representatives Liz Cheney of Wyoming and Adam Kinzinger of Illinois have been highly critical of McCarthy for continuing to support Trump in the wake of the January 6 violence. Kinzinger has said McCarthy is the key reason the former president remains relevant with the GOP.
"Kevin McCarthy is legitimately, singlehandedly the reason that Donald Trump is still a force in the party," Kinzinger told the Associated Press last week. "That full-hearted embrace, I saw firsthand in members, made them not just scared to take on Trump but in some cases also full-heartedly embrace him."
In late January 2021, McCarthy traveled to Trump's resort club Mar-a-Lago in Florida to meet with him and patch up their relationship.
In May, Cheney told NBC News that McCarthy's trip to Florida was "really stunning." She said Trump is "not just a former president. He provoked an attack on the Capitol, an attack on our democracy. And so I can't understand why you would want to go rehabilitate him."
Newsweek reached out to McCarthy's spokesperson for comment.