Meghan 'Diva' Moment Slammed by Joan Collins: 'Supposed to Be a Compliment'
Meghan Markle's dislike of the word "diva," as discussed in the latest episode of her Archetypes podcast, has been slammed by Hollywood diva Joan Collins, who said "it's meant to be a compliment," in a recent interview.
The screen veteran, best known for playing the character of Alexis Carrington in the 1980s drama Dynasty, comes as Meghan makes her first "working" return to the U.K. since 2020 alongside Prince Harry this week.
Discussing a potential project in which she would play an American divorcee who married a member of the British royal family, Wallis Simpson, on Good Morning Britain on Monday, Collins was asked what she thought of another royal duchess—Meghan.
"Do we need to give any of them more oxygen?" she responded.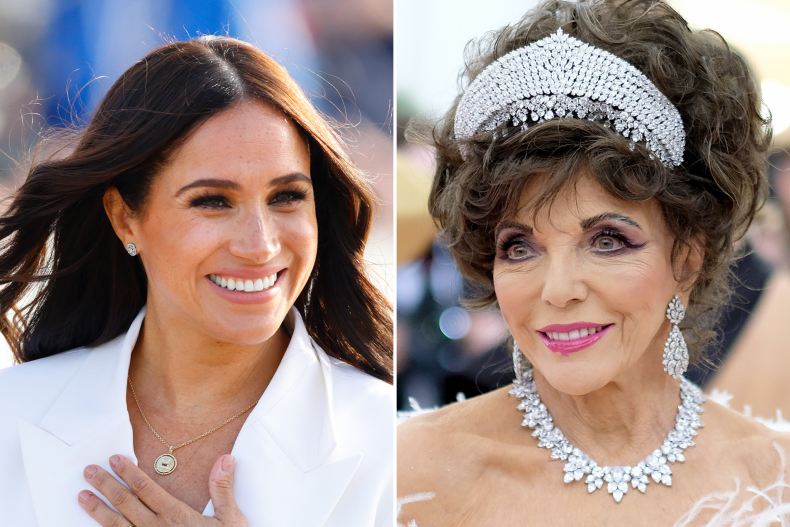 When told that the duchess was in Britain with Harry to attend a number of charity events, Collins said that she "hadn't had a chance to read the papers."
The Sussexes will be in Europe from September 5 to 8 to attend the One Young World Summit and WellChild Awards in Britain, as well as a one year way-point event for the 2023 Invictus Games in Germany.
Collins was later questioned about Meghan's dislike of the word "diva," which caused considerable comment following the release of the second episode of her solo podcast Archetypes, where she discussed feeling taken aback when called the name by Mariah Carey.
"It was all going swimmingly, I mean really well until that moment happened when, I don't know about you but it stopped me in my tracks—when she called me a diva," Meghan told listeners of the podcast that aims to "dissect, explore, and subvert the labels that try to hold women back."
"She must have heard my nervous laughter, and you all would have heard it too as she jumped right in to make sure I was crystal clear that when she said diva she was talking about the way that I dress. The posture. The clothing. The quote unquote fabulousness, as she sees it," she said.
"She meant diva as a compliment but I heard it as a dig. I heard it as the word diva as I think of it. But in that moment as she explained to me, she meant it as chic, aspirational ... how one word can mean something very different for each of us—it's mind blowing to me."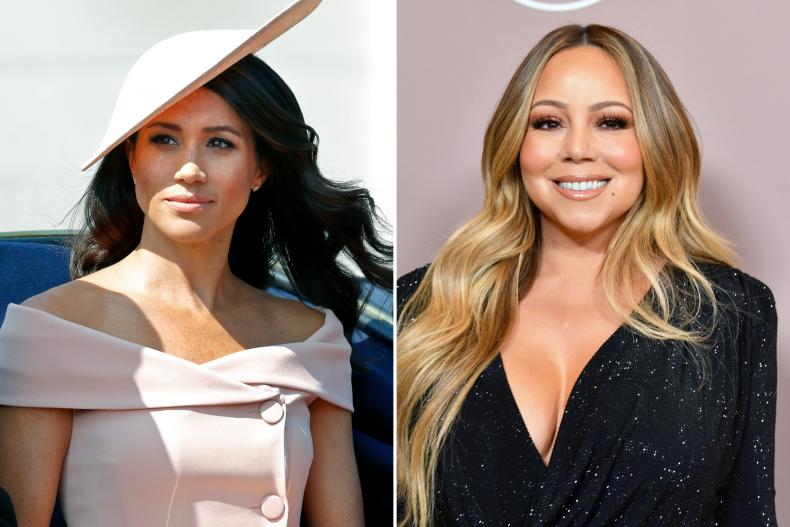 Collins, who has been labeled a diva for the characters she has played over the years on stage and screen, voiced consternation that the duchess would consider the word as a negative.
"I think it's rather nice to be called a diva now and again," she told Good Morning Britain host Susanna Reid.
"I mean, it's supposed to be a compliment actually."
This is not the first time that Collins has been asked to comment on Meghan and Harry during interviews.
In 2021, during a discussion with vocal critic of the Sussexes, Piers Morgan, the actress was asked: "What do you make of what's going on with the British royal family now with Meghan and Harry, the feud with William and Charles?"
"My lips are sealed on that subject," was her response. "I just don't want to go on national TV and say what I feel about Meghan and Harry because look what happened to you!"
This was a reference to Morgan's stepping down from his position as anchor on Good Morning Britain after an argument with a colleague over his claim that he didn't believe the content of Meghan's March 2021 interview with Oprah Winfrey.
Collins has been photographed with several members of the royal family throughout her career, including Queen Elizabeth II, Prince Charles, Camilla, Duchess of Cornwall and Princess Diana.
In 2015, the actress was made a Dame in a ceremony conducted by Charles at Buckingham Palace for her services to acting and charity.
Newsweek approached representatives for Collins and Meghan Markle for comment.