President Biden's sister, Valerie Biden Owens, told a U.K. news show on Tuesday that Meghan Markle would be "welcome to join the Democratic Party" and could make a good future candidate for the presidency.
Biden Owens' comments come after of the release of her new book Growing Up Biden, in which she gives a detailed account of her childhood with brother Joe who became the 46th U.S president in 2021 and who she says she "absolutely" expects to run for reelection in 2024.
Reports that Meghan may have sights set on a political future began to circulate following her stepping down, alongside husband Prince Harry, as a full-time working member of the royal family in March 2020—though this has not been officially acknowledged by the royal.
"It's wonderful to have women in politics," Biden Owens—a political strategist and advisor—told Good Morning Britain of Meghan's recent political outreach.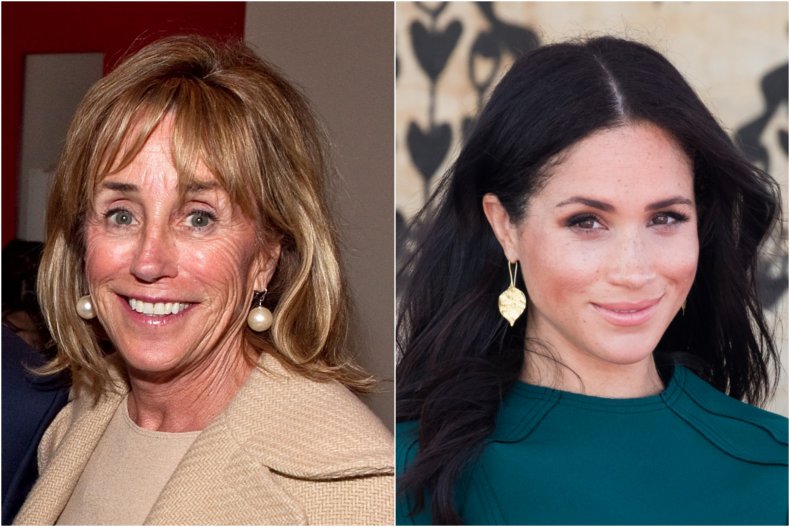 She continued, "the more women we have, the better our democratic system will work with a better point of view, a different point of view and we embrace all women.
"We welcome [Meghan] to come in and join the Democratic Party."
When asked by Good Morning Britain if Meghan would "make a good potential candidate one day maybe for president?" Biden Owens responded: "Yes, perhaps. Of course she will."
Despite no concrete evidence that Meghan is working towards a political career both she and husband Harry have faced criticism for their involvement in U.S politics since taking up residency in California in 2020.
Meghan's Political History
In September 2020 Meghan and Harry were accused of "interfering" in the presidential election by a Republican lawmaker for encouraging Americans to register to vote in a video for Time 100, a list of the most influential people in the world.
The couple warned against hate speech and misinformation as well as encouraging voters to register ahead of the election which saw Democratic candidate Joe Biden win the presidency from incumbent Republican candidate Donald J. Trump.
Responding to Harry and Meghan's video during a press conference at the White House, Trump said he was "not a fan" of the duchess and "I wish a lot of luck to Harry because he's going to need it."
In 2021, Meghan again faced criticism for writing a letter to Senate Majority Leader Chuck Schumer and House Speaker Nancy Pelosi, addressed from the "Office of The Duke and Duchess of Sussex," lobbying for paid parental leave.
Following the birth of her daughter Lilibet, both Meghan and Harry took a period of leave from working to bond with their daughter.
The duchess' letter opened with the statement:
"I'm not an elected official, and I'm not a politician. I am, like many, an engaged citizen and a parent. And because you and your congressional colleagues have a role in shaping family outcomes for generations to come, that's why I'm writing to you at this deeply important time—as a mom—to advocate for paid leave."
Critics of the royal accused her of using a foreign title to hold political sway in the U.S. This brought renewed calls from some, including outspoken critic of Meghan, Broadcaster Piers Morgan, for Queen Elizabeth II to strip her grandson and granddaughter-in-law of the titles "Duke and Duchess of Sussex."
Meghan's most recent interaction with politics came when she leant her support to Judge Ketanji Brown Jackson's nomination for the Supreme Court in 2022 earlier this year.
Speaking with Anita Hill for URL Media, Meghan said "The civil rights history of tomorrow is being written today.
"Judge Jackson's nomination has opened new ground for women's representation at the highest level of a judicial system that for too long has tilted against the very community she hails from.
"For the millions of young women who will rightfully find inspiration from this moment, let's remind ourselves that Black achievement is something that exists not just today or yesterday, and not just in moments of celebration, but as a fabric woven into the entire chronicle of the American story."
On her brother's political future, Biden Owens is confident he has further work to do with the presidency.
Speaking to Good Morning Britain she said: "Joe is the right person at the right time for the right job—and there are lots of things still to do."
When asked if she expected her brother to run for reelection in 2024 she responded, "oh yes, absolutely."