Meghan and Harry Welcome New Rescue Beagle to Montecito Home
Meghan Markle and Prince Harry have welcomed a 7-year-old rescue beagle named "Mamma Mia" to their Montecito home.
The couple paid a low-key visit to the Beagle Freedom Project in Los Angeles' San Fernando Valley earlier this month, as Shannon Keith, the organization's founder, told the Los Angeles Times.
"The duchess called me personally," animal-rights attorney Keith said. When Markle began the call, saying, "Hey, Shannon, this is Meghan," Keith didn't realize who the caller was. "We talked for 30 minutes, and I thought, 'Is this Megan Fox?'"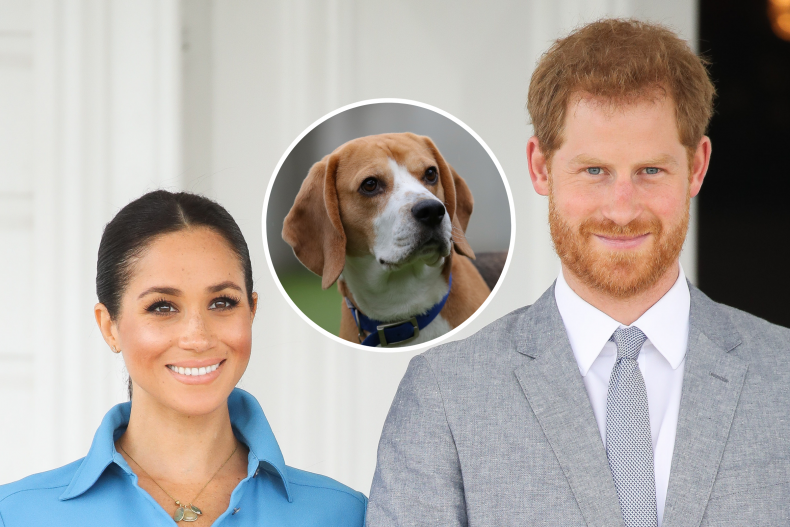 The couple visited the project shortly after the call and spent time with a number of the organization's dogs that have been rescued from animal-testing sites.
One group of puppies with their mother had come from the Envigo plant in Cumberland, Virginia, which bred dogs to be used in drug trials.
In 2021, a People for the Ethical Treatment of Animals (PETA) investigation into the Cumberland plant found that 5,000 beagle dogs and puppies were being housed in poor conditions.
The Department of Justice (DOJ) then said that "serious and ongoing violations of the AWA [Animal Welfare Act]" were again observed at the facility.
In July, Envigo's parent company, Inotiv, which bought the organization in November 2021, reached an agreement with the DOJ and U.S. Department of Agriculture (USDA) to transfer all the dogs held at the Envigo site to the Humane Society of the United States.
Twenty-five of the animals were given to the care of the Beagle Freedom Project, one of which was "Mamma Mia", the dog that would catch the eye of Meghan and Harry.
"The duchess is holding Mia and was like, 'We're adopting her,'" Keith told the Los Angeles Times of the couple's visit.
It was established that they were looking for an older dog, not one of the puppies, which have increased chances of finding homes through adoption. "She was like, 'No, we don't want a Christmas puppy,'" Keith said of Meghan. "'We want ones we can help who are older.'"
News that the Sussexes have looked to adopt rather than purchase a new pet highlights the fact that nearly 3.1 million dogs are taken in by shelters in the U.S. each year, according to the American Society for the Prevention of Cruelty to Animals (ASPCA).
This is not the duchess' first rescue dog, nor her first rescue beagle. In the biography Finding Freedom, by Omid Scobie and Carolyn Durand, the authors write that Meghan adopted a beagle she named "Guy" in 2015, while she was working in Canada on her TV show Suits.
Meghan adopted a Labrador-cross-German Shepherd rescue dog called "Bogart" in 2013, and Scobie and Durand wrote in Finding Freedom: "Two years later she adopted another rescue—a beagle she called Guy after meeting him at an adoption event organized by the Ontario-based charity A Dog's Dream Rescue."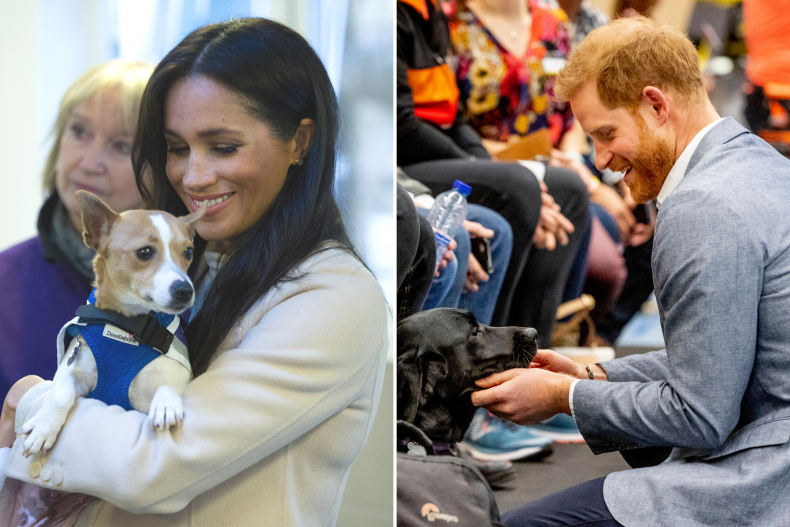 When Meghan moved to the U.K. in 2017 to begin her life with Prince Harry, Guy moved with her, attending family events. The dog was even seen in a chauffeur-driven Range Rover next to Queen Elizabeth II, before Meghan and Harry's 2018 Windsor Castle wedding.
Keith said that, after settling on taking Mia home, Harry paused to ensure they also took with them an important comfort item for the dog.
"He's just like, 'Well, we can't leave yet because there's something in that back house she needs. Does she have a favorite toy or something?'"
According to Keith, Mia selected a toy fox from a bin of stuffed animals that had been with the dogs on their journey from Virginia to California. Prince Harry then said: "OK, now we can go home."
Harry and Meghan live in the Montecito area of Santa Barbara in California, with their two children, Archie, 3, and Lilibet, 1. Meghan in particular has championed a number of animal charities.
After moving to the U.S. in 2020, the couple acquired a brood of chickens that are housed in a structure on their estate named "Archie's Chick Inn". It was shown to Oprah Winfrey during their March 2021 interview with the talk-show host.
Newsweek has approached Keith and representatives of Prince Harry and Meghan Markle for comment.