Meghan Markle and Prince Harry Unseen Clips From Full Interview With Oprah
Meghan Markle and Prince Harry's devastating interview with Oprah Winfrey has revealed a number of shocking claims about the royal family with the couple claiming they were questioned about the skin color of their unborn child as well as the Duchess of Sussex sharing that she was driven to suicidal thoughts following relentless tabloid intrusion.
However, not everything was included in the two-hour interview on Sunday night and Oprah made an appearance on CBS This Morning early on Monday where new footage was exclusively aired.
The Queen ghosted the couple
In one clip, Prince Harry says his grandmother, Queen Elizabeth II ghosted him and his wife for a week as he tried to discuss their plans to leave the royal family.
The Duke of Sussex spoke about how the couple flew into Britain in early January last year having been told they were to meet with the queen.
However, on arriving in the U.K. Harry said he got a message from his private secretary to say the queen's private secretary had canceled and was subsequently "busy all week."
He explained: "The moment we landed in the UK I got a message from my private secretary, Fiona at the time... cutting and pasting a message from the Queen's private secretary, basically saying 'please pass on to the Duke and Duchess of Sussex that he cannot come to Norfolk. The Queen is busy, she's busy all week... do not come up here.'"
Oprah said she felt that was "an important story to be shared" as the couple had been heavily criticized by media for their U.S. move, amid accusations that they blindsided the monarch by not warning the queen of the announcement.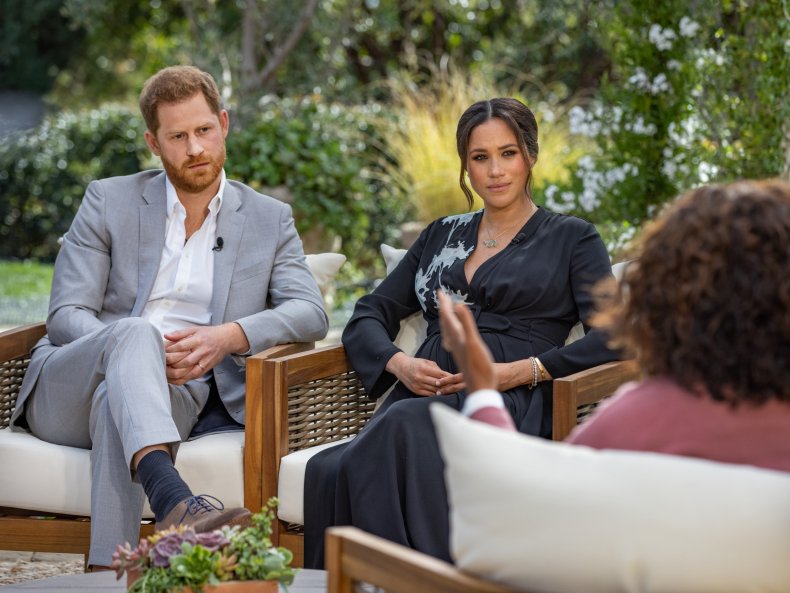 Harry clarifies his grandparents did not ask racist skin color question
The couple shocked the world when they revealed that a member of the royal family asked Harry asked how dark their son Archie's skin would be, prompting accusations of racism in the monarchy.
Although Harry declined to reveal who said it, on Monday Oprah clarified that "it was not his grandmother nor his grandfather" who was involved in the conversation about the baby's skin color.
"Waity Katie"
In another clip, Markle said that "rude and racist are not the same" as she compared her treatment in the press to that of Kate Middleton's.
Markle said: "Kate was called Waity Katie, waiting to marry William, while I imagine that was really hard and I do... this is not the same and if a member of his family will comfortably say we've all had to deal with things that are rude. Rude and racist are not the same."
Toxic tabloids
Harry spoke about the "toxic environment" the U.K. tabloids created in
"With that relationship, and that control and the fear by the UK tabloids, it's a toxic environment."
"But I will always be there for him. I will always be there for my family and I have tried to help them to see what has happened," he added, gesturing to his wife at this point.
"Do other royals see it as a toxic environment?" Oprah asked, querying if Prince Charles would see it that way if she were to interview him.
"No, because he has had to make peace with it," Harry replied.
No apologies
Oprah asked the duke if family members reached out to apologize for the reasons he felt he had to leave.
"No, sadly not," he said. "The feeling is that this was our decision and therefore the consequences are on us."
Meghan's father
Markle said that her father, Thomas Markle, was not honest with her about talking to the British tabloid press ahead of her wedding.
In a new clip, Markle said she asked her father if he has worked with any journalists. "He said: 'no, absolutely not,'" Meghan said.
Meghan's sister
Oprah asked Markle about her sister Samantha Markle who is said to have written a "tell-all" book about her.
Markle revealed that she wasn't close with her half-sister and she "changed her last name back to Markle... only when I started dating Harry. So I think that says enough."