Meghan Markle and Prince Harry's Son Archie Turns 2
Meghan Markle and Prince Harry's son Archie turns 2 today after a year that saw a Spotify debut, an appearance on CBS and his first listing as a claimant in a court case.
Archie Harrison Mountbatten-Windsor's first birthday was marked by a video of Meghan reading him children's book Duck! Rabbit! in which he appeared to say "dada."
At the time, Meghan and Harry had only just moved to America and were guests in Tyler Perry's Los Angeles mansion.
Since then, they bought their first house together in Montecito, signed to Netflix and Spotify, and wrapped up their severance from the monarchy.
However, Archie has been hitting some milestones too in that time, as we recount here.
'Drive safe'
Archie's vocabulary has seemingly taken off in the last year with Prince Harry telling friend and Late Late Show host James Corden the toddler's first word was "crocodile."
Prince Harry also told Oprah Winfrey the youngster likes to tell people to "drive safe" when they leave.
Meghan said: "Oh, my gosh. He's on a roll. In the past couple weeks, it has been 'hydrate,' which is just hysterical."
Harry added: "But, also, whenever everyone leaves the house, he's like, 'drive safe'."
'He's like "whoo"'
Archie also appeared in Harry and Meghan's bombshell Oprah tell-all interview in which they leveled damaging racism allegations at an unnamed royal.
The couple shared family footage of the youngster running along the beach, and in between Prince Harry's legs.
The duke also shared details about Archie's life in California where they like to go out cycling.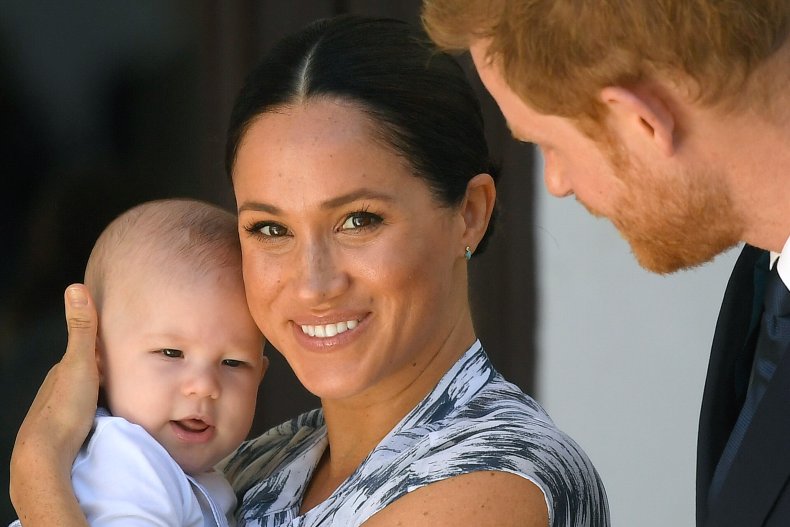 Harry told the host: "I guess, the highlight for me is sticking him on the back of the bicycle in his little baby seat and take him on these bike rides, which is something I was never able to do when I was young.
"I can see him on the back, and he's got his arms out. And he's like 'whoo,' chatting, chatting, chatting; going, 'Palm tree, house,' and all this sort of stuff."
Happy New Year
Meghan and Harry's first outing of their Spotify podcast, Archewell Audio, was also a landmark moment for their son who was the star guest on their festive special.
Archie outshone the likes of Stacey Abrams, Elton John, Naomi Osaka, James Corden, and Tyler Perry to steal the headlines on write-ups of the episode.
Meghan asked the toddler "Archie, is it fun?" before he replied: "Fun."
Prince Harry then coached Archie as, word by word, he wished listeners a "Happy New Year."
First Lawsuits
Archie was named as an official claimant in a legal case brought by his parents against paparazzi agency Splash News.
The company photographed Meghan walking in a public park in Canada with her baby in a sling on her chest, in January 2020.
Meghan sued and the case had its first hearing in September, with the High Court listing in London recording the first claimant as the duchess.
The second claimant was listed on the official court system as: "Mountbatten-Windsor (a Child By TRH Duke And Duchess Of Sussex, His Litigation Friend), Archie Harrison, Master."
Splash said this year the case had helped push them into Chapter 11 bankruptcy, and the lawsuit is on hold as a result.
Archie was also at the center of another case brought by the couple against a different paparazzi agency, X17, who took pictures of him using a drone.
The toddler was playing with his grandmother, Doria Ragland, within the private grounds of Tyler Perry's Los Angeles mansion when he was photographed from the air.
The pictures were published in German mass-market magazine Bunte, Newsweek revealed last summer.
While Archie was not a named claimant in that case, Meghan and Harry won an apology and the payment of some costs through their case at the California Superior Court.
'Is it a boy, or is it a girl?'
Archie will not be an only child for long as Meghan is pregnant with the couple's second, announced in March as a girl.
During the CBS prime time special Oprah asked: "Is it a boy, or is it a girl?"
Harry replied: "It's a girl."
Asked how he felt, Harry added: "Amazing. Just grateful. To have any child, any one or any two would be amazing. But to have a boy and then a girl, what more could you ask for?"