How Meghan Markle Echoed Diana's Met Gala Look on Recent Trip to NYC
Meghan Markle has paid tributes to the late Princess Diana in many ways since marrying Prince Harry in 2018.
Whether through wearing sentimental pieces of jewelry from Diana's personal collection or recreating iconic outfits, Meghan has referenced and replicated the unforgettable style of the 20th century's most forward thinking fashion princess.
To mark the 2022 Met Gala, held on Monday and celebrating American fashion, Newsweek looks at how Meghan echoed Diana's memorable 1996 gala appearance on a recent visit to NYC.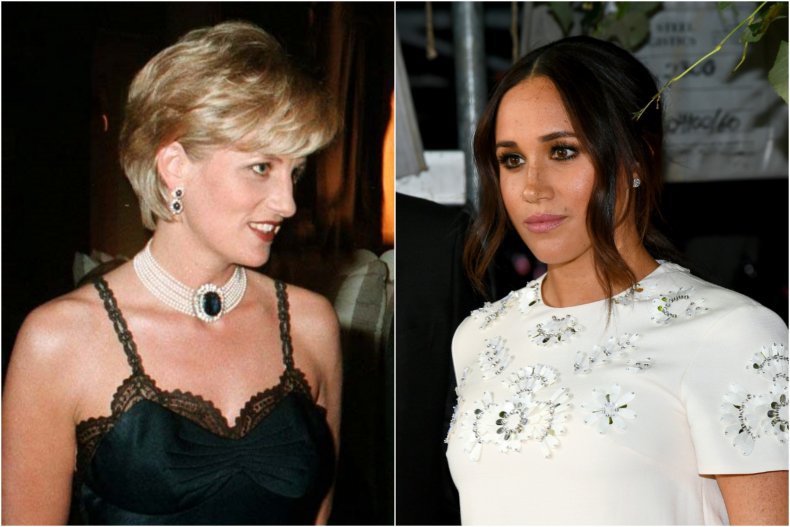 DIANA AND THE MET GALA
Princess Diana only made one appearance at the Met Gala though it has become one of the most famous in the event's history.
In 1996, the year of her divorce from Prince Charles, Diana went through a period of transformation which extended to her personal appearance. Free from the constraints of being married to a future king, Diana moved away from royal convention and embraced a global outlook not tied to the U.K.
This was as true of the princess's fashion as it was of her humanitarian work.
When she was invited to the 1996 Met Gala by her long-term friend and Harper's Bazaar editor, Liz Tilberis, the princess accepted, traveling to New York for the event which was then held in December.
The exhibition marked by the gala in 1996 was dedicated to the work of fashion designer Christian Dior. "Enfant Terrible" of the French fashion scene at the time was Dior's newly appointed creative mastermind John Galliano. It was Galliano who would design the dress Diana wore on the night.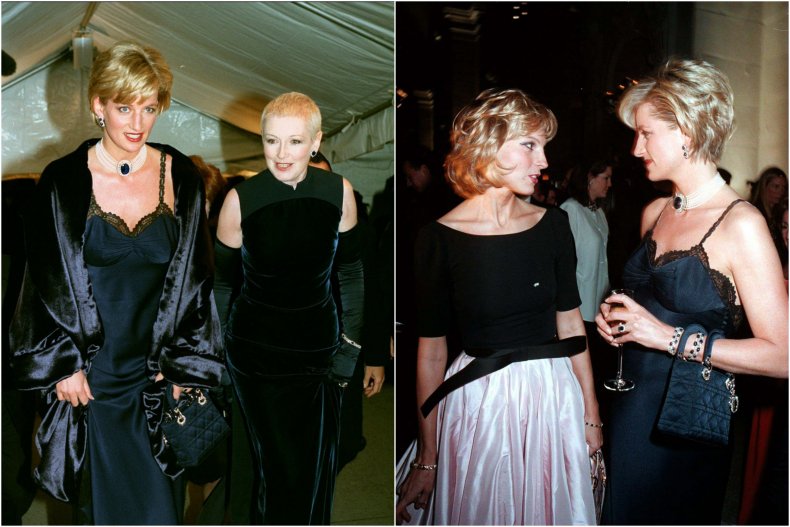 When the princess arrived at the Metropolitan Museum of Art on December 9, 1996 she sent shockwaves across the fashion world as she appeared in a lingerie inspired blue silk slip dress with black lace detailing. A near-scandalous look for a member of the royal family, divorced or not.
In her hand Diana held a handbag which was presented to her in 1995 and which since then has become one of the most famous fashion accessories in Christian Dior's history.
It was this bag that Meghan touchingly echoed two decades after the princess's tragic death, during a 2021 visit to New York.
THE BAG
What we know today as the classic Lady Dior handbag made its debut in fashionable society in 1995. The bag's design was simple yet elegant comprising an open, top handled bag in black quilted leather with gold hardware.
It was known at first as the 'Chouchou' ('pet' in English) presumably for its petite size and was adorned at the handle by four gold charms in letters which spelled out "DIOR". The charms were a dedication to Christian Dior who was very superstitious and reportedly kept lucky charms, attended spiritual readings and believed in premonitions.
In 1995 the 'Chouchou' was given a very special debut as it was presented to Princess Diana before its official release by the wife of then-president Jacques Chirac during a visit Diana made to Paris.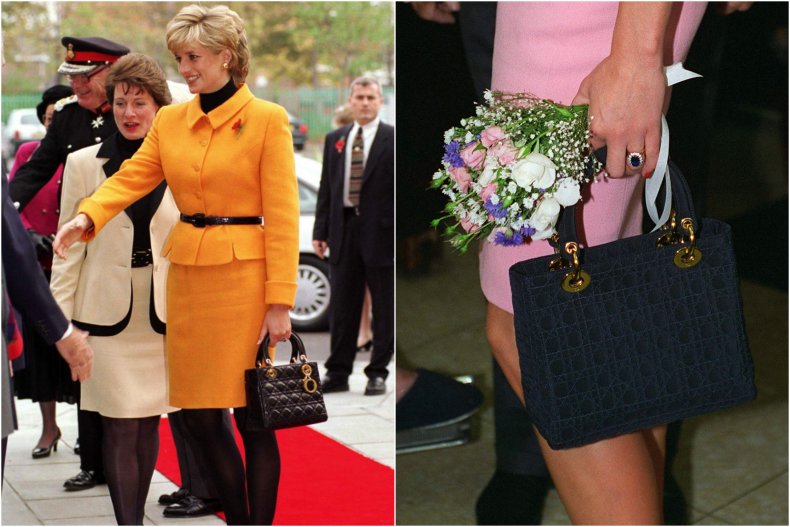 The princess came to carry the bag numerous times, with it forming a modern bridge between her favorite clutch handbags and more traditional handled bags used by royal women like Queen Elizabeth II.
Eventually the princess acquired multiples of the bag in different textiles and colors including a black crocodile leather patterned variation. The house of Dior tells the story of Diana requesting a blue version "to match her eyes."
Soon the bag had become so synonymous with the princess that Dior renamed it from 'Choucho' to Lady Dior, a tribute to the princess who many still called 'Lady Di' after her maiden name of Lady Diana Spencer.
MEGHAN'S STYLISH SISTER-BAG
In a move reminiscent of Diana's appearance in New York marking a new period of her life away from the royal family, Meghan appeared at the Global Citizen Live event in Manhattan in September 2021 carrying an elegant Dior handbag.
The year 2021 marked an important new period in the lives of Meghan and Harry as they forged a public role after stepping down as full-time working members of the royal family in 2020 and the couple's interview with Oprah Winfrey in March 2021.
Appearing at the Global Citizen Live event to advocate for vaccine equality during the coronavirus pandemic, Meghan's Dior bag was a touching reminder of her humanitarian and social justice-driven mother-in-law.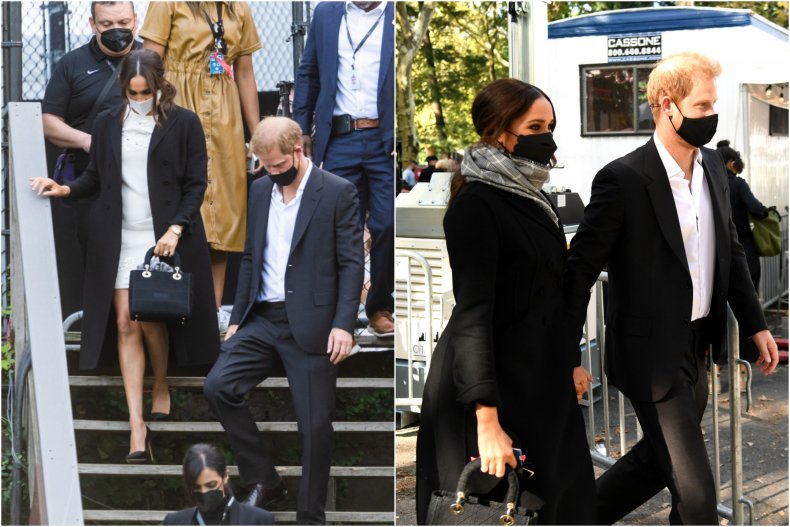 Meghan's variation on the classic Diana bag was designed as a "sister-bag" to the Lady Dior and differs in that it is entirely embroidered and features a branded belt around the middle.
Dior's official Twitter account identified the model in a post which read: "Wearing the sister bag of the iconic #LadyDior that was named after Princess Diana, Meghan Markle is the epitome of Dior elegance, as she steps out with her #LadyDLitebag at @GlblCtzn Live in New York. #StarsinDior #GlobalCitizenLive"
Meghan's 'Lady D-Lite' bag is personalized with the initials 'DSSOS', this is reported to represent her title as the Duchess of Sussex.
Comparisons between the duchess and Diana did not end at their penchant for handbags. The Henry Street Settlement charity in Manhattan highlighted the similarities between causes championed by the princess and her son and daughter-in-law.
It read: "The Duke and Duchess of Sussex are in town raising mental health awareness. It reminds us of Princess Diana's memorable visit to Henry Street in 1989! #MeghanAndHarry."
Diana's appearance at the 1996 Met Gala with her favorite Dior handbag is still remembered as one of the most iconic moments in the history of the event. Sadly the princess's first gala was to be her last as she died just eight months later in a Paris car crash.
This year marks the 25th anniversary of the tragic death of Diana at the age of 36, but her continued fashion relevancy as well as the touching tributes paid to her by her daughters-in-law keep the princess's legacy alive and relatable for new generations.