Meghan Markle Described 'Practicalities' of Taking Own Life, Harry Says
Prince Harry says Meghan Markle told him about the "practicalities of how she was going to end her life" when she felt suicidal during her pregnancy with their son Archie.
The Duke of Sussex said his wife decided not to take her own life because she did not want to leave him in mourning again following the death of his mother Diana.
He said the "scariest thing for her was her clarity of thought" and added: "I'm somewhat ashamed of the way that I dealt with it."
Meghan first revealed that she had felt suicidal during the couple's interview with Oprah Winfrey, which aired on CBS on March 7.
She described a conversation with her husband before a charity event at the Royal Albert Hall in London in January 2019.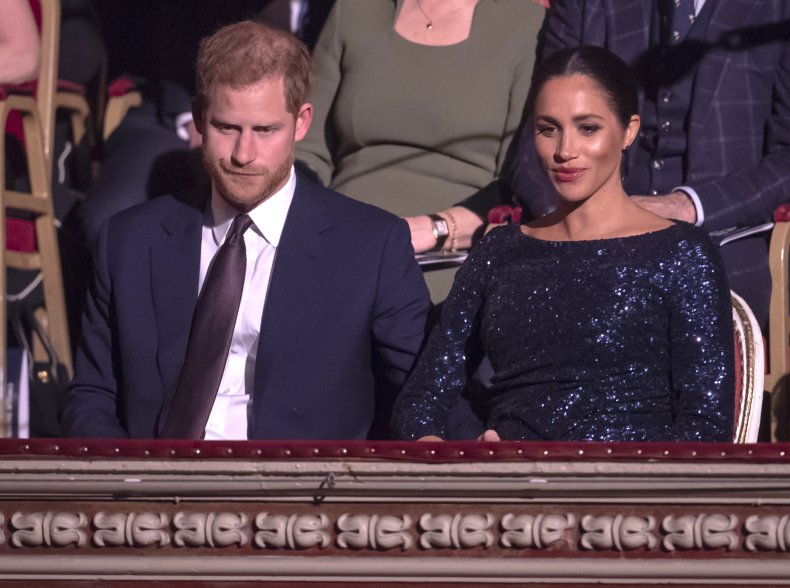 The prince has now described his own recollections of the experience for his docuseries on mental health, The Me You Can't See, which airs on Apple TV on May 21.
The prince tells Winfrey in the documentary: "People have seen the photograph of us squeezing each other's hands as we walked into the Royal Albert Hall in London for a charity event. She was six months pregnant at the time.
"What perhaps people don't understand is that earlier that evening Meghan decided to share with me the suicidal thoughts and the practicalities of how she was going to end her life.
"The scariest thing for her was her clarity of thought—she hadn't lost it. She wasn't crazy. She wasn't self medicating, be it through pills or through alcohol, she was absolutely sober.
"She was completely sane. Yet in the quiet at night these thoughts woke her up."
Harry went on to explain that Meghan did not act on her thoughts because she wanted to protect him: "The thing that stopped her from seeing it through was how unfair it would be on me after everything that had happened to my mum.
"And to now be put in a position of losing another woman in my life with a baby inside of her. Our baby. I'm somewhat ashamed of the way that I dealt with it."
The prince said the couple had "had a quick cuddle" before getting changed to go to the charity event on January 16, 2019.
The moment of crisis at the start of the year followed a series of critical articles published in the British press in the preceding two months.
During their interview with Winfrey in March, Meghan highlighted one report that she said had marked a turning point.
An article in the Daily Telegraph claimed that Meghan had made Kate Middleton cry at a bridesmaid's dress fitting for Princess Charlotte shortly before Harry and Meghan's wedding in 2018.
The article ran in late November 2018 and was followed up on the front page of The Sun.
Harry described how the couple felt they could not pull out of the Royal Albert Hall event despite their difficult conversation.
He said: "There wasn't an option to say, you know what, tonight we're not going to go because imagine the stories that come from that.
"While my wife and I were in those chairs gripping each other's hand, the moment the lights go down, Meghan starts crying.
"I'm feeling sorry for her but I'm also really angry with myself that we're stuck in this situation."
Meghan said in the couple's CBS interview that they had discussed Harry going to the event by himself, but she did not believe it would be safe to leave her alone.
The duchess also told Winfrey she had asked the palace whether she could go to a mental hospital for treatment but was told it would look bad for the institution.
If you have thoughts of suicide, confidential help is available for free at the National Suicide Prevention Lifeline. Call 1-800-273-8255. The line is available 24 hours every day.