Author and former editor of Vanity Fair, Tina Brown, has claimed that British readers think she has given Meghan Markle too empathetic a treatment in her newly released book, The Palace Papers.
Speaking on The New York Times podcast Sway with Kara Swisher, Brown stated: "I think in England, where they hate Meghan—they think that I've been way too empathetic to Meghan—I understand how she found it so darn difficult and how maddening she found it."
The release of the special episode of Sway coincided with the publication of The Palace Papers in which Brown gives a forensic analysis of the lives of the modern-day members of the house of Windsor, including Meghan and Prince Harry, as well as Prince William, Kate Middleton, Prince Andrew and Queen Elizabeth II.
When discussing the motivation behind the Sussexes stepping down as full-time working members of the royal family and the apparent division between the once-close William and Harry, Brown explained to Swisher that it can be traced back to Harry's deep unhappiness after he left the army.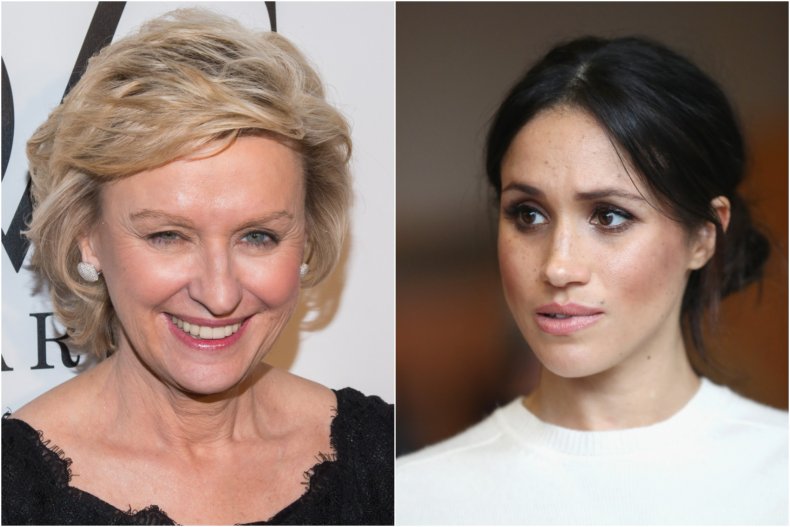 Then, in 2017, "along comes Meghan," Brown said. "And [Harry] suddenly had a woman in Meghan who was worldly enough, experienced enough, to say, 'look, you're a star in your own right. You don't need all of this. You can do it on your own.' And that's really where the great division became between Harry and William."
She doesn't blame Meghan totally for what's happened between Harry and the royals since his marriage in 2018, though. "I actually feel very empathetic to Meghan," she told Swisher. "But I also came to admire Kate [Middleton] very much, too."
For Brown, the Duchess of Cambridge, Meghan's sister-in-law, is a living example of how to marry into the royal family and navigate its hazards successfully.
"She took 10 years before William married her," she explained. "Kate looked at the situation, and she said, 'I can do this. I will do it. I'm going to devote myself to it.' Essentially, it's kind of like the secular version or the royal version of taking the veil. It really is. It's about saying, I will do this. And she has, actually."
That's not to say that Brown thinks Kate has had it easy, nor does it mean that the duchess is impervious to the hurts and wounds from the press vocally expressed by Meghan.
"I think she's found it not as easy as people necessarily think," Brown told Swisher. "I think there have been many times when she's felt the press are agony. I think she's found it constricting. I think sometimes, she's found it very painful, actually, living in that. But she has decided that's what she's going to do, and she's doing it. And I think you have to admire that, actually, because you know, self-discipline isn't a very modern attribute, essentially. But she does have it. And I admire her for it."
On the two sisters-in-law, Brown offers that "you could not find two more different women," describing Kate as "conservative" and "cautious" while Meghan has "natural star power" and dynamism.
Brown puts Meghan's discomfort in the royal system down to two factors: the first that the country and the monarchy she married into were foreign to her and second that she found it hard to adjust to the fact that despite being one of (if not the most) famous women in the world, within the royal family she and Harry were far down the pecking order.
"Essentially, she married number six," Brown told podcast listeners of Harry's place in the line of succession. "That meant that although they were such huge celebrities on the world stage at that point—I mean, at that point, Meghan was one of the most, probably the most famous women in the world. But in terms of the palace and the monarchy and the hierarchy, she was number six on the call sheet.
"And she got, therefore, the budget that went with it, the opportunities that went with it, you know, the consideration that went with it," Brown continued. "In her world, star power is leverage, right? And if you don't get what you want, it's 'call my agent.' Well, you can't call your agent at Buckingham Palace. Ultimately, you're just going to have to take it."
Moving forward Brown feels there is a "Harry-shaped hole" in Britain where the prince was formerly so beloved and she feels the same about Meghan also, telling Swisher: "people adored Meghan when she came into the mix. So it was actually very, very sad for everybody that it went so wrong."
Looking ahead to the Platinum Jubilee this summer, Brown feels the British public and, importantly, the monarchy "need" the Sussexes more than ever. "They actually need Harry and Meghan now," she said, "They kind of need Harry and Meghan to bring that star power and to be on the balcony at the Jubilee. We have to have a royal family up there."