Mel B 'Was So Happy' Monarchy Was 'So Accepting' of Meghan
Spice Girl Melanie Brown, aka Mel B, has recounted her happiness that the monarchy was "so accepting" of Meghan Markle as a biracial woman when she joined the royal family in 2018.
Brown's comments were made during a conversation with broadcaster Piers Morgan on the TalkTV show, Piers Morgan Uncensored, just days after she was awarded an MBE by Prince William at Buckingham Palace for her services to charity and vulnerable women.
In their landmark 2021 interview with Oprah Winfrey Harry and Meghan discussed race as a factor of discrimination Meghan faced as a member of the royal family during her years in Britain—both from the press and inside the institution of the monarchy itself.
When asked by Morgan how she viewed the "Megxit" period and Harry and Meghan's exit from the royal family, Brown responded: "I don't really take what happens in the media as the gospel truth, you know. I was just happy that the monarchy was so accepting of somebody with black and white [descent] because it's so white and very British."
"It was a shame that it got presented the way that it did," she continued, "but like I keep on saying—nobody knows what happened."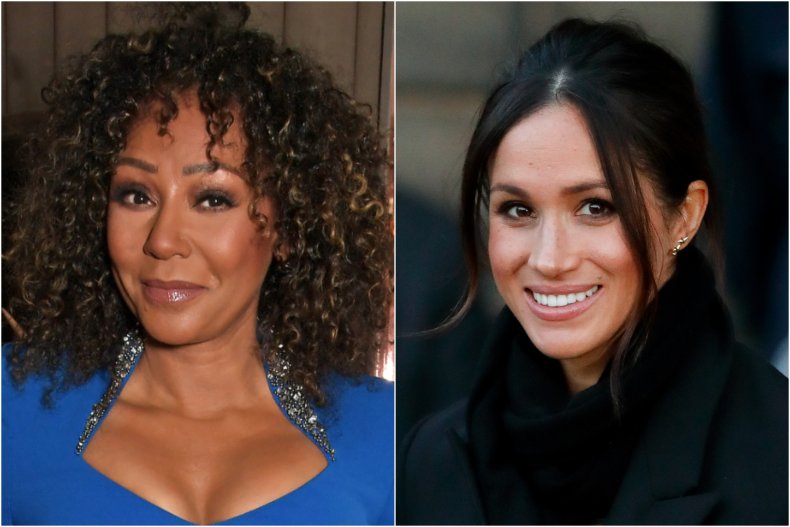 During the interview with Winfrey, Meghan claimed that the royal family's decision not to make her son, Archie, a prince from birth could have been influenced by the color of his skin.
"You certainly must have had some conversations with Harry about it and have your own suspicions as to why they didn't want to make Archie a prince... Why do you think that is? Do you think it's because of his race?... I know that's a loaded question," Winfrey asked.
Meghan responded: "But I can give you an honest answer. In those months when I was pregnant, all around this same time . . . we have in tandem the conversation of: 'He won't be given security, he's not going to be given a title' and also concerns and conversations about how dark his skin might be when he's born."
Harry and Meghan then went on to claim that an unnamed member of the royal family who raised with Harry the racially motivated question over the couple's children's skin color.
In response to revelations made in the interview, Buckingham Palace released a statement reading:
"The whole family is saddened to learn the full extent of how challenging the last few years have been for Harry and Meghan,
"The issues raised, particularly that of race, are concerning. While some recollections may vary, they are taken very seriously and will be addressed by the family privately.
"Harry, Meghan and Archie will always be much-loved family members."
Brown has a long-standing relationship with the royals, having first been introduced to William and Harry in the 1990s at the height of the Spice Girls' fame. The group worked closely with Prince Charles' charity The Prince's Trust, and Brown recounted to Morgan how they were invited to spend time with the youngest princes.
"A little dickie bird tells me," Morgan said to Brown, "that in your earlier life as a rampant young Spice Girl... that you guys used to get helicopters down to Highgrove and secretly have peanut butter sandwich parties with William and Harry. Is that true?"
Speaking of Charles' country estate in Gloucestershire, Brown responded, "We got invited to Highgrove many times. It wasn't our helicopter it was their helicopter, they'd hire it for us and then pick us up and then we'd arrive on the lawns and it was quite fancy and well to do."
"There'd be these posh sandwiches," she continued, "and we'd be like, 'we don't really want cucumber and cream cheese sandwiches, so we'd go into the kitchens and make some bagels and peanut butter and jelly sandwiches. And they loved it but they were only young."
It was this shared history that Brown said made it "really nice to see William again" at her MBE investiture last week, adding that "he was so sweet and so polite and respectful."
Brown has been an impassioned advocate for vulnerable women and ending the stigma around victims of domestic violence for many years after revealing her own experiences in a 2018 memoir.
In a later discussion with Morgan about the subject, Brown highlighted her concern that the highly publicized ongoing defamation trial between Johnny Depp and Amber Heard—at the center of which are allegations of domestic abuse and violence—could potentially put victims off coming forward.