Melania Trump's homage to women's suffrage at the Republican National Convention (RNC) comes as her husband attempts to court the votes of suburban housewives ahead of November.
The first lady touched upon the 100th anniversary of the passing of the 19th Amendment, having opened an exhibit commemorating this in front of the White House on Monday.
Commenting on the work included in the display, art from school students which she herself had judged, the first lady spoke of the pride she had casting her vote.
"When I was judging the entries, I reflected on the impact of women's voices in our nation's story and how proud I would be to cast my vote again for Donald this November. We must make sure that women are heard and that American dream continues to drive," she said in her convention speech, delivered from the Rose Garden.
The day before, while unveiling the exhibit, she had also spoken of the importance of women voting.
"We, as women, must continue using our greatest tool of empowerment – our voices. Now in 2020, the American woman's voice is more important than ever. Our Nation is depending on each of you. I encourage you all to vote so that we may continue to build the brightest future for all of our children," she said.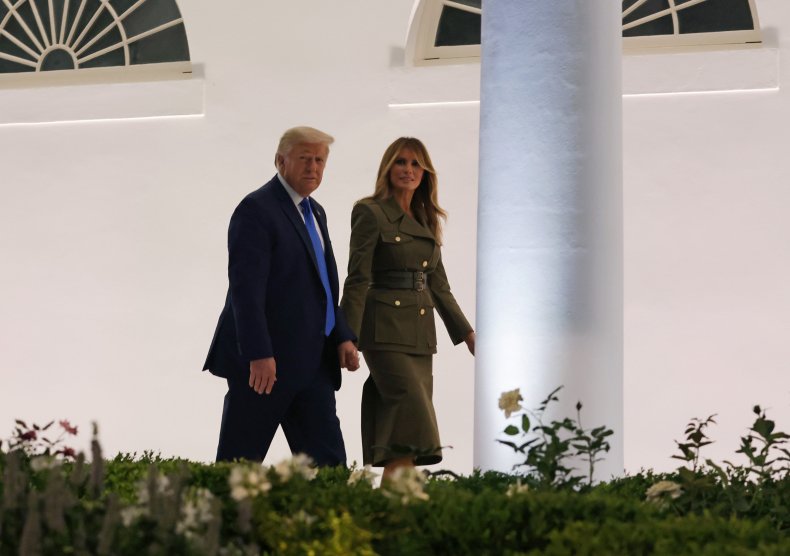 This encouragement of the women's vote comes as President Donald Trump lags in terms of their support in the polls.
Previous polling has indicated most female voters have an unfavorable view of the president. In a YouGov/Yahoo! News poll conducted August 21 to 23, 58 percent of females asked said they had an unfavorable view of the president, 50 percent of them saying very unfavorable. This was worse than his overall standing, with 57 percent on the whole, out of 1,145 U.S. adults, having an unfavorable view of him, 47 percent very unfavorable.
The polling also saw Trump lagging behind Democratic presidential candidate Joe Biden in terms of who female voters, with 53 percent stating they would back the Democratic ticket compared to 36 percent for the Republicans.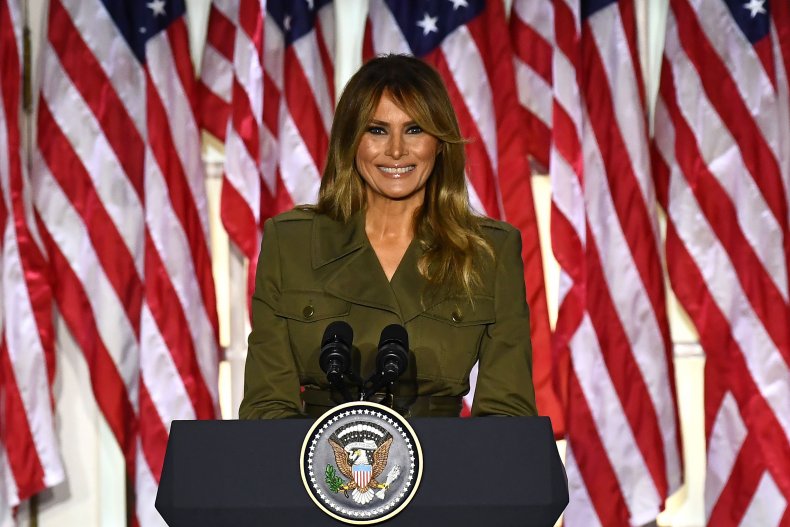 A separate survey also suggested suburban housewives also mostly disapprove of Trump's actions as president.
He, however, has insisted suburban housewives support him, despite the suggested "gender chasm" in his backing.
"The 'suburban housewife' will be voting for me," he said on Twitter earlier this month.
Biden has been ahead in the polls nationally and also has a lead with suburban voters in several key battleground states, as well as his lead among female voters in polling.
Asked for comment, Courtney Parella, deputy national press secretary for the Trump campaign, said the RNC was a time "to highlight the many successes" of President Trump.
"Throughout the week, we will hear women from all walks of life share how this President has and will continue to make America even greater – including his efforts to rebuild our economy, restore jobs, defend our police, ensure safe communities, and prioritize education and school choice," she said.
"Unlike Joe Biden, who seeks to tax us into oblivion and regulate every aspect of our lives, women across the nation can trust President Trump to put them and their families first."
Elsewhere at the RNC, Mark and Patty McCloskey, the St. Louis couple who became well-known after they brandished firearms at protesters outside their home, also pitched to the suburbs, suggesting the Democrats would not keep such areas safe. Trump has long himself pushed a "law and order" narrative amid unrest, though has faced criticism over his reaction to protests nationwide.
While the first lady pushed the notion of women voting, the RNC was also addressed by pro-life advocate Abby Johnson, who previously said she would support household voting—and that in a scenario a husband and wife disagreed, the husband should have the final say.
Update 08/26/2020: This page was updated to include comment from the Trump campaign.