Michael Van Der Veen, Donald Trump's Defense Attorney, Finds 'TRAITOR' Scrawled on Home
Vandals struck at the family home of Donald Trump defense attorney Michael van der Veen over the weekend.
Pictures taken by local media show the word "TRAITOR" spray-painted in red across the entrance to the driveway of the Pennsylvania property. Arrows pointed toward the home.
Eggs were also thrown at the front door of the property, investigators told Newsweek.
It happened around 8 p.m. on Friday, the day Trump's lawyers wrapped up their case, at the residence in West Whiteland Township, approximately 30 miles southwest of Philadelphia, according to police.
"Mr. Van Der Veen's wife had come home to find the word 'traitor' spray painted in her driveway and eggs thrown at the front door," Detective Scott Pezick of West Whiteland Township Police Department said on Monday.
Officers are investigating the incident, however police said there were no suspects at the time of publication.
Police presence has been increased in the neighborhood, Pezick told CBS Philly on Sunday, and the homeowner has since hired private security to protect the property.
Asked about the vandalism on Fox News Saturday, the attorney said: "To answer your question, my entire family, my business, my law firm are under siege right now. I don't really want to go into that, though."
That appeared to be a reference to demonstrations held outside van der Veen's law office in downtown Philadelphia over the weekend.
Demonstrators called the lawyer a "fascist" and chanted, "When van der Veen lies, what do you do? Convict. Convict," the newspaper said.
Julie Shaw, criminal justice reporter for The Philadelphia Inquirer, tweeted a video of the scene on Friday, reporting that seven protesters were with the Refuse Fascism organization.
Earlier on Friday, Trump's attorney had a heated exchange with Bernie Sanders when the senator asked if he agreed with Trump's stated belief he had rightfully won re-election—a claim based on provenly false claims of widespread election fraud.
Another of Trump's attorneys, Bruce Castor, has also spoken about demonstrations at his home and suggested lower-profile members of Trump's defense team had also been subjected to what he called "very unsettling" acts.
"My house was the subject of unrest," Castor said, during a separate interview with Fox News Saturday. "These people are lawyers and they expect to do their jobs without having fear for their personal safety."
"If the country has reached the point where somebody needs a lawyer that lawyer is themselves attacked, where are we going to be going forward when somebody truly is in need of counsel and can't find one because they're afraid to defend a person who represents what half the country thinks an unpopular cause?"
Trump was ultimately acquitted of the charge of inciting an insurrection on January 6 at the U.S. Capitol. The Senate voted 57-43 to acquit.
At the start of the year, vandals also struck at the homes of House Speaker Nancy Pelosi and the Senate's then-Majority Leader Mitch McConnell.
Both incidents appeared to have been caused by frustrations over the continued impasse in Congress over a second round of stimulus checks.
At Pelosi's San Francisco home, a pig's head was left outside the garage door on which graffiti read "$2K", "Cancel rent" and "We want everything."
The following day, January 2, similar sentiments were found spray-painted onto McConnell's Kentucky residence's door. One message read: "Were's my money?" according to WAVE, and another said, "Mitch Kills Poor."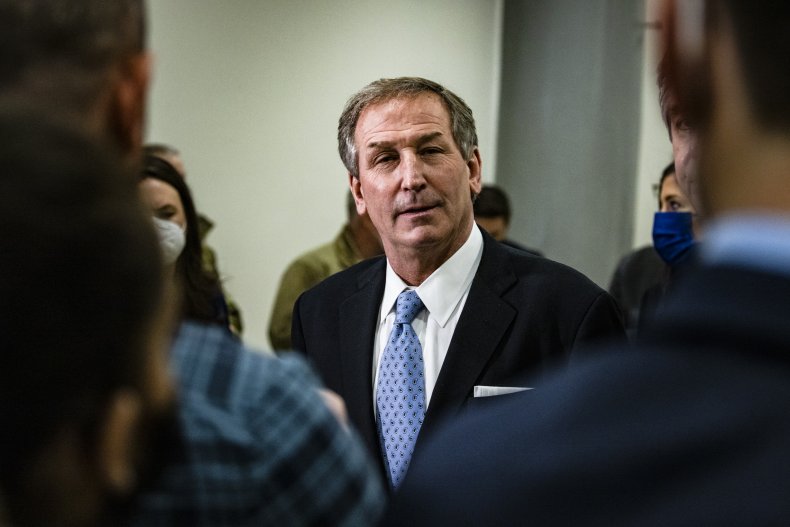 Update 2/15/21, 11:48 a.m. ET: This article has been updated to include comment from Detective Scott Pezick of the Whiteland Township Police Department.