The Midterms: What to Expect Tonight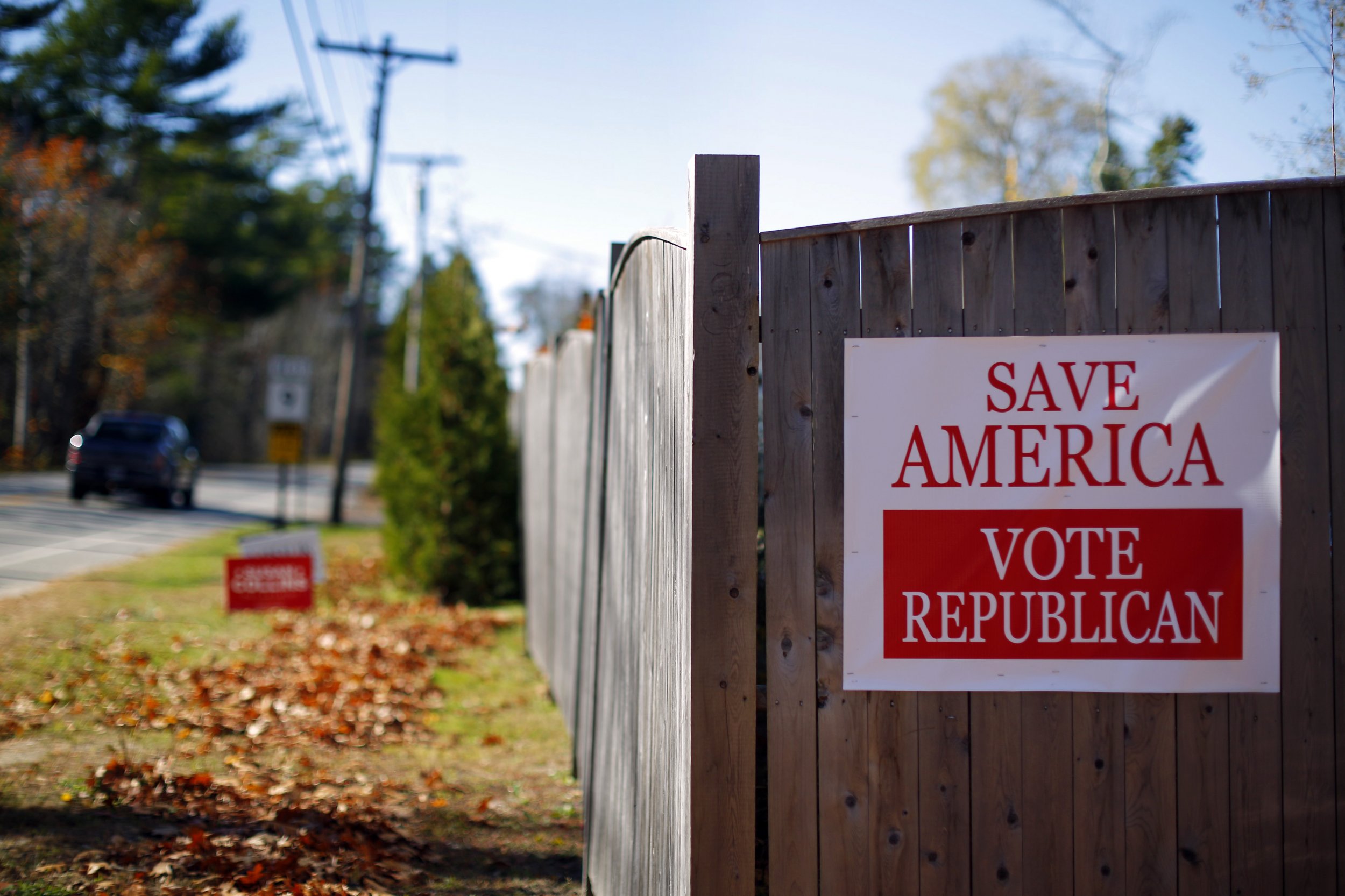 Today's midterm elections will determine whether Republicans or Democrats will hold the majority in the United States Senate—although it might take longer than a single day for the winner to emerge.
Democrats and Republicans agree that returns in the key East Coast states of North Carolina and New Hampshire, where polls close at 7 p.m. Eastern Time, will give an early indication of whether Republicans will sweep the board—whether Democrats are looking strong.
To take the majority, Republicans need a net gain of six seats. It is predicted that three of those six will easily fall to the GOP due to Democratic incumbents retiring in red-leaning states: South Dakota, West Virginia and Montana.
Republicans have several paths to picking up the last three. The most likely states to flip are Alaska, Arkansas and Louisiana—all red states in presidential years. Republicans are also favored to pick up seats in two purple states—Colorado and Iowa—and are close to capturing seats in North Carolina and New Hampshire.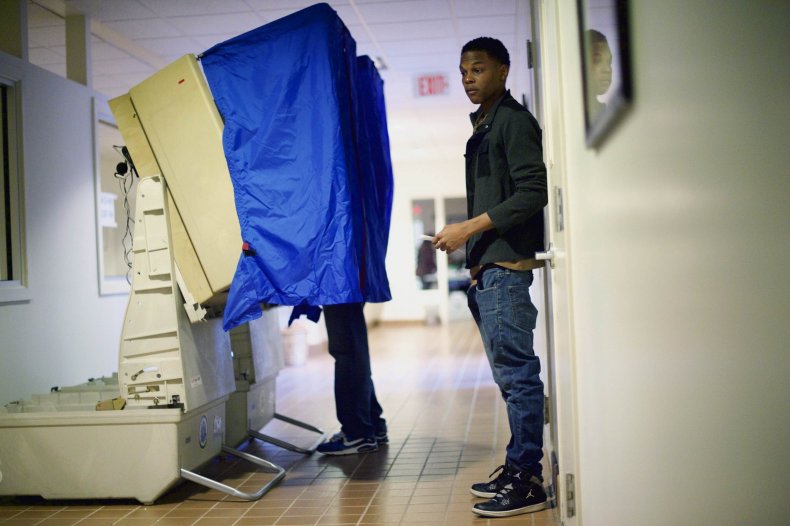 In Focus
Americans will determine whether Republicans or Democrats will hold the majority in the U.S. Senate when they head to the polls to vote in midterm elections Tuesday
Launch Slideshow

20 PHOTOS
But the six-seat gain must be a net gain, meaning Republicans will have to flip more than six seats if they also lose a seat. Right now, Republicans are more likely than not to hold their seats, but Democrats have put three GOP seats in play: one in Georgia, one in Kentucky and one in Kansas, where Democrats are backing independent Greg Orman. However, it is unclear who Orman would caucus with if he beats incumbent Republican Senator Pat Roberts. Orman has said he will caucus with whichever party holds the majority.
For Democrats to hang on to the Senate, they need to fend off some of these challenges. That's not impossible, but election forecasts and polling averages have found this increasingly unlikely. The FiveThirtyEight forecast puts the odds of a Republican takeover at 74 percent. The New York Times puts the GOP's chances at 70 percent.
Why Is the GOP Poised for a Good Night?
Republicans head into Election Day with built-in advantages that for a long time have boosted their chances of winning the Senate.
First, many Democrats up for re-election this year were elected in 2008—a banner year for Democrats that helped put the party over the top in red states like Alaska, Arkansas and Louisiana.
Over the past six years, those states have only gotten redder. And without another Democratic wave to buoy them, these Democrats face tough odds today.
Second, midterm years are historically rough for the party that holds the White House. In 2006, when President George W. Bush was at the same point in his presidency that President Barack Obama is now, Democrats took back both houses of Congress. This year, it certainly doesn't help Democrats that the economic recovery remains sluggish, Obama's approval ratings are in the low 40s and his signature legislation, the Affordable Care Act, remains a political liability (although Democrats have campaigned on popular provisions of the law such as the Medicaid expansion).
Third, the makeup of the electorate favors Republicans in midterm elections. When the president is not on the ballot, many of the Democratic Party's key supporters—namely minority, young and single women voters—never make it to the polls. As a result, the electorate in off-years is older, whiter and more Republican than in presidential years.
Democrats have foreseen this problem and have worked hard to counteract it. At the national level, the Democratic Senatorial Campaign Committee has invested $60 million this cycle into registration and get-out-the-vote efforts in states with vulnerable Democratic incumbents.
This effort has added a degree of uncertainty into the election, particularly in neck and neck races like Iowa, Colorado and North Carolina, where Democratic victories depend on robust turnout. Predictions of strong Republican wins are tempered by reports that the Democratic turnout machine is running up the score in early voting.
"More than 20 percent of the nearly 3 million votes already tabulated in Georgia, North Carolina, Colorado and Iowa have come from people who did not vote in the last midterm election," The New York Times reported Friday—a sign that Democrats' efforts to find their drop-off voters and get them to the polls this year is paying off.
Despite the unfavorable conditions for Democrats, a large number of Senate contests remain very close—which make the outcome hard to predict. In particular, the extent the Democrats can get their voters to turn out adds a layer of uncertainty to the opinion polling. Pollsters use models of likely voters when they draw up their surveys. If Democrats are successful in driving up large numbers of young, minority and women voters, then the pollsters' models could be off.
This is what happened to Republicans in 2012, when GOP presidential candidate Mitt Romney's polling did not reflect the large number of minority voters that ultimately delivered a second term to Obama. Democrats are hoping the polling this year, like Republican polling in 2012, underestimates the number of Democratic voters.
In Georgia, for example, where Democrat Michelle Nunn and Republican David Perdue are running a surprisingly close race, over the past month Nunn has gained in the polls as surveys have shifted to include more African-American voters in their samples. On Monday, the Nunn campaign insisted that the polling did not accurately capture the true makeup of the electorate.
"A closer look at the SurveyUSA poll released today shows good news for Michelle Nunn," read a campaign press release, pointing to a new survey showing the Republican three points ahead of Nunn. "If the makeup of this poll were actually representative of who will vote in the 2014 Georgia U.S. Senate election, then not only would Michelle Nunn be in the lead, but she would win outright tomorrow."
That poll's assumption that Georgia's electorate will be 64 percent white and just 26 percent black could indeed be out of line. Other polls put the balance at 63 percent white and 29 percent black. On the other hand, when campaigns start arguing that the polls are skewed, they are usually—though not always—headed for defeat. The fact that Democrats in Iowa and Colorado are making the same "the polls are wrong" arguments doesn't bode well for them.
Still, the close races across the Senate map make this Election Day more suspenseful than many in the past. In 2012, the polls were clear that Democrats would have a good night; in 2010, it was clear Republicans were headed for big wins. The same is true of 2008 and 2006, when it was clear Democrats would do well.
"The explanation for the Democrats' hold, if it happens, would be a combination of incumbency, voter contact and [get out the vote] competence that still outstrips the Republicans, and smart campaigns like [North Carolina Democratic Senator Kay] Hagan's and [Alaska Democratic Senator Mark] Begich's, though one or both might lose," University of Virginia political scientist Larry Sabato, who runs the forecasting site Sabato's Crystal Ball, told Newsweek.
Republicans are feeling bullish going into Election Day. "While there an unusually high number of very close statewide campaigns, it is going to be a good night for Republicans," GOP pollster Bill McInturff told Newsweek. "Republicans should win on the high end of analyst's predictions in the House and significant state legislative gains as well."
What About Governors' Races?
There are a high number of close Senate races this cycle, but there are even more nail biters when it comes to the gubernatorial contests across the country. Of the 36 governors' races this year, a whopping 14 are rated toss-ups by RealClearPolitics. Across the country, there is a lot of uncertainty when it comes to the next crop of governors.
Here are key races to watch tonight:
Florida: It seems like an election year can't go by without a nailbiter in Florida. This year, Republican Governor Rick Scott is neck and neck with Democratic challenger Charlie Crist—the former Republican governor of the Sunshine State who left the GOP to become and independent and is now a Democrat. Over $100 million has been spent on TV advertising in this state, according to National Journal, and the election could come down to a few thousand votes.
Wisconsin: Democrats in Wisconsin are working hard to defeat incumbent Republican Governor Scott Walker, a potential presidential contender in 2016 who is particularly loathed by Democrats for the controversial anti-union legislation he passed in 2011. Democrats tried and failed to recall him, and now they've nominated Trek bicycle executive Mary Burke to try to defeat him. Walker likely holds a small advantage, but you never know in a closely divided state like Wisconsin.
Kansas: Incumbent Republican Governor Sam Brownback is in a surprisingly tight race in a red state, due largely to his ultra-conservative tax and budget cuts that have left public education in Kansas in the lurch. Brownback's conservative agenda alienated moderate Republicans who are now backing his opponent, Democrat Paul Davis. Still, this is Kansas after all, so Brownback has a chance to hold on.
Maine: Tea Party Governor Paul LePage is tied with Democratic challenger Representative Mike Michaud, while independent Eliot Cutler lags far behind. Cutler essentially conceded defeat last Wednesday and urged Mainers to vote their conscience. Still, the ultraconservative LePage, who won four years ago by winning a plurality in a three-way race, could pull it off again.
Michigan: While incumbent Republican Governor Rick Snyder is the favorite in this contest, Democratic challenger Mark Schauer could pull of an upset. The Democrats' lead in the state's Senate race, coupled with strong campaign funding from Democrats and labor unions, could put the Democrat over the top.
Massachusetts: Four years ago, Massachusetts Attorney General Martha Coakley embarrassingly lost a special election to fill the state's open Senate seat to Scott Brown. Now the party's candidate for governor, Coakley is down again in the polls against Republican Charlie Baker—but the race remains tight. Democrats will be tearing their hair out if they lose this race.
Illinois: Democratic incumbent Pat Quinn is fending off a challenge from Republican businessman Bruce Rauner in this blue state. The state's finances have Quinn in trouble, but help from labor, as well as attacks on Rauner as a job-outsourcing millionaire, may get Quinn over the finish line.
Pennsylvania: Republican Tom Corbett is about to become the first Pennsylvania governor to lose re-election, according to National Journal. The unpopular incumbent offers Democrats one of the few pickup opportunities this cycle.
Colorado: Incumbent Democrat John Hickenlooper is fending off Republican challenger former Representative Bob Beauprez. The two are running neck and neck, just like the state's close Senate race.
Connecticut: Democratic incumbent Dannel Malloy is in a tough rematch against millionaire Republican Tom Foley, whom Malloy barely defeated four years ago. The race is all tied up going into Election Day.
Georgia: Incumbent Republican Nathan Deal is likely to prevail against Democratic state Senator Jason Carter on Tuesday—but the state's changing demographics and Deal's own unpopularity are giving Deal a run for his money.
What About the House of Representatives?
While the Senate and governors races are suspenseful, the battle for the U.S. House is not. Republicans will not lose control of the House of Representatives, which Democrats are unlikely to win even in strong Democratic years thanks to the way the congressional maps were redrawn in their favor by Republicans in 2011 when the GOP controlled the majority of state legislatures.
"The question in the House is whether Republicans are going to pick up 13 seats and have their highest number of House seats in the post–World War II period," political analyst Charlie Cook told Newsweek.
Perhaps more important than how many new Republicans join the House is what kind of Republicans they will be. As The New York Times noted Monday, many retiring members will be replaced with more conservative replacements who will be even harder for the Republican House leadership to manage. Keeping the Tea Party members in line over the past four years has been no easy task (remember the debt limit showdowns and the government shutdown).
Wait, How Much Money Was Spent?
$4 billion. These midterm elections are projected to hit a whopping $4 billion in spending nationwide—the most expensive midterm election in U.S. history. In states with close Senate races, voters are seeing more television ads than ever before. In the post–Citizens United world—the Supreme Court decision that opened the door to unlimited third-party spending in elections—elections are becoming more expensive and rich donors and super PACs account for more of the spending than small donors.