Mike Lindell's Site Frank Teases Launch 'Phase 2' As MyPillow CEO Appears on Jimmy Kimmel
MyPillow CEO Mike Lindell's "free speech" social network Frank is to launch a second phase that will include podcasts and TV broadcasts, according to its website.
The platform has suffered tech problems since its launch earlier this month and Newsweek was redirected to a holding page when we tried to access the site on Thursday morning.
The holding page claims that the updated site will feature extra content from "nationally known broadcasters," although they are not named.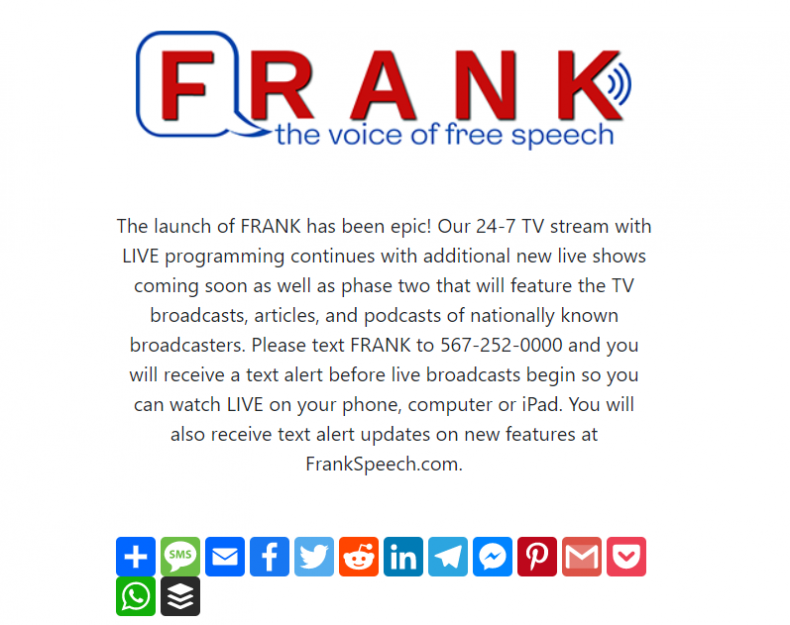 The platform's problems come as Lindell—a Donald Trump-supporting businessman who has been permanently suspended from Twitter for breaking its policies on election misinformation—appeared on Jimmy Kimmel Live! on Wednesday.
Kimmel and Lindell have previously fired barbs at each other, but this is the first time the CEO has appeared on the late-night show. In their wide-ranging conversation, Lindell doubled down on his baseless claims about the 2020 election while Kimmel grilled him on details.
Kimmel said: "A lot of people didn't want you to come on this show, liberals and conservatives … But I think it's important that we talk to each other."
Lindell replied: "Absolutely."
During the interview, the MyPillow CEO reiterated his criticisms of Dominion Voting Systems, which has launched a $1.3 billion lawsuit against him for defamation. MyPillow is suing Dominion.
Kimmel said of Lindell's allegations about election interference through voting machines: "Let's be honest, your website doesn't even really work, so, well, why would you think that you have broken this code, of all people?
"I don't think there's any validity to any of this stuff that you're saying … I laugh at a lot of the stuff, but a lot of people don't laugh because a lot of these ideas that you espouse—you could potentially draw a line from those to the riot we had at the Capitol where people were killed, and a lot of bad things."
Lindell claimed that he had not seen evidence to support his allegations until January 9, three days after the violence in Washington, D.C. He said: "This was an attack through the machines. And what I'm saying is, to everyone, this isn't a Democrat or a Republican thing. For me, it's putting it out there."
Lindell did not reveal what this evidence was or when it might be made public, but added that he would be "bringing it all to the Supreme Court."
A clip from the pair's conversation was posted on the late-night show's YouTube channel. Viewers praised the interview in the comments, with one writing: "That moment when more people were more excited for this interview than the Oscars."
Another wrote: "It's wild that this is the best cross-ideological interview I've seen in a while."
Newsweek has contacted Lindell for further comment.