MyPillow founder Mike Lindell erupted with anger toward a journalist at the Conservative Political Action Conference (CPAC) on Saturday, leading a crowd in chanting "traitor" at the reporter and calling him "disgusting."
Lindell has been a key promoter of misinformation about the 2020 election results, claiming that President Joe Biden's election victory was due to voting machines being "hacked." Cybersecurity experts and election officials, both Republicans and Democrats, have consistently debunked and discredited his allegations.
During the CPAC conference in Orlando this weekend, Lindell was questioned by CBS News journalist Robert Costa about a January 15, 2021 photo from outside the White House. In the photo, Lindell was seen holding documents that suggested then President Donald Trump could declare "martial law if necessary." The MyPillow CEO told The New York Times at the time that the papers were provided by an unidentified lawyer and aimed to help Trump prove that he was the true winner of the election.
Costa on Saturday asked Lindell if he could provide the name of the lawyer or lawyers who had given him the documents. The pro-Trump businessman quickly grew angry with him.
"That picture will go down in history as helping to save this country," Lindell said. When asked who gave him the papers, Lindell responded: "That's none of your business. A whole bunch of lawyers did. I've never read them."
When the journalist pressed him further, Lindell grew frustrated, refusing to say who gave him the documents.
"Robert Costa is a traitor to the United States of America," Lindell asserted, as a crowd gathered around them. He went on to call Costa "disgusting" and led those surrounding them in chants of, "Traitor! Traitor! Traitor!"
"Why do you protect a company called the media and attack a company called MyPillow? You're disgusting," Lindell said.
Previously, Lindell spoke at a side stage in a neighboring convention hall—not the main auditorium for the large right-wing conference—and lamented that he wasn't given a larger platform to speak during a Friday interview with RSBN.
"I don't want to bash CPAC [cause] it is a voice but I will say this: they're in fear yet! They're in fear that they don't want anyone talking about the 2020 election," he said when he was asked about the issue. Lindell said this was "disgusting" coming from CPAC.
Zac Anderson, a political editor at the Sarasota Herald-Tribune, said Lindell also called him "disgusting" as he questioned him about his evidence for election fraud claims at CPAC.
"This guy just said where's the evidence," Lindell reportedly told the journalist. "You are disgusting."
Despite the claims promoted by Lindell, Trump and other allies of the former Republican president—no evidence has emerged corroborating the allegations about the 2020 election. To the contrary, audits and recounts across the country including in areas where the election was overseen by pro-Trump conservatives have consistently reaffirmed Biden's win.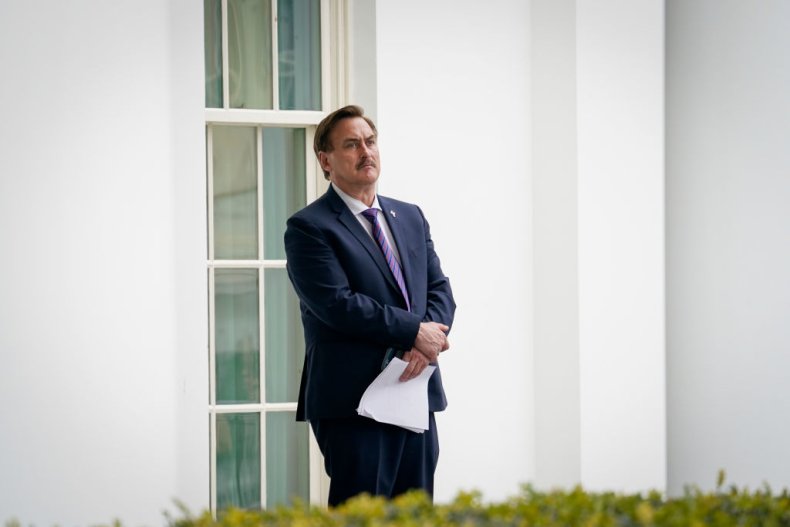 Over 60 election challenge lawsuits brought by Trump and his allies failed in state and federal courts. Even judges appointed by Trump and other Republicans ruled against the legal challenges. GOP election officials across the country have countered the conspiracy theory as well.
Former Attorney General William Barr, who was widely viewed as one of Trump's most loyal Cabinet members, said there was "no evidence" of widespread fraud that would change the election's outcome. The Cybersecurity and Infrastructure Security Agency at the Department of Homeland Security, while still led by a Trump appointee, described the 2020 election as the "most secure in American history."