Mike Lindell, Steve Bannon Urge Supporters to Watch MSNBC Over Fox News: 'Better Coverage'
Mike Lindell, CEO of MyPillow, and Steve Bannon, former White House Chief Strategist under Republican President Donald Trump, have urged their supporters to start watching MSNBC rather than Fox News. They said that MSNBC has "better coverage."
The two Trump supporters made their comments during an interview on Bannon's War Room, a show on Real America's Voice, a right-leaning media network.
"Watch Chris Hayes or Rachel Maddow," Bannon told his audience. "They get better coverage every day,"
"Way better than Fox," Lindell laughed.
"They're blowing us off and they hate you in the audience, but they're still doing real coverage," Bannon said of MSNBC.
Twitter commenters expressed surprise at the two right-wing commentators recommending a left-leaning news network. However, the duo's remarks may have more to do with right-wing displeasure towards Fox News rather than an appreciation of MSNBC's coverage.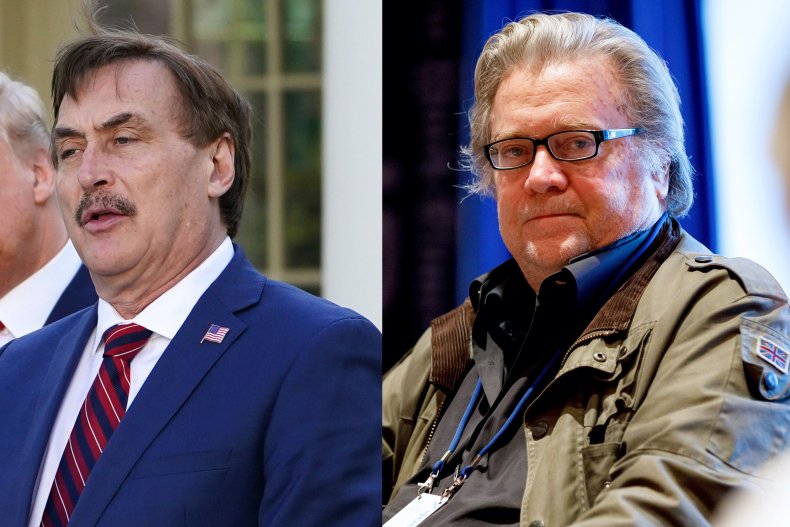 Fox News began gaining the ire of the Trump administration and other conservatives after the network declared now-President Joe Biden as the winner of Arizona on Election Night in 2020. This, and Fox News' subsequent declaration of Biden as the election's winner, directly contradicted Trump's claims that he could still win the election by contesting allegedly fraudulent ballots.
Since then, Trump, many of his supporters and other conservatives on social media have all publicly railed against Fox News and suggested that others begin watching other channels instead. Trump himself seems to favor the right-leaning network Newsmax. From November 7 to November 12, 2020, Trump shared several tweets of conservative Twitter users who said they had ditched Fox News for Newsmax.
Since the election, Newsmax, One America News and Real America's Voice have increasingly positioned themselves as media outlets that are more conservative and further to the right than Fox News.
Lindell and Bannon have both supported Trump's baseless claims that the 2020 election was "stolen" through an unprecedented nationwide conspiracy of voter fraud. Both men have said that Trump's claims will be proven by the ongoing vote audit in Maricopa County, Arizona.
Bannon has provided around-the-clock coverage of the audit on his video podcast, ABC News reported. He and Lindell have both said that the audit will lead to further audits in Georgia and Michigan, two states that Trump also lost in 2020.
Lindell's claims that machines from Dominion Voting Systems flipped votes from Trump to Biden during the 2020 election compelled the company to file a $1.3 billion defamation lawsuit against the pillow businessman in February. Lindell countersued the company for $1.6 billion in April, claiming that their lawsuit violated his Constitutional rights to free speech.
Lindell has also falsely claimed that Trump will become president again by August or fall at the latest. He has said that the Supreme Court will rule Trump as the rightful president, even though there's no precedent to support his theory.
Trump fired Bannon as White House chief strategist and senior counselor on August 18, 2017. Bannon reportedly referred to Trump as "a crooked business guy" and a "scumbag," according to Michael Wolff's book Fire and Fury: Inside the Trump White House. In retaliation, Trump publicly referred to Bannon as "Sloppy Steve" on Twitter and claimed that he "cried when he got fired and begged for his job."
Bannon was arrested in August 2020 for allegedly swindling money from a crowdfunding campaign to help build a wall on the U.S./Mexico border. Trump pardoned Bannon from all charges on January 20.
Newsweek contacted Lindell's office for comment.