Moderate House Dems Double Down on Support for Build Back Better After Manchin Opposition
Moderate House Democrats doubled down on their support for President Joe Biden's Build Back Better Act on Sunday after Senator Joe Manchin, a West Virginia Democrat, said he would not vote in favor of the large social spending package.
In an interview with Fox News Sunday, Manchin asserted that he was opposed to the Build Back Better legislation after months of negotiations with the White House, Democratic leaders and progressives. "I can't vote for it. And I cannot vote to continue with this piece of legislation," the moderate Democratic lawmaker said.
Hours later, the New Democrat Coalition—a caucus with nearly 100 Democratic members in the House—emailed a statement to Newsweek touting their continued support for Build Back Better. In the statement, New Democrat Coalition chair Representative Suzan DelBene of Washington pointed out that her caucus had "unanimously" backed the bill when it passed the House in November.
"The challenges our country faces are too big and the cost of inaction is too high to throw in the towel on Build Back Better negotiations now. Programs that New Dems fought for and secured in the House-passed Build Back Better Act address the most pressing issues for families and our nation. This legislation extends the enhanced Child Tax Credit, builds on the Affordable Care Act, tackles the climate crisis, and empowers communities to create lasting economic opportunities and jobs," DelBene said.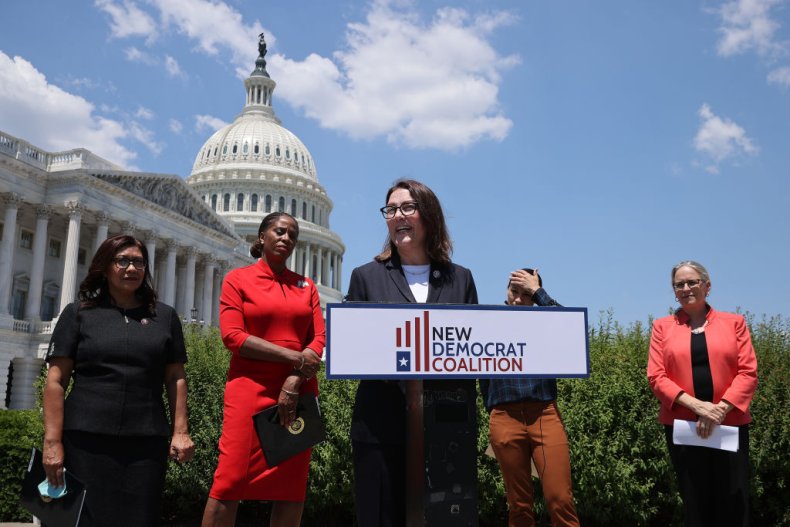 The statement from the New Democrat Coalition chair did not mention Manchin by name, but it emphasized the caucus' support for continued negotiations and eventual passage of Biden's agenda.
"Our members unanimously voted to advance the Build Back Better Act to the Senate last month, and we are still at the table, ready to reach an agreement on a bill that will get 218 votes in the House and 50 votes in the Senate," DelBene said.
"Failure is not an option," she asserted, saying that "Americans across the country are depending on us."
Whether Manchin's mind can be changed remains to be seen. Democratic leaders had already admitted last week that the Build Back Better Act would not pass before the end of the year as they had hoped. However, the White House had expressed optimism that it could be passed early in the new year.
White House press secretary Jen Psaki released a statement on Sunday suggesting that Manchin had misled the White House about his position on Build Back Better.
"Senator Manchin's comments this morning on FOX are at odds with his discussions this week with the President, with White House staff, and with his own public utterances. Weeks ago, Senator Manchin committed to the President, at his home in Wilmington, to support the Build Back Better framework that the President then subsequently announced. Senator Manchin pledged repeatedly to negotiate on finalizing that framework 'in good faith,'" Psaki said.
The Biden administration official went on to say that Manchin would need "to explain to those families paying $1,000 a month for insulin why they need to keep paying that, instead of $35 for that vital medicine. He will have to explain to the nearly two million women who would get the affordable day care they need to return to work why he opposes a plan to get them the help they need. Maybe Senator Manchin can explain to the millions of children who have been lifted out of poverty, in part due to the Child Tax Credit, why he wants to end a program that is helping achieve this milestone—we cannot."
Progressive Democrats slammed Manchin over his opposition to president's policy agenda.
"Senator Joe Manchin made a promise to President Biden to support a framework that would help lower health care costs, cap the price of insulin and other prescription drugs, lower child care costs for Americans, address the climate crisis, and give working people and poor people a shot in America. Today, Senator Manchin has betrayed his commitment not only to the President and Democrats in Congress but most importantly, to the American people," Representative Pramila Jayapal, a Washington Democrat who chairs of the Congressional Progressive Caucus, said in a statement emailed to Newsweek.
"He routinely touts that he is a man of his word, but he can no longer say that. West Virginians, and the country, see clearly who he is," Jayapal said.
Without Manchin's support, the Build Back Better Act appears all but doomed to pass in Congress. Democrats aimed to approve the social spending package through the budget reconciliation process, as no Republican lawmakers back the bill. However, with an evenly split Senate, all 50 members of the legislative chamber's Democratic caucus must vote in favor for it to be approved.
The West Virginia Democrat has pointed to concerns about inflation to justify his opposition to Build Back Better. Inflation has risen to a near 40-year high, reaching close to 7 percent. However, leading economists and top U.S. ratings agencies have pushed back against the inflation concerns—saying that the bill would not have a significant impact and would "ease" the economic hardships facing many Americans.