CryptoCorner
The number of companies and organizations accepting Bitcoin as payment continues to grow despite the cryptocurrency's wild price swings.
The motivation appears to be a shrewd mix of embracing the digital future and sly promotion.
Tesla is perhaps the best-known adopter of Bitcoin. It's on-again, off-again acceptance of the crypto jacked and spiked its price, underscoring its limits as an asset.
In February, Tesla announced a $1.5 billion investment in Bitcoin and said it would accept crypto for the purchase of its electric cars.
Bitcoin's value soared.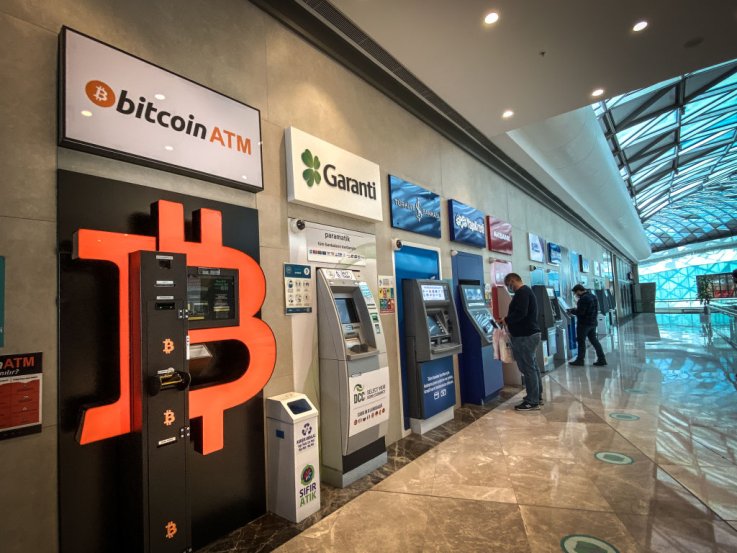 People use bank ATM"s next to a Bitcoin ATM machine at a shopping mall on April 16, 2021 in Istanbul, Turkey.
Chris McGrath/Getty Images
The company backtracked in May when founder and CEO Elon Musk expressed concerns about the amount of electricity used in Bitcoin mining, the solving of complex hexadecimal puzzles to earn new coins.
Bitcoin's value took a hit.
In June, Musk said the company will begin accepting Bitcoin when mining operations are powered by at least 50% renewable energy.
Bitcoin stirred from its price drop.
Musk also playfully plugged Dogecoin, the joke crypto created in 2013 as a parody of Bitcoin.
This suggests that Musk, wise in ways of the media, is just having fun. But Tesla's $1.5 billion investment in Bitcoin is no joke—even for a swashbuckling entrepreneur who proclaimed himself "Dogefather."
Microsoft has accepted Bitcoin at its online Xbox Store since 2014. It stopped accepting the crypto due to manic price swings, but now accepts it for Xbox store credits.
In 2014, Microsoft co-founder Bill Gates told Bloomberg, "Bitcoin is better than currency in that you don't have to be physically in the same place and, of course, for large transactions, currency can get pretty inconvenient."
Discount retailer Overstock.com accepts Bitcoin and provides detailed payment instructions on its website.
Flexa said a range of companies, including Lowes, Regal Cinemas, Whole Foods, Petco, Barnes & Noble, Baskin Robbins and Crate and Barrel also accept cryptos as payment.
Starbucks accepts Bitcoin through the Bakkt app.
Etsy, an online company selling art prints and craft supplies, doesn't accept Bitcoin directly on its website, but the independent retailers linked to it have the option to accept cryptos at checkout.
Earlier this month, the National Republican Congressional Committee said it would begin accepting campaign contributions in Bitcoin. It said the action, believed to be a first, would allow it to use new technology to raise money for the 2022 midterm elections.
In any case, crypto will be converted to Yankee dollars before the contribution is deposited in the committee's account. A skeptic might ask, "So what's the fuss?" The Federal Election Commission approved the use of cryptos in campaign contributions in 2014.
A split is developing between the world's two top cryptos: Bitcoin has become a buy-and-hold investment for major companies such as MicroStrategy, while Ethereum is a bet on the future development of a new decentralized financial system.
An analyst says about 25 companies have at least doubled their initial investment in Bitcoin.
The obvious question: Why spend a rising asset, or at least an asset one hopes will appreciate over time, on coffee or doorknobs?
In general, Bitcoin's price is driven by market sentiment, including hope for future gains and appetite for risk. Unlike a promising stock in a hot sector, Bitcoin has no fundamentals.
In any case, Ethereum's technology appears to be better suited for commerce than Bitcoin.
In mid-day trading Wednesday, Bitcoin changed hands at $34,245.63, down 5.22% in the last 24 hours but up 17.76% for the year. The 24-hour range is $34,057.75 to $26,609.26 The all-time high is $64,829.14, CoinDesk reported.
MarketPulse
New rules developed by the U.S. Consumer Financial Protection Bureau will give homeowners behind on mortgage payments additional protection from foreclosure through the end of the year.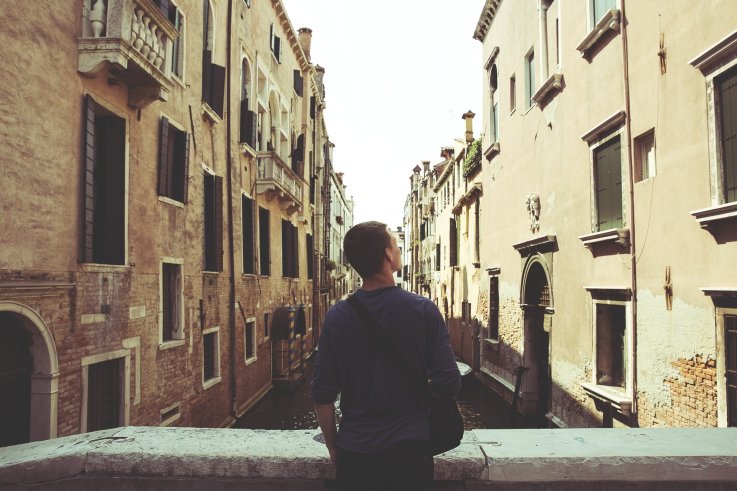 The average mortgage debt Americans retire with is above $77,000.
Free-Photos/pixabay.com
Mortgage lenders must first contact delinquent homeowners to determine if they qualify for a lower interest rate or other modifications to make repayment easier.
"The consumer bureau's rule equips homeowners with key protections and helps to prevent unnecessary foreclosures," Melissa Stegman, Lending Senior PolicyCounsel at the Center for Responsible Lending, a non-profit advocacy group based in Durham, North Carolina, said in a news release. "The rule creates a pathway for homeowners and servicers to arrange loan modifications to help keep people in their homes."
The rules seek to ensure that lenders review the large number of borrowers scheduled to lose temporary COVID-19 relief measures that allowed homeowners to delay monthly mortgage payments until the fall.
If the mortgage can't be modified, if the owner doesn't respond to inquiries, or if the property is vacant, foreclosure can proceed after August 31.
The federal moratorium on foreclosures was extended to July 31. It had been set to expire June 30.
Black Knight, a Jacksonville, Florida-based mortgage data company, said the national delinquency rate rose to 4.73% from 4.66% in April. Early-stage delinquencies, or those 30 to 60 days past due, increased by 110,200 in May. However, delinquencies of 90 days or more but not yet in foreclosure improved for the ninth month in a row.
Nevertheless, there are about 1.7 million first-lien delinquent mortgages—1.26 million more than prior to the coronavirus pandemic.
"Foreclosure inventory hit yet another new record low as both moratoriums and borrower forbearance plan participation continue to limit activity, keeping foreclosure starts near record lows," Black Knight said in a report.
The mortgage industry estimates that 7 million homeowners participated in forbearance programs during the pandemic.
Borrowers were permitted to skip mortgage payments if the COVID-19 pandemic caused hardship. The missed payments will be tacked on to the end of the loan.
About 2.06 million homeowners were in a forbearance program in June, Black Knight said.
"An unchecked wave of foreclosures would also risk destabilizing the housing market for all consumers," Dave Uejio, acting director of the CFPB, said in a prepared statement. "We are giving homeowners the time and opportunity to make informed decisions about the best course of action for them and their families, whether that is seeking a loan modification or selling their home. And we are giving mortgage servicers the flexibility they need to serve homeowners with dignity, while managing an unprecedented volume of borrowers seeking assistance."
In 2019, the year before the COVID-19 pandemic hit, mortgages nationwide totaled $10.5 trillion. Properties were valued at $29.2 trillion, giving homeowners $18.7 trillion in home equity, Lending Tree reported.
Home equity continues to grow in a hot market.
The S&P CoreLogic Case-Shiller National Home Price Index, rose 14.6% for the year ended in April, up from a 13.3% annual rate in March. It was the steepest annual growth rate since the index began tracking the average house prices in major metropolitan areas across the nation.
Prices surged due to low interest rates, which have boosted demand, and a limited supply of houses, especially existing houses, for sale.
In May, the Consumer Price Index for all urban consumers rose 0.6% and 5% over the last 12 months. Less food and energy, index is up 3.8% in the last year, the U.S. Bureau of Labor Statistics reported.
Wall Street analysts expect the Fed to boost interest rates starting in 2023.
Correction 02/08/2022, 10:05 a.m. ET: An earlier version of this story incorrectly stated that Home Depot accepts Bitcoin.