MSNBC host Joe Scarborough told Donald Trump loyalists who continue to believe the 2020 election was not fair to "get the hell out" of the U.S., saying they are "unworthy" of the country.
Polling conducted by SSRS for CNN in late April showed that 70 percent of Republicans do not believe President Joe Biden won enough votes to beat the former president in the 2020 election. Furthermore, half of Republican voters said there is solid evidence to back Trump's false claims about the last election.
Other recent polls have shown similar results, and Scarborough, who previously served as a Republican in the House of Representatives but now identifies as an independent, appeared to lose patience with those who believe Trump's conspiracy theories on his Friday morning MSNBC show.
Scarborough called the lies being promoted by Trump and his supporters about the election "a lazy, stupid conspiracy." He said that people would be able to do "about five minutes" of research to learn the truth. "But they don't want to know the truth," the host of MSNBC's Morning Joe said.
"America, love it or leave it! If you don't have respect in American democracy anymore, if you don't respect Madisonian checks and balances if your guy doesn't win, if that's the new rules of engagement for this great republic, then just leave our country! Because you're unworthy of it!" the ex-Republican lawmaker said with a raised voice full of emotion.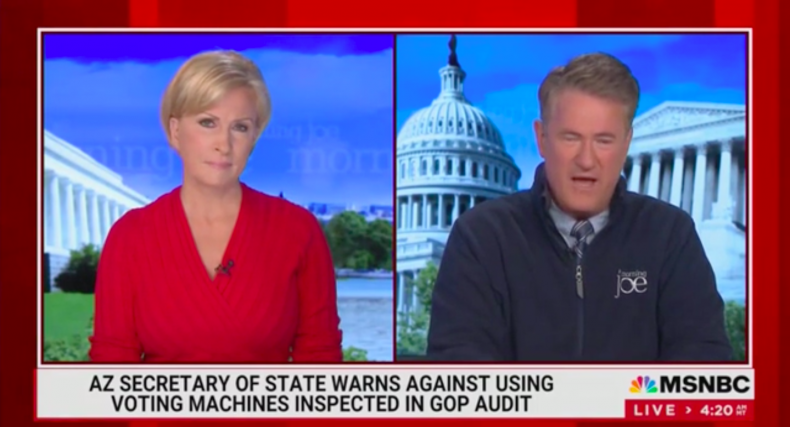 Scarborough went on to say that "there are millions of immigrants who will come here and raise their right hand and buy into the creed and believe that we are exceptional, that believe American democracy is the greatest government on the face of the Earth!"
He said that Trump loyalists who continue to believe and promote the conspiracy theories about the election "shame and "disgrace" themselves, adding that they "disgrace our country in the eyes of the world."
"Yes, this is all on you. Get the facts! Live in the light! Follow the truth! And love this country! And stop this! Or leave. Or leave. If you're going to believe a reality-TV show host's lies about the American republic, his desecration of American exceptionalism, then just get the hell out," he said. "We don't want you here."
Trump and his allies continue to spread conspiracy theories about the 2020 election, claiming it was "rigged" or "stolen" by Biden and the Democrats. But dozens of election challenge lawsuits filed by Trump and his supporters in state and federal courts have been dismissed. Even judges appointed by Trump and other Republicans have rejected the often bizarre allegations. Meanwhile, multiple audits and recounts in key battleground states—including in places where the election was overseen by pro-Trump Republicans—have reaffirmed Biden's victory.
In December, former Attorney General William Barr, who was widely viewed as one of Trump's most loyal Cabinet officials, said there was "no evidence" of voter fraud that would change the election's outcome. Shortly after the election, the Cybersecurity and Infrastructure Security Agency at the Department of Homeland Security described it as the "most secure in American history." The agency, which was led by a Trump appointee at the time, asserted that there was "no evidence that any voting system deleted or lost votes, changed votes or was in any way compromised."
Scarborough's criticism of Trump supporters is reminiscent of remarks the former president was widely condemned for in 2019, when he told political critics to "leave" and claimed they "hate our country." The former president posted a series of tweets calling for progressive Democratic Representatives Rashida Tlaib of Michigan, Ayanna Pressley of Massachusetts, Ilhan Omar of Minnesota and Alexandria Ocasio-Cortez of New York to "leave" and "go back" to their countries.
With the exception of Omar, all the congresswomen were born in the U.S. Omar came to the U.S. as a child and became a naturalized citizen in 2000. All four lawmakers are people of color.
Trump's controversial tweets were formally condemned by the House of Representatives as racist. Four Republicans and former conservative independent Representative Justin Amash of Michigan voted with Democrats to condemn the former president's comments.
Newsweek reached out to Trump's office for comment but did not immediately receive a response.