'NCIS' Season 18 Finale: Is Emily Wickersham Leaving As Ellie Bishop?
NCIS viewers this season have had to cope with losing Jack Sloane (played by Maria Bello) this season, and have been following the rumors that Mark Harmon is set to reduce his time playing Gibbs on the show. With fans of the CBS show focusing on Sloane and Gibbs, they were completely blindsided by the Season 18 finale that seemed to show Ellie Bishop (Emily Wickersham) blowing up her job in the team in order to go undercover.
In Season 18, Episode 16, titled "Rule 91," Bishop is revealed to have leaked a confidential National Security Agency (NSA) file a decade ago. She would have never been found out had that file not turned up during the hunt for two arms dealers.
However, it was later revealed in the finale Bishop had deliberately planted this file where she and Torres (Wilmer Valderrama) would find it so she could go undercover as a disgraced NCIS agent, working for Odette (Elayn Taylor), the mysterious spy and ally of Gibbs and Ziva (Cote de Pablo). In the episode, we see her leave after a goodbye kiss with Torres, whom she tells she is leaving for a long time.
Is Emily Wickersham leaving NCIS?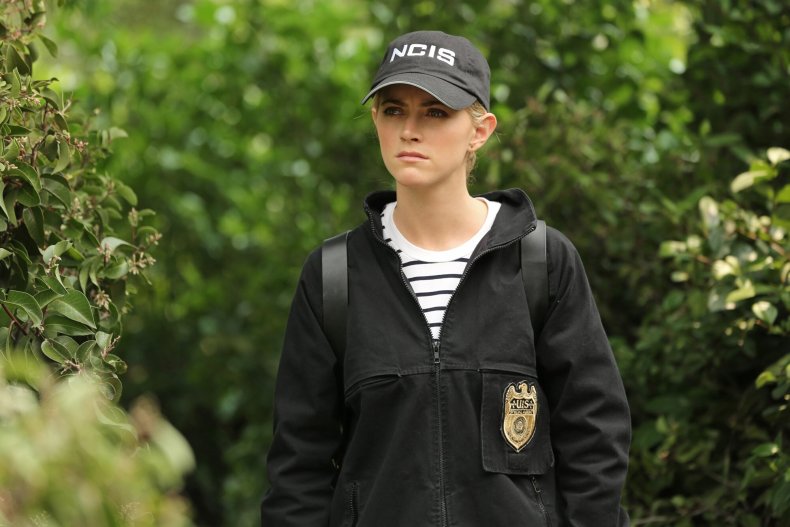 Though it has come as a surprise to many reporters who were distracted by the rumors around Mark Harmon, it seems like Bishop has handed in her NCIS badge for good.
The actor wrote a message on Instagram that said goodbye to her character, whom she has played since 2013. Wickersham wrote: "Hangin this hat and jacket up. What a great ride it's been.
"This cast, this crew, are top notch. I can't say enough kind words about this group that I've had the pleasure of working with for close to 8 years now and 172 episodes later. This business is finicky and weird and consistency is a rarity. I've been lucky enough to be a part of a show where I got to show up and act and laugh and learn with wonderful people.
"A moment in time I surely won't forget. Thank you CBS and NCIS for including me in a part of television history. Time goes fast. Eat it up but chew slowly."
Wickersham leaving the show makes sense in light of recent casting news on the CBS show. Earlier in the year, it was revealed that Season 18 guest star Katrina Law, who played REACT member Jessica Knight, could return as a series regular if the show was renewed for Season 19. That renewal has now happened, and there is now a slot in the NCIS team ready for Knight to take up.
With Wickersham's exit, Kasie Hines actor Diona Reasonover becomes the longest-tenured female star on the show.
Bishop's exit is part of what looks to be a big casting shake-up for Season 19. Gibbs (Harmon) ended the episode by faking his own death, which seems likely to be setting up a reduced presence for the actor on the show next season as his character goes into hiding.
Filming of the show's 19th season is set to begin shortly, meaning fans will soon have a better idea of exactly how much filming Harmon is set to do for the next season, expected to air on CBS this September.
NCIS Season 18 and every other episode of the show are streaming now on Paramount+.