Newsom Hardest Democrat to Beat in 2024 Presidential Race: TPUSA Straw Poll
Attendees at this weekend's conservative Turning Point USA (TPUSA) Student Action Summit believe that California Governor Gavin Newsom would be the hardest Democratic candidate for a Republican to beat in a hypothetical 2024 presidential race, according to a new straw poll.
Just over 30 percent of attendees said Newsom would be the most formidable Democratic candidate while Michelle Obama came in second place with 13.6 percent, according to the poll, the results of which were first reported by Fox News on Sunday.
Hillary Clinton ranked third with 10.5 percent of attendees believing she'd be the top Democrat to beat while Senator Bernie Sanders came in fourth at 10.3 percent. Nearly 8 percent of those surveyed selected Vice President Kamala Harris, and only 4.4 percent said that President Joe Biden would be the toughest Democratic opponent for a GOP challenger.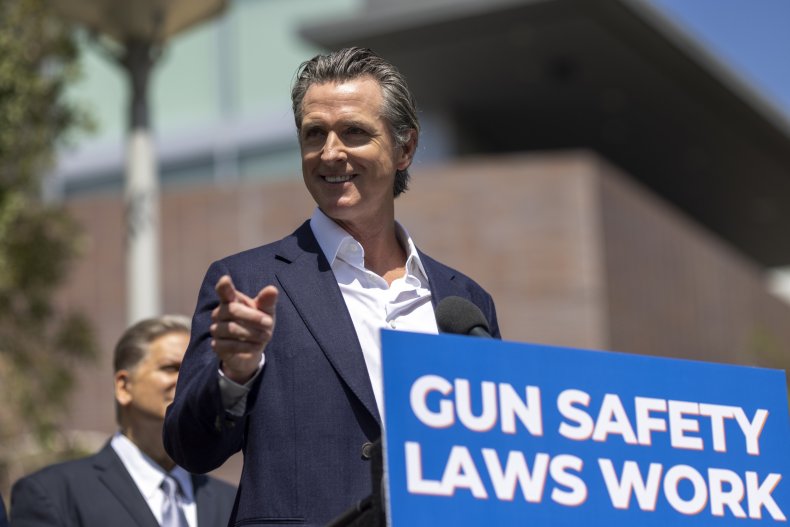 Newsom has made national headlines in recent weeks after he paid for an ad to air in Florida during the July 4 weekend urging Americans to move from Republican Governor Ron DeSantis' Florida to California.
In the ad, Newsom told Floridians: "It's Independence Day. Let's talk about what's going on in America," before saying that their "freedom" was "under attack."
"Your Republican leaders, they're banning books, making it harder to vote, restricting speech in classrooms, even criminalizing women and doctors," the governor said.
Newsom told The Sacramento Bee that he made the ad in response to DeSantis' actions he had taken against the Special Olympics when he threatened to impose a $27.5 million fine against the organization if it didn't drop a vaccine mandate. The Florida governor was an honorary co-chair for the event.
"That led to the consideration of doing something a little bit more expressive and that was the determination on the ad," Newsom told the newspaper.
Some Democrats believe that Newsom is positioning himself to run for president in 2024, as some in the party worry about the prospect of Biden running for reelection.
Maria Cardona, a veteran Democratic strategist, told Newsweek last week that the Democratic base is "hungry for someone who can actually do something, and governors many times are less hamstrung than members of Congress, senators and presidents."
"Does that mean he'll run in 2024? Not necessarily, no one has said he would run if Biden runs, which is really smart," she added.
Meanwhile, the new straw poll found that 78.7 percent of attendees said they would vote for former President Donald Trump if he sought reelection, while 19 percent said they would vote for DeSantis if he ran.
The ex-president has long hinted that he will run again in 2024.
"If I stayed home, if I announced that I was not going to run for office, the persecution of Donald Trump would immediately stop. But that's what they want me to do. And you know what? There's no chance I do that," he told attendees at the TPUSA summit on Saturday.