After Grand Jury Decides Not To Charge Darren Wilson, What's Next For Ferguson?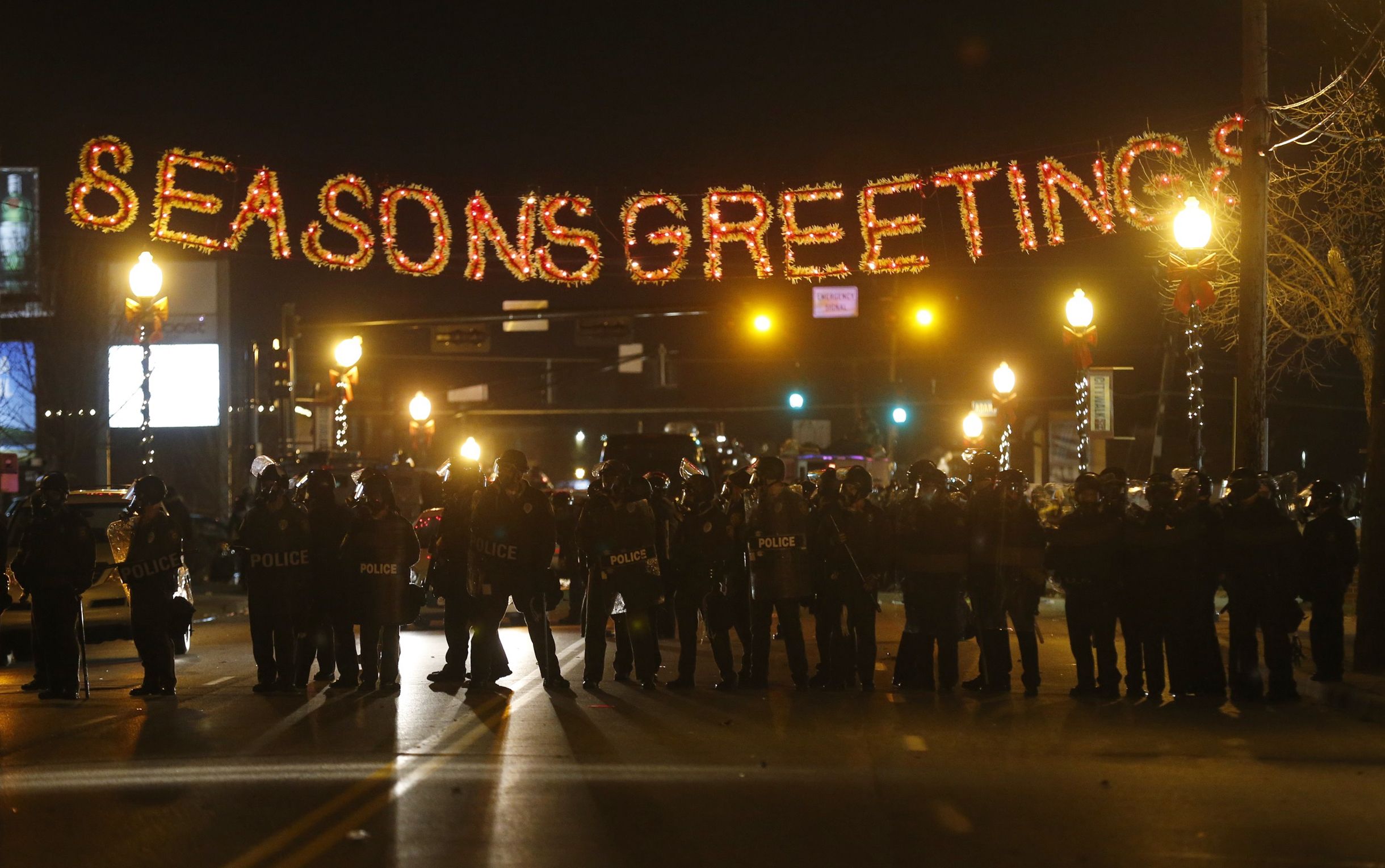 Updated | A St. Louis grand jury has decided that Ferguson police officer Darren Wilson will not face charges in the August fatal shooting of 18-year-old Michael Brown, St. Louis county prosecuting attorney Robert McCulloch announced late Monday night. The announcement caps weeks of speculation and sparked some protest action late Monday night.
The grand jury determined there was "no probable cause" to file any charges against Darren Wilson, McCulloch said. The twelve members of the jury were presented with a mountain of information over the 25 separate days they met in the last three months, including 70 hours of testimony and hundreds of photographs.
"They are the only people — the only people — who have heard and examined every witness and every piece of evidence," McCulloch said.
The grand jury considered five indictments, including murder in the first degree and involuntary manslaughter.
Brown's shooting on Aug. 9 sparked weeks of violent protests and heated debate over issues of race and privilege, attracting nationwide interest. In the days leading up to the grand jury announcement, Ferguson was on edge as residents, business owners and law officials feared the resurgence of conflict between protesters and police.
Confrontations flared after the announcement, with protesters setting fire to a police car and police deploying smoke to clear crowds.
"I'm hoping and praying that people don't give up — that they continue to fight for justice in this case," said St. Louis county councilwoman Hazel Erby shortly after the announcement was made. "I know that a grand jury has made their decision, but I hope they keep demonstrating. I'm very proud of the fact that they've been out there, and I don't think they need to let up. And I don't think legislators need to let up," she said. "But I don't condone anything that's not peaceful," she added.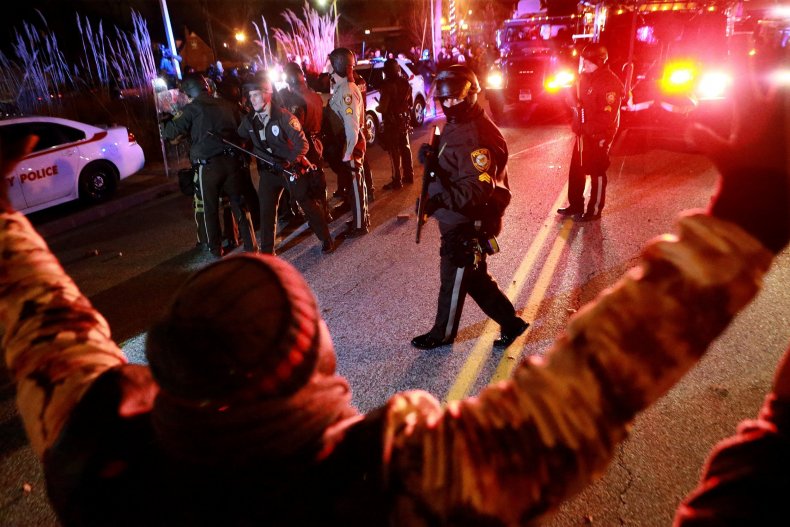 In Focus
People across the country demonstrated for the second night on Tuesday after a grand jury in Ferguson, Mo. announced its decision not to indict police officer Darren Wilson in the shooting of Michael Brown.
Launch Slideshow

21 PHOTOS
In a statement released after the announcement of the grand jury's decision, the family of Michael Brown said they were "profoundly disappointed" that Wilson will not face charges. But, "while we understand that many others share our pain," they said, "we ask that you channel your frustration in ways that will make a positive change...We respectfully ask that you please keep your protests peaceful. Answering violence with violence is not the appropriate reaction," they said.
President Obama, speaking from the White House shortly after McCullouch finished his statement, said he wanted to echo Brown's father's request that demonstrations remain peaceful. He also asked local law enforcement to "take care and restraint in managing the peaceful protests that occur."
"As they do their jobs in the coming days, they need to work with the community, not against the community, to distinguish the handful of people who may use the grand jury's decision as an excuse for violence," Obama said, "to distinguish them from the vast majority who just want their voices heard around legitimate issues, in terms of how communities and law enforcement react."
In his statement Monday night, McCulloch said that Wilson approached Brown on August 9 because Brown matched the description for the suspect in the robbery case. Central to the jury's decision over whether or not to indict Brown was which version of what happened next they chose to believe.
The official incident report filed by St. Louis county police 10 days after the shooting contains few hard details about the encounter, other than the fact that Brown was unarmed. Eyewitnesses disagreed over key facts, including whether Brown was facing away from or toward Wilson, if Brown was fleeing, and whether Brown was attempting to surrender to Wilson when he was killed.
The latter version of events inspired protesters to march with their hands up, chanting "Hands up, don't shoot."
In the weeks that followed the shooting, competing narratives emerged: one that paints Michael Brown as a victim of police brutality, and one that depicts him as the aggressor and maintains Darren Wilson was justified in using lethal force to subdue him.
The grand jury appears to have favored the latter.
Ferguson, a suburb of St. Louis with about 20,000 residents, is, like many small cities across the United States, a place with a stark racial divide. Two-thirds of Ferguson is black, as was Brown. Wilson, like 94 percent of the city's police officers, its mayor, its chief of police, and five of its six city council members, is white.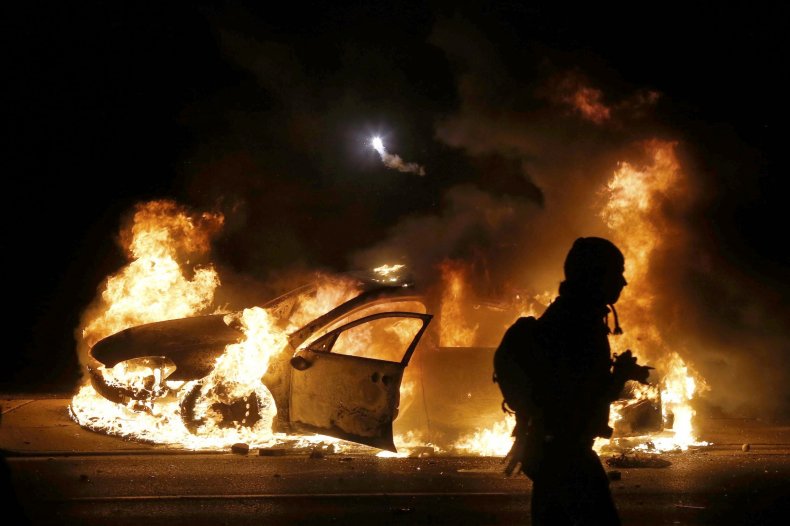 Wilson's fatal shooting of Brown put a spotlight on longstanding racial tensions in Ferguson, tensions some say were largely acknowledged by blacks, but denied by whites. Those tensions were further heightened by what protesters perceived as a lack of transparency by local law enforcement. Details were scarce in the days following Brown's death. Ferguson police handed over the investigation of the incident to St. Louis county police, led by chief Jon Belmar. Belmar briefed reporters Sunday morning while protesters gathered outside the police station.
Belmar's briefing was the first official accounting of the basic facts of the incident gathered by police: that Wilson had encountered Brown in the street; that a struggle ensued; that Brown wound up at least partially inside Wilson's vehicle, where Belmar said Brown "physically assaulted [Wilson];" that there "was a struggle over [Wilson's] weapon;" that Wilson's gun went off; that Brown exited the vehicle; and that Wilson shot Brown "more than just a couple" times, killing him.
But Belmar's briefing left several key questions unanswered: had Brown reached for Wilson's gun inside the car? Had he been facing toward or away from Wilson when he was shot? Were his hands up in a gesture of surrender, or was he charging at Wilson?
Eyewitness accounts of the encounter muddled the picture. Dorian Johnson, a friend of Brown's who had been with him at the time of the encounter, told NBC Wilson grabbed Brown by the neck. Johnson further said Brown "never once attempted to grab for the officer's weapon," before Wilson fired at Brown. When Brown fled, Johnson said, Wilson continued to fire at him, even when Brown put his hands up in surrender.
Two additional witnesses, Piaget Crenshaw and Tiffany Mitchell, agreed with Johnson's account that Brown had his hands up in a gesture of surrender when Wilson fired the fatal shot.
Others disputed that claim. Wilson, for one, reportedly told investigators that Brown "lowered his arms and moved toward him," The New York Times reports, and that Wilson was afraid Brown planned to attack him. And "more than a dozen" unnamed witnesses told the grand jury stories that corroborate with Wilson's version of events, The Washington Post reports.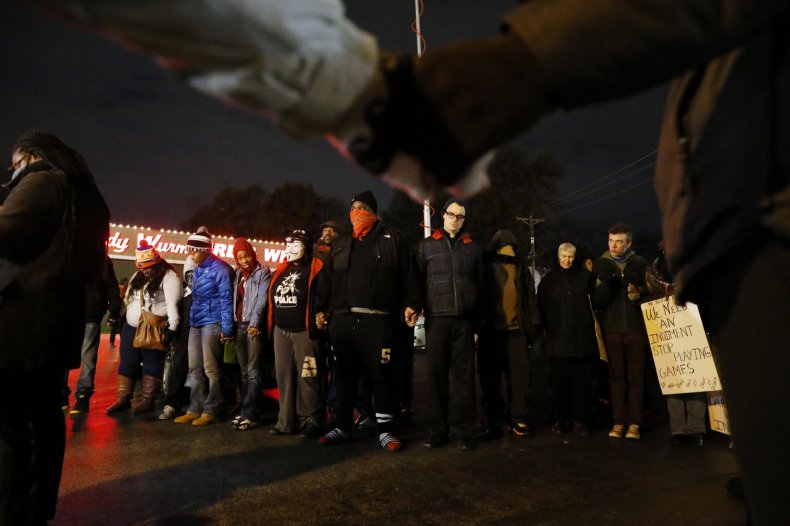 At the same press conference in which he released Darren Wilson's name to the public, Ferguson chief of police Tom Jackson gave reporters copies of security camera footage depicting Brown and Johnson robbing a convenience store in Ferguson minutes before Brown's death. He later clarified that Wilson had not known Brown was a suspect in that crime when he stopped Brown and Johnson. Supporters of the Brown family, and many in the black community in Ferguson, argued that Jackson releasing the security camera footage was designed to damage Brown's reputation in the minds of potential jurors. An attorney for Brown's family called Jackson's actions "character assassination."
St. Louis police declined to release an official autopsy report, though it was later leaked to the St. Louis Post-Dispatch on Oct. 22.
Brown's family hired Dr. Michael Baden, a New York medical examiner, to perform an second, independent autopsy, the results of which were released August 18. They hired Baden, they said, because they did not trust local authorities to conduct an unbiased examination. Baden's examination showed Brown had been shot six times, twice in the head, and that Brown had most likely been bending over when the final shot had been fired. Baden said Brown's body showed no signs of a struggle, but insisted he would need to examine Brown's clothes, to which he did not have access, to make a definitive determination. This finding, albeit preliminary, contradicted the official police account that Brown had attacked Wilson. Baden also said a wound on Brown's hand seemed to corroborate the narrative that Brown had been facing away from Wilson when the officer opened fire.
The results of the official autopsy report, done before the family's, told a different story from the independent autopsy report when it was leaked in October. According to Dr. Michael Graham, the St. Louis medical examiner who reviewed the autopsy report for the newspaper, the report showed that a wound on Brown's hand was likely obtained at very close range, lending credence to Wilson's story that Brown had been reaching for his weapon when the gun went off. The paper also asked a forensic pathologist from San Francisco, Dr. Judy Melinek, to examine the report. Melinek told the paper the report "supports the fact that this guy is reaching for the gun, if he has gunpowder particulate material in the wound," though she later said other scenarios were possible. Toxicology results also showed the presence of THC, the principal psychoactive component of marijuana, in Brown's blood and urine, meaning he had probably used the drug within a few hours of his death and may have been impaired at the time of his death.
A third autopsy was ordered by the U.S. Department of Justice, but the results of that autopsy are not yet available. The Justice Department is also conducting an independent civil rights probe into the practices of the Ferguson police department, though the results of that probe are likely months away, according to the Associated Press.
Grand jury proceedings are typically quick affairs, used by prosecutors to gauge how a jury trial will go, but this one was far from brief. St. Louis county prosecuting attorney Robert McCulloch said from the outset on Aug. 20 he planned to show the grand jurors "absolutely everything" related to Brown's killing. "Every statement that a witness made, every witness, every photograph, every piece of physical evidence," he told CNN. "Absolutely nothing will be left out so the grand jury is making their decision based upon absolutely everything and we'll go from there."
Some legal analysts said the prosecutor's unusual insistence on showing the grand jurors every scrap of evidence related to the case was an attempt to shield his office from criticism when the decision was announced.
McCulloch has taken heat for unpopular decisions before. The 2000 shooting of two black men by police in the northern suburbs of St. Louis, and the subsequent decision by McCulloch not to prosecute the police who shot them, eroded confidence in McCulloch among the black community.
Many feel McCulloch was incapable of being impartial because his family has strong ties to St. Louis police. His father, a St. Louis police officer, was shot and killed in the line of duty by a black man when McCulloch was 12. His mother, brother, nephew, and cousin have all worked for the St. Louis police department. McCulloch has said publicly the only thing keeping him from becoming a cop himself was that he lost a leg to cancer in high school.
Several weeks of intense confrontations between police and protesters followed Brown's death. Businesses in Ferguson were looted. A QuikTrip gas station was burned down during the course of what many described as riots.
Missouri Gov. Jay Nixon said law enforcement agencies are better prepared for widespread unrest in the wake of the grand jury's announcement than they were at the time of the shooting. "Violence will not be tolerated," he insisted. To that end, Nixon issued a state of emergency which gives police broad powers in the event of riots.
A coalition of law enforcement officers from the St. Louis police department, the St. Louis county police department, and the Missouri Highway Patrol will on hand to quash potential riots, Nixon said. Police have undergone more than 5,000 collective hours of "specialized training, with an emphasis on protecting constitutional rights of peaceful demonstrators," Nixon said. Following the use of tear gas and rubber bullets against peaceful protesters during the initial protests, the city and police department of Ferguson were hit with a $40 million civil rights lawsuit.
Some protest leaders have called for nonviolence in the wake of the decision, but many are still preparing for an outbreak of violence, stocking up on bandages and shatterproof goggles, according to The New York Times.
Some locals also expect trouble. Gun sales in Ferguson spiked by 700 percent in advance of the grand jury's decision, Huffington Post reports, and some businesses have fortified their storefronts in anticipation of the decision, as local TV station KMOV reports. Local schools also anticipate closing if violence erupts, according to St. Louis Post-Dispatch.
Wilson, meanwhile, married fellow police officer Barbara Spradling in October.
"I'm praying that people will use this time to come together as a community and express our grief and angst and let out some of the tension that has been building for these 107 days," said Rev. Traci Blackmon, pastor of the Christ the King United Church of Christ in Florissant, a small suburb near Ferguson. "But I don't anticipate any violence," she said.
"We are a nation built on the rule of law, and so we need to accept that this decision was the grand jury's to make," Obama said Thursday night. He added that there were lessons that could be learnt in improving race relations and representation of communities in tragic events such as Brown's death.
"This is not just an issue for Ferguson, this is an issue for America," Obama said.