North Korea's Kim Jong Un Orders More Warheads Rewarding Rocket Scientists with Special Bonus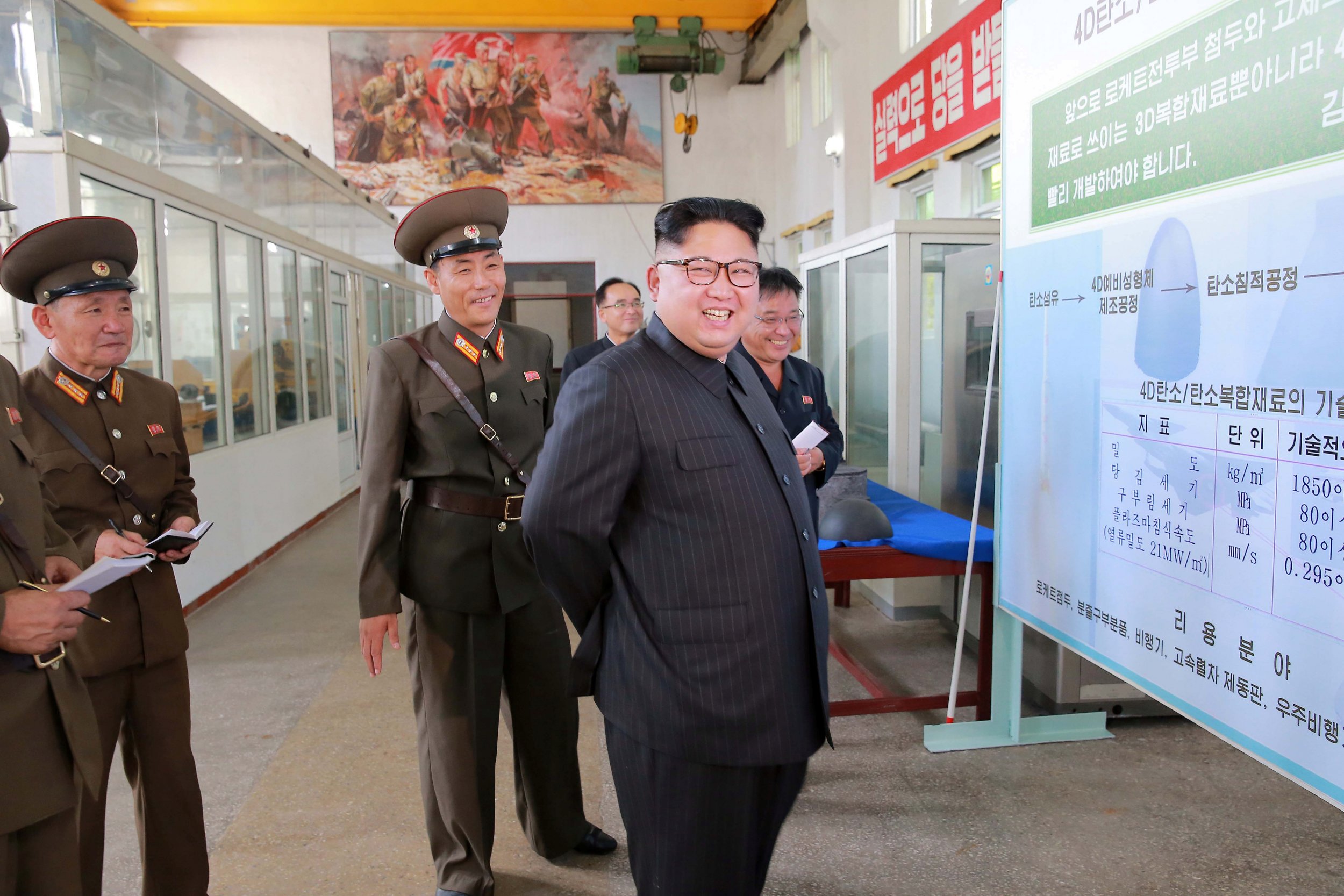 North Korean leader Kim Jong Un has ordered the construction of more rockets after visiting a military facility.
Pictures of the leader inspecting the work of the country's Chemical Material Institute of Academy of Defense Science appeared on the front page of the state-controlled newspaper Rodong Sinmun on Wednesday.
Kim was, as usual, accompanied by two of the key members of the country's nuclear development program, rocket scientist Kim Jong Sik and Jo Yong Won, a senior official of the ruling party.
After inspecting the rocket-building facility and learning about the process of manufacturing intercontinental ballistic missile (ICBM) warhead tips, Kim ordered the scientists to increase production capacity.
"He instructed the institute to produce more solid-fuel rocket engines and rocket warhead tips by further expanding engine production process and the production capacity of rocket warhead tips and engine jets by carbon/carbon compound material," the media report read.
He then rewarded the scientists' efforts with an unspecified "special bonus," the North Korean press reported.
North Korea routinely releases pictures of its leader visiting military facilities as a way to showcase the country's commitment to nuclear development.
The visit comes as South Korea and the U.S. hold their annual joint military drills, which North Korea and China consider a a provocation and the South Koreans and Americans defend as necessary given the aggressive behaviour of Pyongyang.
Seoul rang its civil defense sirens on Wednesday morning as part of a drill for a North Korean attack.
Pyongyang has tested two ICBM last month and warned the U.S. and its allies against provoking its wrath with bombastic statements and propaganda posters about nuclear attacks published on the country's state-controlled press.
Several rallies were also held in Pyongyang this month to protest against the new round of unanimously-approved U.N. sanctions against the country.
U.S. Secretary of State Rex Tillerson commented on Tuesday he thought the sanctions had sent Pyongyang a clear signal, and the North Koreans had shown "some level of restraint."
"I think it is worth noting that we have had no missile launches or provocative acts on the part of North Korea since the unanimous adoption of the U.N. Security Council resolution. And I want to take note of that; I want to acknowledge it. I am pleased to see that the regime in Pyongyang has certainly demonstrated some level of restraint that we've not seen in the past," Tillerson told a press briefing on Tuesday, adding that the U.S. needed to see more restraint before allowing for meaningful dialogue to take place.
U.S. President Donald Trump, who last week praised Kim's decision to stand down from the threat to strike the U.S. territory of Guam as "wise," said he thinks the North Korean leader is starting to respect the American leadership.
"I respect the fact that he is starting to respect us," Trump said on Tuesday at a rally in Phoenix, Arizona, quoted in Reuters. "And maybe—probably not, but maybe—something positive can come about."