The NRA's Favorability Rating Just Slid Into Negative Territory for the First Time, Fox News Poll Shows
A new Fox News poll shows that support for the National Rifle Association is dwindling and that its favorability rating has slipped into negative territory for the first time.
The poll comes as President Donald Trump ponders introducing new gun control measures, such as tougher background checks, in the wake of two high-profile mass shootings.
According to the poll of 1,013 registered voters, 42 percent have a favorable view of the NRA and 47 percent have an unfavorable view, the first time the gun rights lobby group has had a net negative rating.
Moreover, the 42 percent is favorability rating is the lowest since 2000, when it was 43 percent a year after the Columbine school shooting that rocked America.
And in another of the Fox poll's findings, 56 percent of gun-owning households have a positive view of the NRA, down from 67 percent the year before.
There was also clear support for criminal background checks on all gun sales (90 percent) and banning assault rifles and semi-automatic weapons (67 percent).
The NRA did not respond immediately to Newsweek's request for comment.
"The NRA is underwater because their extreme agenda has put them out of touch with the political mainstream," John Feinblatt, president of the gun reform campaign group Everytown for Gun Safety, told Newsweek.
"The time is now for the Senate to say no to the fringe NRA and yes to the American people on gun safety."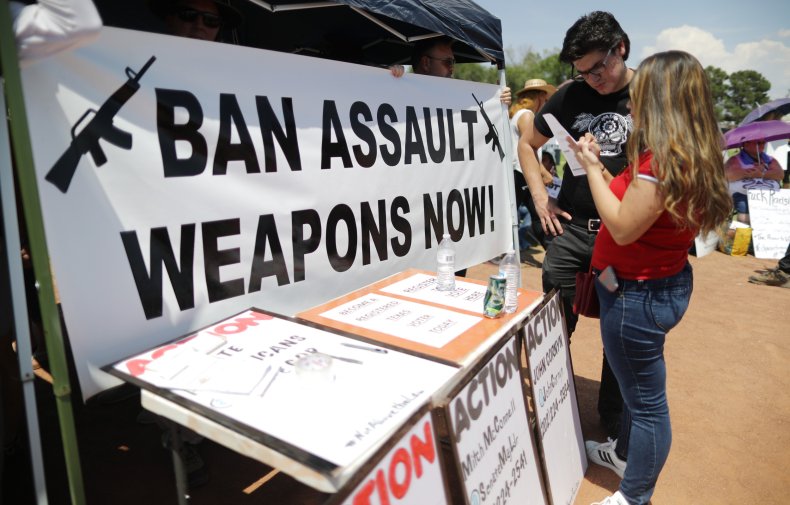 Following the El Paso, Texas, and Dayton, Ohio, mass shootings, in attacks that left dozens were killed or injured, President Trump has sought to move on gun control.
Trump is in discussions with Republican lawmakers about what is possible and is reportedly keen on much stricter background checks for gun purchases.
But he and Republicans are wary of what such moves will mean to their supporters.
Trump does not want to upset his base as the 2020 election looms.
Republicans have historically been hostile to gun reform because their voters were strongly pro-Second Amendment.
According to The New York Times, Trump is reaching out to U.S. Senators for gun control talks as his campaign polls supporters on the issue.
With previous shootings such as Parkland in Florida, Trump has touted gun reform. But nothing ever came to fruition. This time, however, is different, his allies say.
"He seems determined to do something and believes there is space to get something done this time around," Senate Judiciary Committee Chairman Lindsey Graham, a South Carolina Republican, told The Washington Post last week.
"The president has a pretty ­common-sense point of view. He's never been a sports or gun enthusiast. But he is more determined than ever to do something on his watch."
The graphic below, provided by Statista, illustrates the number of mass shootings and deaths caused by mass shootings n America from 1984 to 2014.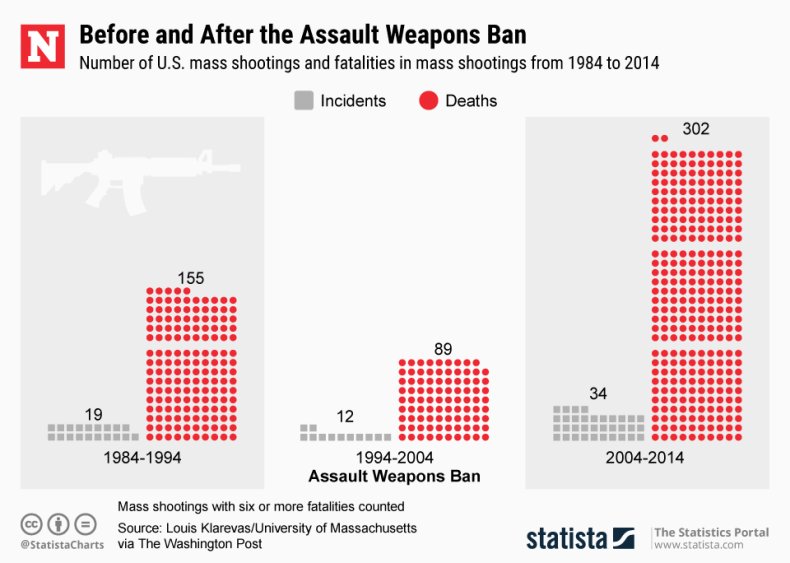 It was the horrified public outrage at two more mass shootings that spurred Trump on to once again consider taking action.
On August 3, 21-year-old Patrick Crusius is alleged to have entered a Walmart in El Paso and shot dead 22 people and injured more, many of who were Hispanic, in what is under investigation as an act of domestic terror. He was arrested at the scene.
Then on August 4, Connor Betts, 24, shot dead nine people, including his own sister, at a bar in Dayton, Ohio. Police killed Betts within a minute of him opening fire.
Police have not yet established a suspected motive. He had a history of violent misogyny, and leftist politics.
Trump used an executive order to ban bump stocks earlier in the year.
But Politico reported that the administration has made several quiet changes to gun regulation that have actually expanded gun ownership.
One such change is limiting the number of people—including the mentally ill—from a national database used to block certain individuals from purchasing guns.
"This president has in a very intentional, sweeping way made it easier for people to access firearms, not more difficult," Rep. David Cicilline, a Rhode Island Democrat and a vice chairman of the House Gun Violence Prevention Task Force, told Politico.
"He's systematically gone and undone all the protections that were put in place to try to limit the ability of dangerous people to access firearms."
This article was updated with a comment by John Feinblatt.