NRA: Media in War Against Trump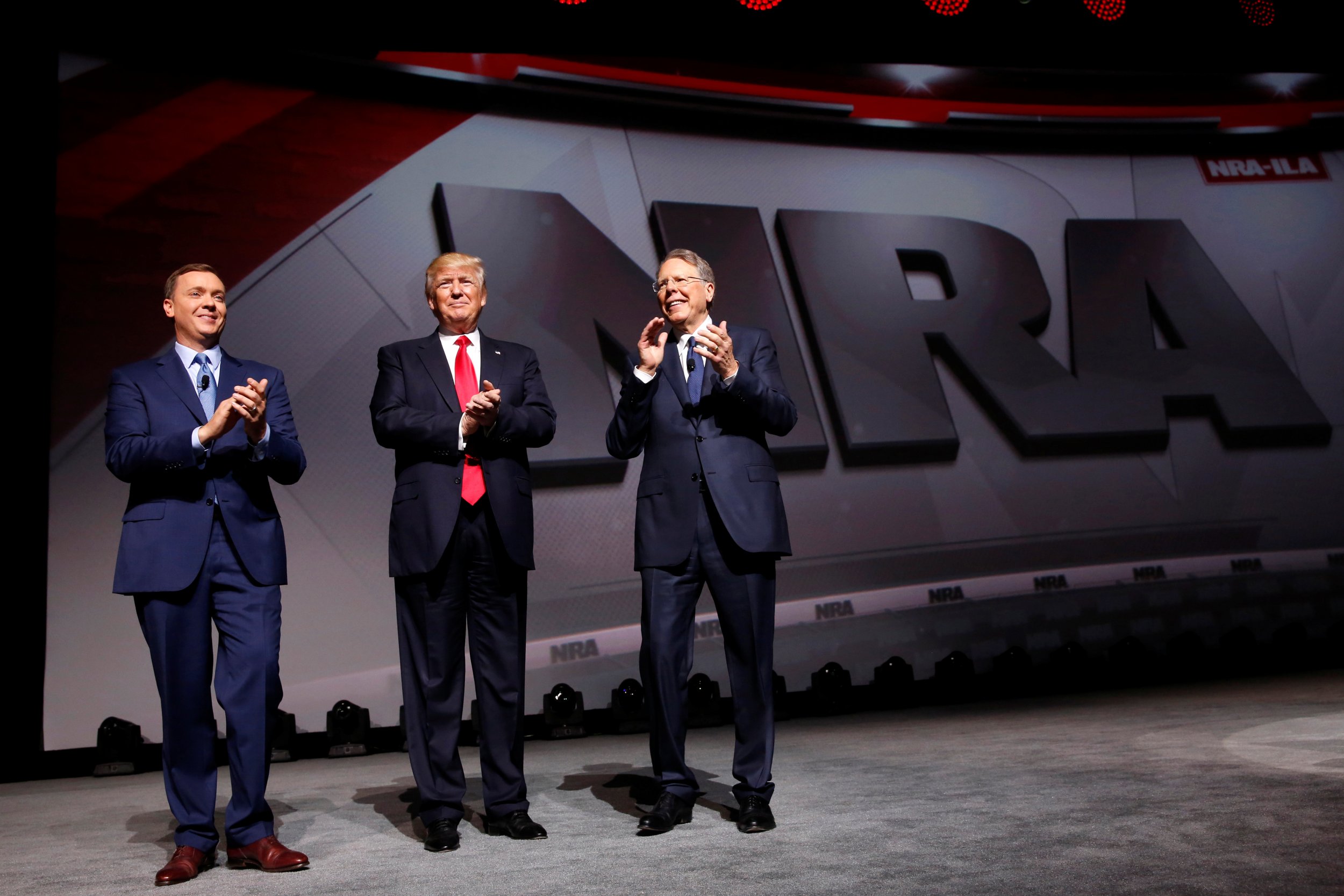 The National Rifle Association's executive director, Chris Cox, has accused the news media of trying to "undermine" President Donald Trump, amid a tumultuous week for his administration.
Related: What America is doing about guns in 2017
While at the annual Congressional Shoot-Out at Prince George's County Trap and Skeet Center on Thursday, Cox answered questions in an interview with the NRA's own network. The interviewer brought up the anger demonstrated by constituents at lawmakers' town halls. "You've seen a mainstream media that's not interested in reporting a civil dialogue, civil disagreements. They're interested in trying to undermine this president, certainly trying to undermine the National Rifle Association," Cox responded.
While at the event in Glenn Dale, Maryland, he didn't mention the multiple accusations against Trump that have surfaced in the media this week. Among those allegations are that the U.S. leader shared sensitive national security information with Russian officials and that he urged former FBI Director James Comey to end the agency's federal investigation into Michael Flynn, his former national security adviser.
Newsweek subscription offers >
The NRA has long criticized the mainstream media, and Trump has repeatedly attacked reporters for supposedly spreading lies and publishing "fake news." During a commencement speech at the U.S. Coast Guard Academy earlier this week, Trump told graduates, "No politician in history—and I say this with great surety—has been treated worse or more unfairly."
The president and the NRA appear to have a comfortable relationship. On April 28, Cox praised Trump for keeping his promises to gun owners by bolstering the Second Amendment during his first 100 days in office, specifically through his nominations of Judge Neil Gorsuch to the Supreme Court and Jeff Sessions to be attorney general. Just last month, Trump became the first sitting president to address the NRA's annual leadership forum since Ronald Reagan in 1983. Trump resurfaced his campaign rhetoric, thanking his thousands of "friends" who were gathered in the audience for helping him to win the general election. The NRA spent more than $30 million to bolster Trump's presidential campaign and gave him an early endorsement.
Under Trump, the NRA has made it a top priority to pass national concealed carry reciprocity, which would require states that issue permits allowing gun owners to carry concealed weapons to recognize such permits from other states. And since the new Republican-controlled Congress convened at the beginning of January, federal lawmakers in both the House and Senate have introduced bills pushing for national reciprocity. Lawmakers in previous congresses have created similar measures, but those failed to pass through committee.
NRA: Media in War Against Trump | U.S.