Nukes Hitting Ukraine Would Be 'Attack on NATO' Due to Radiation: Graham
Senator Lindsey Graham said Sunday that he believes a Russian nuclear attack against Ukraine would be an assault on nearby NATO countries due the spread of radiation.
Graham, a South Carolina Republican, made the comments while speaking about Russia's aggression on Fox News Sunday. Russian President Vladimir Putin has repeatedly warned the West against interfering in Ukraine, and has alluded to the possibility of using nuclear weapons if tensions continue to escalate.
"If [Putin] explodes a nuclear weapon inside of Ukraine to break our will, to me that will be an attack on NATO," he said during his interview. "The radiation will go all over Europe."
He also said that the U.S. should do "everything in its power" to keep Russia from invading other countries, but stopped short of suggesting that American troops become involved. The senator said he fears Putin is "getting desperate" after several failed military advances.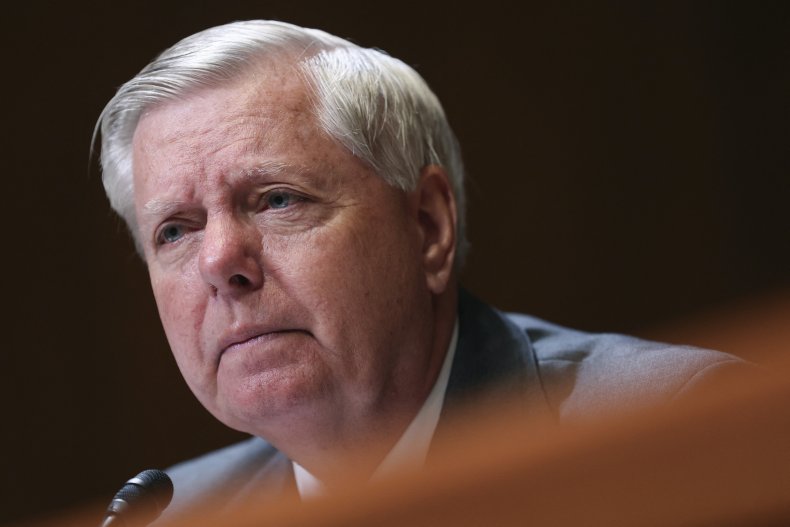 Ultimately, the South Carolina senator said he believes NATO should expand and that Putin should be labeled a war criminal.
"NATO needs to get bigger, not smaller," he told Fox News. "If Finland and Sweden join NATO, and Europe breaks away from dependence on Russian oil and gas, and Putin is declared a war criminal, that would be the best outcome for the world writ large."
Since Russia first invaded Ukraine on February 24, the U.S. has sent billions of dollars in aid to assist with military equipment and to address humanitarian impacts of the conflict. President Joe Biden and the Pentagon have repeatedly said that while American troops will not be sent to assist in the fighting, the U.S. would be obligated to respond more strongly if Russia expands its invasion into NATO countries.
Russia Brandishes Nuclear Weapons
In the past several weeks, Russian state media has boasted about its nuclear capabilities, and has even suggested that European countries deserve to be targeted with the deadly weapons. Moscow also recently test-fired a nuclear-capable intercontinental ballistic Sarmat missile, also known as Satan II.
Putin said the weapon should make adversaries "think twice," while implying that he could use such force if Russia believes it is threatened. Other officials, including Russia's ambassador to the U.S., Anatoly Antonov, recently told Newsweek that the West is not taking Russia's nuclear threats "seriously" enough.
Nonetheless, Russian Foreign Ministry deputy spokesman Alexey Zaitsev attempted to walk back the nation's nuclear warnings this week by stating that Russia has no intention to use such weapons.
"The scenarios of our potential use of nuclear weapons are clearly prescribed in Russian doctrinal documents," he said on Friday. "Russia firmly abides by the principle that there can be no victors in a nuclear war."
Newsweek contacted the foreign ministries of both Russia and Ukraine for comment.