Black Man Shot With Taser in New York While Protesting 'Back the Blue' Rally
Video has emerged showing New York Police officers shoving a Black man to the ground and deploying a stun gun against him during a protest in Brooklyn.
The footage shows a Black Lives Matter protester confronting police while one officer yells "get back." The policeman then shoves the protester and he is then grabbed by a second officer.
The protester yells "y'all see this?" to the crowd before the officer pulls out a stun gun and fires it.
The man soon gets back to his feet and repeatedly shouts, "I didn't do nothing," while several officers try to restrain him and place him in handcuffs.
The suspect tells the officers "you're breaking my arm" while they have his hands behind his back. One onlooker can be heard off screen saying "he's not resisting" while police arrest the man.
In a statement to Newsweek, the NYPD said it was aware of the video and it is under review. The force said prior to the incident, the suspect had allegedly thrown a helmet at a uniformed police officer during the protest.
The man was part of a crowd of counter-demonstrators who clashed with a pro-police "Back The Blue" rally as it marched towards the 68th Precinct in Bay Ridge, Brooklyn, on Sunday.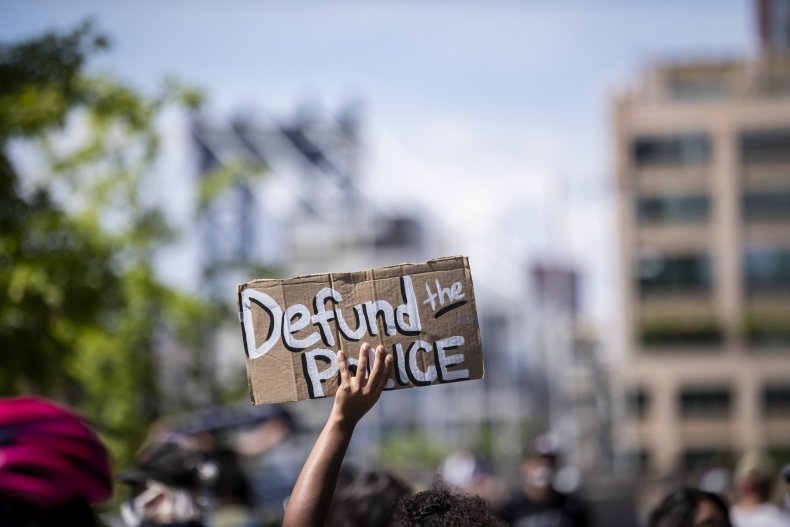 One of the protesters, who did not wish to be named, told CBS he was also attacked by police after witnessing the man begin shot with the stun gun.
"I got in the middle of that and police pushed me back and that guy hit me in the face. Why are they pushing me back when people like him are the ones exerting violence on everyone else? This happened today, tonight, here, a block down, right in front of their precinct," the protester said.
The "Back the Blue" demonstration was one of several to have taken place across the U.S. over the weekend in states such as Utah, Florida and Pennsylvania.
The protests came as cities across the country announced they are slashing funding to police forces amid calls for reform in the wake of the death of Minneapolis man George Floyd in May.
New York City Mayor Bill de Blasio and the City Council recently announced that $1 billion will be cut from the NYPD's operating budget, with the money being reinvested into youth and social services.
"From reinvesting funds from the NYPD in youth programming and social services, to building new community centers, this budget prioritizes our communities most in need while keeping New Yorkers safe," de Blasio said.
"As we emerge from the epicenter of COVID-19, it's now more important than ever to create a fairer city for all."