Omicron Poses New Threat to Joe Biden's Ratings, Gives Critics Another Opening
The pandemic and its ramifications have been a constant backdrop for President Joe Biden and his actions in office.
And with the COVID-19 variant Omicron now having been discovered in five U.S. states, that looks set to continue.
Biden's approval in general has slumped after riding high in a honeymoon period post-inauguration, while the perception of his handling of the pandemic has been mixed.
Should the COVID-19 situation get worse, with subsequent impacts on the economic fortunes of Americans across the nation, whether entirely justified or not, blame is likely to land at Biden's door.
"There's no doubt that a rise in COVID-19 cases, including those caused by the new Omicron variant, spells bad news for Biden politically," Thomas Gift, founding director of University College London's Centre on U.S. Politics, told Newsweek.
"Rightly or wrongly, higher infection rates will attract negative press coverage and reflect poorly on the White House."
At present, Biden has said the "variant is a cause for concern, not a cause for panic."
"We have the best vaccine in the world, the best medicines, the best scientists. And we're learning more every single day," he said in remarks delivered at the White House on November 29.
Should there come a scenario where the variant substantially boosts the cases and impact, Biden may find himself somewhat in a catch-22 situation—with any prospect of say lockdowns, something he has ruled out for now, or further mandates potentially enraging the public—but a worsening situation also something that would cause backlash for him.
Biden has already faced criticism over travel bans put in place for a number of African countries. On December 2, the White House announced a range of measures aimed at "protect Americans against the Delta and Omicron variants as we battle COVID-19 this winter." These were largely focused on expanding vaccinations, with a push for boosters being rolled out, and testing. Speaking that day, Biden expanded increasing the booster rollout and tightened travel rules.
"Any efforts by Biden to tighten restrictions—such as through even a hint of European-style lockdowns—will invariably generate backlash," Gift said.
"After multiple COVID winters, patience is running thin with lots of Americans. That's true on the right, where opposition to strict COVID regulations has always been strong. But increasingly, it's also true on the left, where there's a strong pull to get life 'back to normal' now that vaccines are widely available.
"For these reasons, Biden is likely to steer clear of any new mandates and mostly double down on his mantra of 'vaccines, vaccines, vaccines'—and increasingly, "boosters, boosters, boosters.'"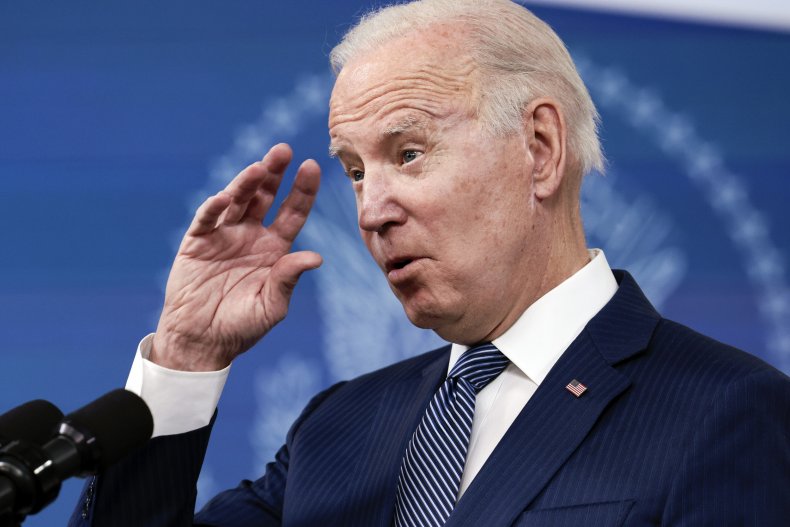 Justin Buchler, associate professor at Case Western Reserve University's Department of Political Science, agreed that Biden's approval could be tied to issues such as COVID trends.
However, Buchler added that whatever he does, Biden is likely to face criticism from those on different ends of the political spectrum.
"Biden will face Republican criticism no matter what he does, so he cannot base his decisions on an attempt to preempt Republican criticism, and the left flank of the Democratic Party will attempt to push him further left, no matter what he does, so the same principle applies," Buchler told Newsweek.
"However, his approval rating will be more closely tied to economic trends, such as inflation at this point, COVID trends, and other factors that are only sometimes within the realm of presidential influence. The bigger question is the extent to which presidential approval affects Biden's ability to pass anything. It will have a dramatic influence on the 2022 midterm elections, and the 2024 election, but most political science research has shown relatively minimal effects for presidential approval on the president's ability to pass and enact his agenda.
"So, while Biden should be attentive to economic matters, COVID, and other trends, trying to manage criticism from either the GOP or the left flank of the Democratic Party would probably not pay any dividends."
While there are some moves that could see Biden come in for criticism, Richard Johnson, lecturer in U.S. politics and policy at Queen Mary University of London, told Newsweek that travel restrictions on non-citizen visitors to the U.S. could likely be one which did not hurt him politically—though allowed him to demonstrate a level of action.
"I think Biden will try to resist imposing too many new restrictions in response to the new variant, instead pushing vaccination hard," Johnson said via email.
"However, I could see him imposing restrictions on a politically costless group: non-citizen visitors to the US. While travel bans have some impact on US businesses, they are a weak political constituency for obvious reasons. So, if Biden wanted to be seen to be doing 'something' but not upsetting an already worn-out US public, then a ban on (some) international visitors would be a consideration."
According to FiveThirtyEight's tracker, Biden's approval rating is underwater with his approval at 42.6 percent and disapproval at 51.6 percent, as of December 3. His numbers have stayed around that range in recent weeks.
Should there be turmoil in the U.S. be exacerbated due to the new strain of COVID in coming months, it will prove a sterner task than it already has been to boost it back to the levels of his early presidency.
Newsweek has contacted the White House for comment.