Oscars In Memoriam Slammed After Snubs—'Should Be Ashamed'
The 95th Academy Awards has sparked outrage among viewers, who have questioned why certain stars were not honored during the ceremony's In Memoriam segment—including one whose movie was nominated for best picture.
In keeping with tradition, the annual ceremony on Sunday took a break from celebrating award winners to pay emotional tribute to the numerous actors and film industry professionals who had died over the past year.
John Travolta was seen holding back tears as he introduced this segment's segment, which featured a performance from veteran rocker Lenny Kravitz.
"Each of them left an indelible mark that shared and informed us," said the actor of those who had passed on. "They've touched our hearts, they've made us smile, and became dear friends, who we we will always remain hopelessly devoted to."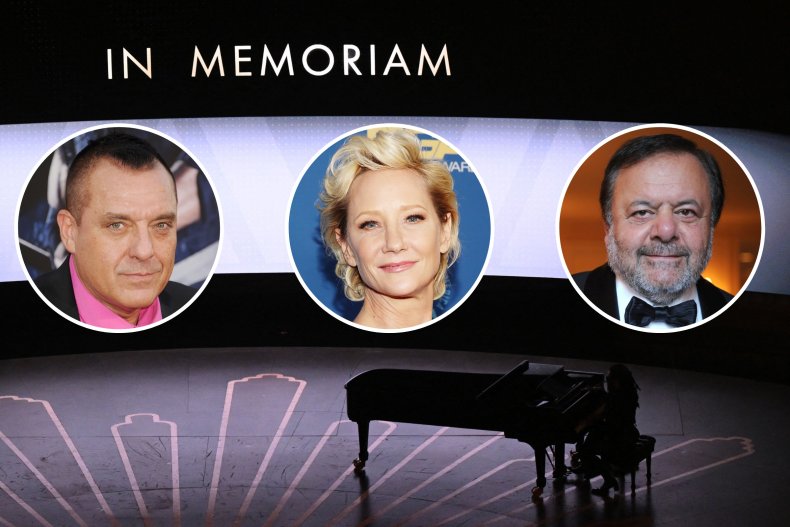 Among those recognized on the night was Olivia Newton-John, who starred alongside Travolta in the classic 1978 musical Grease and continued to be a life-long friend until she died in August 2022.
Also included in the dozens of industry professionals whose photos were shown on the large screen at Hollywood's Dolby Theatre were James Caan, Ray Liotta and Jean-Luc Godard.
However, there was outrage among a number of viewers who took to Twitter to point out that many other key figures who were omitted.
Sharing a photo of Anne Heche—who died in August after crashing her car into a home in Mar Vista, California six days prior—one Twitter user wrote: "The Oscars should be ashamed not including the deeply talented, too often underrated Anne Heche in their In Memoriam montage."
Posting an image of Paul Sorvino, who passed away in July at the age of 83, another viewer tweeted: "Can anyone explain why this happens every year? Oscars In Memoriam Segment Missing Paul Sorvino, Anne Heche, Tom Sizemore, Leslie Jordan and Charlbi Dean From Oscar-Nominated Triangle Of Sadness."
"The Oscars really botched the In Memoriam segment this year," said another Twitter user, who listed "people who definitely should have been included in the In Memoriam segment: Pat Carroll, Melinda Dillon, Charles Fuller, Philip Baker Hall, Anne Heche, Robert Morse, Paul Sorvino, Stella Stevens, Topol, Fred Ward, David Warner, and Cindy Williams."
"Can someone explain to me how Charlbi Dean was NOT included in the 'In Memoriam' tribute even though she was part of the cast of Triangle of Sadness, one of this year's Best Picture nominees?!" one viewer commented.
"There used to be more actors included in the past," another said. "They've been pushed out to include more industry and crew that have passed. Honestly they should do a deep cut version and put it out on socials."
In addition to the televised tribute, the Academy of Motion Picture Arts and Sciences publishes a full list of industry professionals who passed away in the last year. Dean was among those honored in the tribute.
South African actress and model Dean appeared in DC's Black Lightning, before landing her breakout role as model Yaya in Triangle of Sadness. The film scooped the coveted Palme d'Or award at the 2022 Cannes Film Festival.
Triangle of Sadness was also nominated for three Oscars in the Best Picture, Best Director and Best Original Screenplay categories.
After Dean died of bacterial sepsis in August at the age of 32, Triangle of Sadness director Ruben Östlund called her passing "a shock and a tragedy."
"It is an honor to have gotten to know and work with her. Charlbi had a care and sensitivity that lifted her colleagues and the entire film crew," he wrote on social media at the time. "The thought that she will not be by our side in the future makes me very sad."
Previous telecasts of the Oscars have been criticized for the omission of such stars as Bob Saget, Meat Loaf, Luke Perry, Naya Rivera, Adam West and Alexis Arquette from the In Memoriam section.
Update 03/13/23, 5:36 a.m. ET: This article was updated with additional information.