Over 12K Christians Urge Greene, Gosar Censure for White Nationalist Event
More than 12,000 Christians have signed an online petition demanding that Republicans take action against GOP Representatives Marjorie Taylor Greene and Paul Gosar over their recent participation in a white nationalist event—demanding that the two lawmakers be censured by the Republican Nation Committee (RNC).
Greene and Gosar, who represent Georgia and Arizona respectively, participated in the America First Political Action Conference (AFPAC) event in Florida last Friday. The Georgia congresswoman attended and spoke in person while the Arizona congressman joined via a video link. Both Republicans received substantial criticism for their participation—including from top GOP lawmakers.
Faithful America, which describes itself as the "largest online community" working for social justice, launched a petition this week demanding the RNC take concrete action to address Greene's and Gosar's actions.
"Following Friday's neo-Nazi event, Greene defended her remarks by invoking her Christian faith, claiming she was following Jesus's example and tweeting that the point of the racist gathering was to 'declare that Christ is king.' Greene also attacked her critics as 'godless' and promised to keep focusing 'on proudly proclaiming the greatness of our God,'" the online petition read.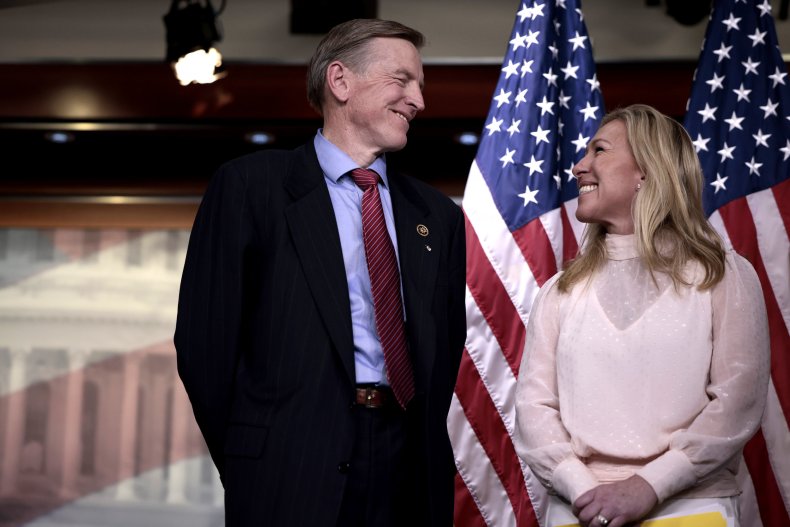 "Time and time again, Republican Party leaders have refused to hold Greene accountable for threatening democracy, spreading antisemitism, and flirting with political violence," it further read. "They have also declined to punish Gosar—who loudly brags about his Catholic faith—for encouraging violence against Democrats."
In an attached letter to RNC Chair Ronna McDaniel, the petitioners blast the "hateful and dangerous sentiments expressed" at the AFPAC event.
"We are especially outraged by Greene's attempts on Twitter to hijack Jesus's name for politics, blasphemously twisting our faith into an excuse for propping up racist authoritarians," they wrote, going on to demand Gosar and Greene be censured.
As of the time of writing, more than 12,670 Christian activists had signed the online petition.
"Christians are a hopeful people who believe in second chances and pray for our national leaders, so we certainly hope that Ronna McDaniel and the RNC will take a moral stand against Greene and Gosar's white nationalism," Rev. Nathan Empsall, executive director of Faithful America, told Newsweek.
As Greene began to receive backlash for her participation, she distanced herself from Nick Fuentes, the founder of AFPAC. "I don't know Nick Fuentes. I've never seen him speak. I've never seen a video. I don't know what his views are," she insisted to a CBS News reporter. "I went to talk to them about America First policies and I talked to them about what's important for our country going forward."
And in a statement emailed to Newsweek on Saturday, Greene said: "I am not going to play the guilt by association game in which you demand every conservative should justify anything ever said by anyone they've ever shared a room with. I'm not going to be drawn into that. I'm only responsible for what I say."
After Representative Liz Cheney, a Wyoming Republican, slammed Gosar and Greene on Twitter, the Arizona congressman dismissed her criticism in a statement emailed to Newsweek.
"Liz Cheney's opinion is irrelevant. I will continue to ensure she is removed from the conference and look forward to her replacement in Congress," Gosar said.
Newsweek reached out to Greene and Gosar for further comment Thursday in regards to the Faithful America petition but did not immediately receive responses.
The Anti-Defamation League (ADL) describes Fuentes and his organization as "white nationalist" and "white supremacist." In a 2021 blog post, ADL said that the far-right activist "has made a number of racist and antisemitic comments under the guise of being provocative and ironic."
During the Friday event, Fuentes appeared to speak favorably of Russian President Vladimir Putin after he ordered his military to invade Ukraine. Fuentes suggested that comparing Putin to Hitler, as many have done, is perhaps a positive sentiment.
"Now they're going on about Russia and Vladimir Putin is Hitler—they say that's not a good thing," Fuentes said. He and the crowd then laughed loudly
The far-right activist went on to lead the audience in chants supporting Putin.
"Can we give a round of applause for Russia?" he asked the attendees as they cheered for Russia's authoritarian leader.
House Minority Leader Kevin McCarthy, a California Republican, condemned Gosar's and Greene's participation in the event. He said their actions were "unacceptable" and that they were "appalling and wrong," in a statement to Punchbowl News.
"There's no place in our party for any of this," McCarthy added, saying he would meet with Greene to discuss the controversy.
Senate Minority Leader Mitch McConnell, a Kentucky Republican, blasted Greene's and Gosar's participation in the event as well.
"There's no place in the Republican Party for white supremacists or antisemitism," McConnell said.
Cheney, who has criticized Greene and Gosar in the past, called out their actions in a tweet. The Wyoming Republican also slammed GOP leaders for not speaking up quicker to condemn their actions.
"As Rep Marjorie Taylor Greene and Rep Paul Gosar speak at this white supremacist, anti-Semitic, pro-Putin event, silence by Republican Party leaders is deafening and enabling," Cheney tweeted.
"All Americans should renounce this garbage and reject the Putin wing of the GOP now," she added.
Senator Mitt Romney, a Utah Republican, suggested Greene and Gosar are "certainly missing a few IQ points."
"There's no place in either political party for this white nationalism or racism. It's simply wrong," Romney told CNN on Sunday. "Marjorie Taylor Greene and Paul Gosar—I don't know them. But I'm reminded of that Butch Cassidy and the Sundance Kid movie where one character says: 'Morons. I have morons on my team.'"