More than 17,000 Christians signed an online petition condemning GOP Representative Lauren Boebert's Islamophobic remarks targeting Democratic Representatives Ilhan Omar and Rashida Tlaib.
Videos of Boebert describing Omar, who is Muslim, as a potential suicide bomber at events with constituents began to circulate online in late November and drew swift condemnation from Democrats and some Republicans. Although Boebert issued an apology to the Muslim community, she did not apologize to Omar directly.
"Conservative Christian and Republican Rep. Lauren Boebert is continuing to smear Rep. Ilhan Omar for Omar's Muslim faith. It's a disgusting pattern of dangerous religious bigotry that cannot be allowed to continue," the petition, launched by progressive Christian group Faithful America, says. The petition was first posted December 2 and has gathered 17,284 signatures as of the time of this writing.
"Boebert was recently caught on tape telling a made-up story about riding a Capitol elevator with Omar in order to call her a terrorist: 'I said, well, lookey there, it's the Jihad Squad.... She doesn't have a backpack...so we're good,'" the petition says.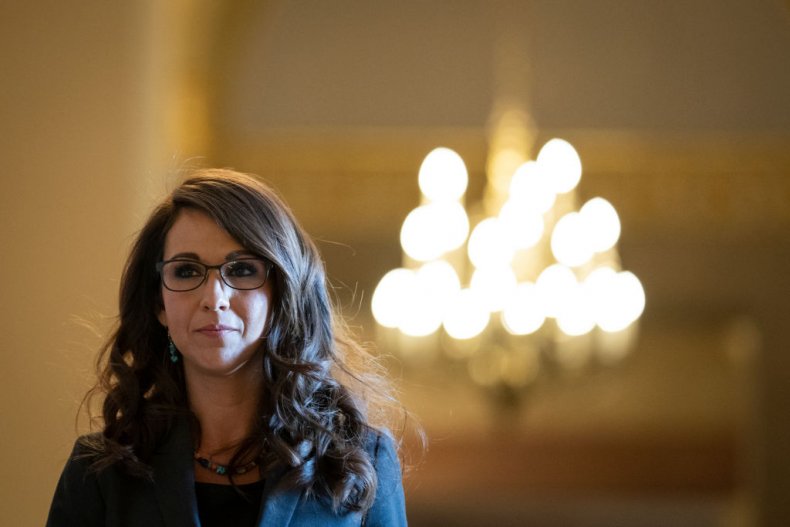 "Boebert also said Omar and Muslim Rep. Rashida Tlaib are 'blackhearted, evil women.' It was not the first time she's said such things about Islam. As a result, Omar is now receiving anonymous death threats," the petition continues.
Faithful America adds that Christians "need [to] show Congress that American Christians stand in solidarity with American Muslims, and tell Republican Leader [Kevin] McCarthy and Speaker [Nancy] Pelosi to formally censure Boebert."
Faithful America describes itself as the largest online grassroots Christian organization. The religious organization regularly launches petitions calling out lawmakers and other powerful figures for their words and actions that the group sees as antithetical to Christian values.
After the backlash against her Islamophobic remarks, Boebert tweeted an apology to the Muslim community and said she'd reach out to Omar.
"I apologize to anyone in the Muslim community I offended with my comment about Rep. Omar. I have reached out to her office to speak with her directly. There are plenty of policy differences to focus on without this unnecessary distraction," the Colorado Republican tweeted on November 26.
A few days later, Omar accepted a phone call from Boebert but reportedly hung up on her after she failed to apologize.
"Today, I graciously accepted a call from Rep. Lauren Boebert in the hope of receiving a direct apology for falsely claiming she met me in an elevator, suggesting I was a terrorist, and for a history of anti-Muslim hate," Omar said in an official statement on November 29.
"Instead of apologizing for her Islamophobic comments and fabricated lies, Rep. Boebert refused to publicly acknowledge her hurtful and dangerous comments. She instead doubled down on her rhetoric and I decided to end the unproductive call," the Minnesota Democrat explained.
It's unclear whether House leaders will move to censure Boebert or take other actions. Omar expressed confidence that action would be taken this week during a Sunday interview.
"I've had a conversation with the speaker, and I'm very confident that she will take decisive action next week," Omar told CNN's State of the Union. However, no action has yet been taken. Some Democrats have slammed their leadership as a result.
"I haven't heard anything binding from leadership, which in and of itself is an embarrassment," Representative Alexandria Ocasio-Cortez, a New York Democrat, told The Hill on Tuesday. "This shouldn't take this long; this should not drag on. It's pretty simple. It doesn't have to be a big huge thing. It's pretty open and closed."
Omar and Tlaib, who represents Michigan, are the first Muslim women to be elected to Congress. They have frequently been the target of Islamophobic attacks since their 2018 election victories.
Newsweek reached out to Faithful America and Boebert's office for comment but did not hear back before publication.