Over 60% of Republicans Throw Support Behind Biden's $1,400 Stimulus Check, Poll Shows
A majority of Republicans support President Joe Biden's proposal to send eligible Americans $1,400 stimulus checks, despite efforts from some GOP lawmakers to slash them, according to a new poll.
The survey, which was released Wednesday by Quinnipiac University, found that 64 percent of Republicans support the increased payments, along with 90 percent of Democrats. Among all respondents, nearly 8 in 10 said they would support the higher payments.
The survey was conducted between January 28 and February 1 and had responses from 1,075 adults. The margin of sampling error is plus or minus 3 percentage points.
The poll's results come as some Republican lawmakers in Congress are trying to block Biden's efforts to provide the $1,400 payments, amid ongoing negotiations for a third coronavirus relief package.
In January, Biden unveiled a $1.9 trillion coronavirus relief plan that included boosting the direct payments to $1,400, which would bring the total to $2,000 when added to the previously administered $600 checks.
But some Republicans have since pushed back against the plan, calling it too expensive, and are trying to put forward their own agenda for relief.
On Monday, 10 GOP lawmakers met with Biden to propose a scaled-back bill that would cost $618 billion—roughly one-third the size of Biden's—and lower the direct payments from $1,400 to $1,000. The Republicans' proposed package would also lower the income threshold for payment eligibility, meaning that fewer Americans would be able to receive the benefit.
But Biden said the spending amount was too small, and congressional Democrats have since moved forward with an expedited legislative process, known as budget reconciliation, that would not require any Republican votes for the president's package to get passed.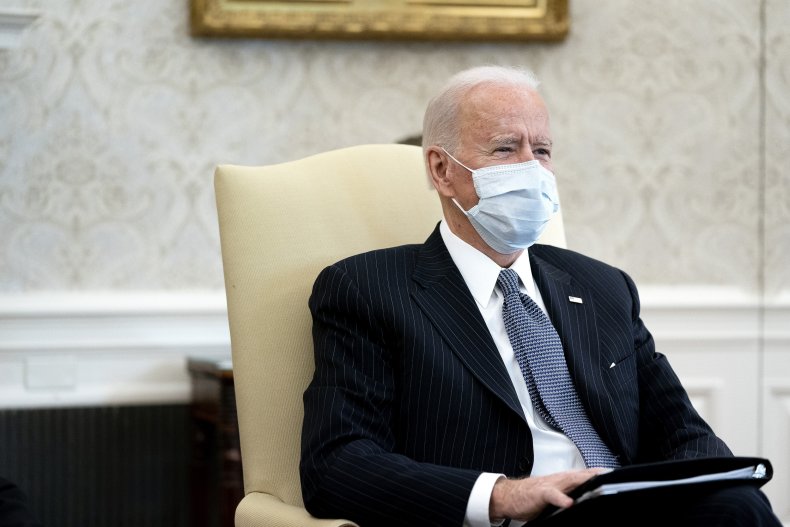 On Tuesday, every Senate Democrat voted in favor of advancing the budget resolution, while every Republican—aside from Senator Pat Toomey, who was absent—voted against it.
Senate Democrats could pass Biden's relief plan without Republican support as soon as Friday, but they will need a unanimous vote to do so. So far, Democratic Senators Kyrsten Sinema, Mark Kelly and Joe Manchin have not said they support the bill—and if they break with their party colleagues, it would kill its passage.
The Senate is now in a period dubbed the "vote-a-rama," where any lawmaker can offer amendments to a bill during the budget reconciliation process.
"We welcome your ideas, your input, your revisions," Senate Majority Leader Chuck Schumer said. "We welcome cooperation. There is nothing about the process of a budget resolution or reconciliation, for that matter, that forecloses the possibility of bipartisanship."
On Wednesday, Manchin said he was optimistic that the $1,400 payments will happen, but he added the relief package may need new eligibility requirements to pass.
"The bottom line is it's going to be bipartisan and there might be some changes. We're going to look at the facts, and based on the facts we'll go from there," Manchin said. "It doesn't take that many different senators to vote to change things, that's for sure."
According to the Quinnipiac University poll, 68 percent of total respondents said they supported Biden's relief bill, including 97 percent of Democrats and 37 percent of Republicans.
Newsweek reached out to the White House for additional comment but did not hear back in time for publication.