Over Half of New York's State Legislature Has Publicly Called on Cuomo To Resign
More than half of New York state's Legislature has publicly called for Democratic Governor Andrew Cuomo to step down from office amid searing accusations of sexual harassment.
By Friday, at least 121 members of the New York State Assembly and Senate have called for the embattled governor to leave his post, including 65 Democrats and 56 Republicans. There are currently 212 members within both legislative bodies.
Members of Cuomo's own Democratic party have been more inclined to have the governor removed. On Thursday, Speaker Carl Heastie, the top Democrat in the state Assembly, launched a plan for its judiciary committee to conduct an impeachment investigation.
"The reports of accusations concerning the governor are serious," Heastie said in a statement. "The committee will have the authority to interview witnesses, subpoena documents and evaluate evidence, as is allowed by the New York State Constitution."
Additionally, a group of 59 Democrats, including 19 senators and 40 State Assembly members, said in a letter on Thursday that Cuomo must resign.
"In light of the governor's admission of inappropriate behavior and the findings of altered data on nursing home COVID-19 deaths he has lost the confidence of the public and the state legislature, rendering him ineffective in this time of most urgent need," the letter said. "It is time for Gov. Cuomo to resign."
That same day, New York City Mayor Bill de Blasio called Cuomo's behavior "disgusting" and joined calls for his removal from office.
"He can no longer serve as governor. It's as simple as that," he told reporters on Thursday.
The growing backlash comes amid accusations from six women that Cuomo sexually harassed them, and reports that his administration under-reported COVID-19 nursing home deaths.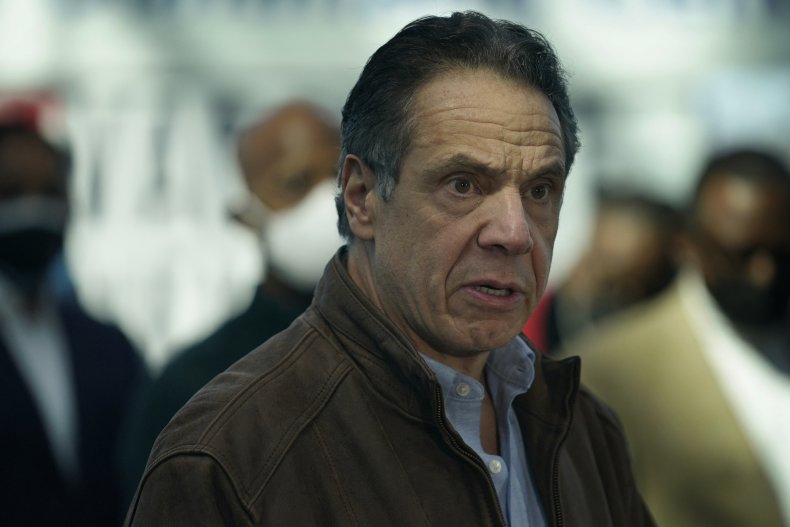 Over the past two weeks, four former aides – Lindsey Boylan, Charlotte Bennett, Ana Liss and Karen Hinton, along with a woman he met at a wedding in 2019 named Anna Ruch – publicly made accusations of sexual harassment against the governor.
Those allegations include unwanted touching and forced kisses, personal probes into sexual history and inappropriate sexual comments.
Then, on March 9, a sixth woman, who is a member of the Executive Chambers staff and has chosen to remain anonymous, accused Cuomo of calling her to the executive mansion where he reached under her blouse and fondled her.
On Wednesday, Cuomo denied the sixth woman's accusations, and called the allegation "gut-wrenching."
"I have never done anything like this," he said in a statement.
A week earlier, Cuomo broadly apologized for his conduct but did not address the other accusations specifically.
"It doesn't matter my intent. What matters is if anybody was offended by it. I could intend no offense, but if they were offended by it, then it was wrong. And if they were offended by it, I apologize. And if they were hurt by it, I apologize. And if they felt pain from it, I apologize," he said on March 3.
The New York governor is currently being investigated by the state's Attorney General, Letitia James as a result of the allegations. On Wednesday, Cuomo said he "feels confident" in the results of her upcoming report.
"This is not a responsibility we take lightly, as allegations of sexual harassment should always be taken seriously," James said.
James' investigation comes after she released a damning report against the governor in January, which unveiled that his administration of under-reporting coronavirus nursing home deaths by the thousands.
The governor's approval rating has since fallen dramatically from 71 percent to 38 percent amid the sexual assault allegations and criticism of his handling of COVID-19.
Newsweek contacted Cuomo's office for additional comment but did not hear back in time for publication.