New York Governor Andrew Cuomo's approval rating has dipped far below pandemic-level highs.
Amid recent scandals regarding sexual harassment allegations and coronavirus-related deaths in the state's nursing homes, only 38 percent of voters approve of Cuomo, according to a NewsNation/WPIX 11/Emerson College poll released Tuesday. Meanwhile, 48 percent of those surveyed disapproved of Cuomo.
That's a significant drop from the 71 percent approval rating the three-term governor had enjoyed based on an Emerson poll conducted in April 2020, when voters hailed Cuomo's pandemic response actions.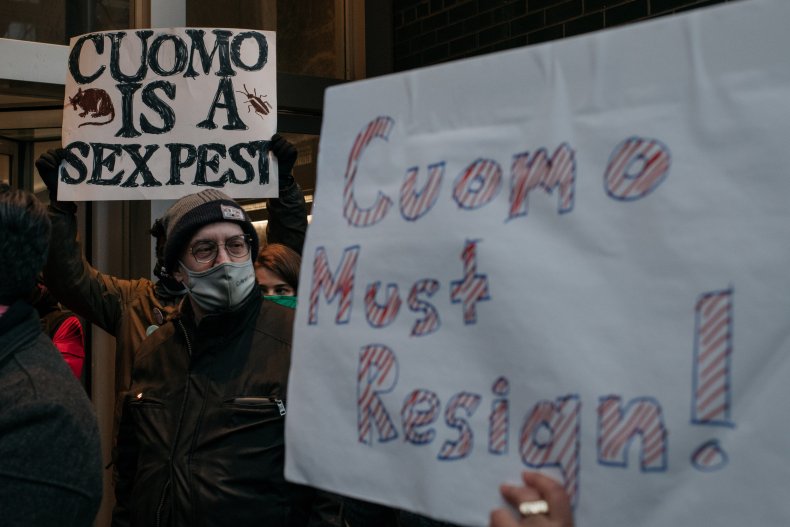 Cuomo's current term is up in 2022, and the Democratic governor is now facing calls to leave office after a string of scandals has brought his leadership into question.
Survey respondents made their opinion clear: 64 percent of voters said Cuomo should not be reelected, and 45 percent believe Cuomo should resign right away over the way he handled COVID-19 in state nursing homes.
The latest polling numbers are the latest strike against the governor, after New York State Attorney General Letitia James reported that his administration undercounted COVID-19 related deaths of state nursing home residents by thousands.
Additionally, Cuomo's top aide revealed last month the administration had withheld data on COVID-19-related deaths at New York's nursing homes as requested by the Department of Justice under the Trump administration. The aide, Melissa DeRosa, claimed Cuomo's team kept the numbers hidden to avoid the data becoming a "political football" for then-President Trump.
The matter had further exacerbated tensions between Cuomo and other Democrats, including New York Assemblyman Ron Kim. He accused Cuomo of prioritizing "profits" over people because the governor catered to lobbyists and granted legal immunity to nursing homes to help that industry avoid malpractice suits.
The State Legislature revoked Cuomo's pandemic emergency powers on Tuesday.
Meanwhile, three women have accused Cuomo of sexual harassment. The poll found 37 percent of voters believe the accusations provide legitimate basis for Cuomo's resignation, while 34 percent do not believe he should step down because of the women's allegations.
Former aide Lindsey Boylan accused the governor in a Medium blog post of spreading a culture of "humiliating" behavior, inviting her to play strip poker, and kissing her at work. Charlotte Bennett, another former aide, came forward to The New York Times and said the governor questioned her about her sex life and dating preferences. A third woman, Anna Ruch, separately told the Times the governor's advances at a wedding left her "confused and shocked and embarrassed."
Most voters said they are unsure at this time whether or not they believe the sexual harassment allegations are true.
Cuomo issued an apology on Sunday, recognizing that some "comments, given [his] position, made others feel in ways I never intended." Yet the poll reported 42 percent of those aware of the allegations were unsatisfied with the governor's statement.
"I acknowledge some of the things I have said have been misinterpreted as an unwanted flirtation. To the extent anyone felt that way, I am truly sorry about that," Cuomo said in the statement.
The study also found that 43 percent of females approve of Cuomo's work as governor and 56 percent of male voters disapprove. It surveyed 700 people from Monday to Tuesday.
Newsweek has reached out to Cuomo's office for comment.