Firearm background checks surged in the week following the violent insurrection at the U.S. Capitol on January 6.
Data from the FBI shows that over one million firearm checks were conducted by the National Instant Criminal Background Check System (NICS) from January 11 to January 17, days after rioters, some of them armed, stormed the halls of Congress. Some members of the pro-Trump riot pledged to commit acts of violence against elected officials. An armed standoff occurred within Congress, and five people in total died in the mob-led attack, including a Capitol Police officer.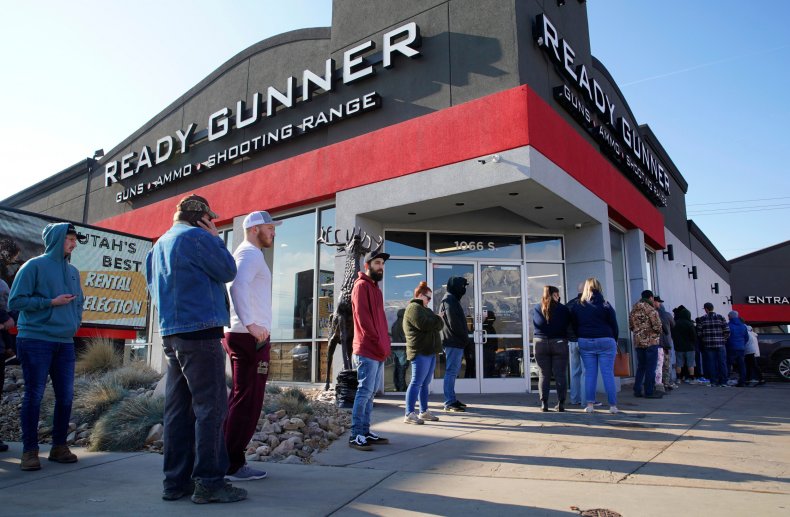 These high numbers of NICS checks don't necessarily indicate gun sales, but rather caution on behalf of state law enforcement, Joshua Horwitz, executive director of the Coalition to Stop Gun Violence said to Newsweek. According to the FBI report, most of the NICS checks conducted last month were permit or permit rechecks. Law enforcement investigate permits to ensure already-licensed gun owners are still eligible to own their firearms.
"There are more NICS checks being done because states are being more fastidious and reviewing their permits," Horwitz said. "You don't want to have a permit out there that's good and never checked. That's really good news."
The increase in NICS checks in the days following the riots at the Capitol are part of a broader trend of background checks increasing since the start of the pandemic. In January alone, the FBI reported it conducted 4.3 million total NICS checks. According to the National Shooting Sports Foundation, over 21 million checks were conducted last year, or 60 percent more than in 2019.
The government checks verify that the permit-holder or buyer does not have a criminal record and is eligible to own a firearm, according to the NICS website. NICS checks don't indicate a sale of a firearm, but they can provide a potential sign post in sales trends.
"We have states doing more background checks because more states have background check requirements," Horwitz said. He added that background check laws are still a "patchwork" across the country, but seeing more NICS checks reported by the FBI not only correlates with increased gun sales but also law enforcement taking permitting more seriously. A number of states, such as Nevada, Colorado and Oregon, have also recently added requirements for background checks, leading to the increase.
Horwitz confirmed that fear and instability translated to increased gun sales in 2020, too. A number of key factors contributed to a sense of chaos in the last 12 months, he said. The COVID-19 pandemic spurred distress and fear among communities. Riots catalyzed by police violence led to increased number of homicides.
Democrat victories in the White House and Congress have also exacerbated gun advocates' fears of increased regulation on gun buying in the U.S.. Second Amendment advocates have been stockpiling firearms since the Federal Assault Weapons Ban expired in 2004, and President Joe Biden has pledged to bring regulation back to the gun sales industry. He campaigned on the promise to ban assault weapons and administer universal background checks to end "our gun violence epidemic."
"You've seen the pandemic. You've seen police violence.… You've seen unprecedented political unrest," Horwitz said. "But there's a big cost. Gun violence is going up dramatically.…The fact is when you put more guns in people's homes, more people die."
Newsweek has reached out to the FBI for comment but did not hear back in time for publication.