Unverified rumours Donald Tump could be about to launch a new political party have been growing since he promised a comeback as he left the White House.
While the former president has not announced any such plan, many of his supporters have championed the idea of a new so-called "Patriot Party."
As Forbes reported, George Papadopoulos has said on Twitter that the "Patriot Party will be a viable third party," Fox Business' Lou Dobbs has suggested the name has a "great ring to it," while far-right social media personalities such as Lin Wood have circulated logos featuring a lion for a party of that name.
Google searches for "Patriot Party" have soared in recent days, with more interest in the term than the "Republican Party" or the "Democratic Party"
But Patriot Party is already a registered trademark and one which is not held under the name Donald Trump.
Analysis of the U.S. Patent and Trademark Office shows that rights to the name are held by another Florida-based individual named Donald: Donald Magyar.
Rights for the name were again held for "membership in a political party" from 2007 until 2017, when the registration was cancelled due to an "unacceptable" filing, World Trademark Review (WTR) magazine reports.
PATRIOT PARTY was registered to Magyar again in January 2020 after he filed two applications, covering political services and membership organisations, the magazine said.
Donald Magyar is named as the founder of the Patriot Party website. A mission statement on the site says the group hopes to "break the political stranglehold of the Democrats and Republicans by replacing them with Patriots at all levels of government."
Attorney Erik Pelton told WTR: "The registration and apparent use of PATRIOT PARTY for identical services does present a significant hurdle to any efforts by Trump or anyone else to use that phrase in connection with a political party or related services."
Newsweek has contacted Trump's representatives and Donald Magyar for comment.
Two unrelated Patriot Party organizations have previously operated in the United States.
One was a socialist group in the 1960s and '70s, and the other had its origins in the United Citizens Party. UCP adopted the name under its 1988 presidential candidate, Lenora Filani, in 1992, according to Ballotpedia. The registration fell dormant in 1996.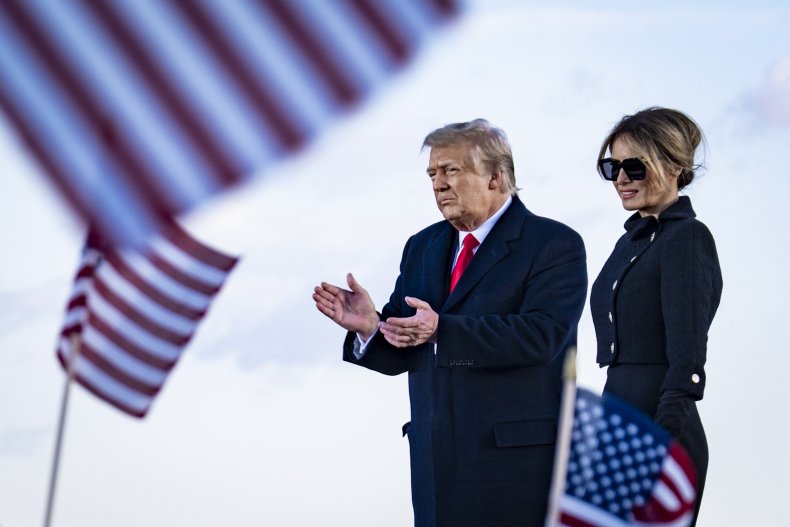 Former president Trump's words as he left the White House last Wednesday sparked intense speculation on his future. "We will be back in some form," he said.
The conjecture has been fueled by his first remark since leaving office. "We'll do something, but not just yet," Trump told the Washington Examiner on Friday as he dined at the Trump International Golf Club in Florida.
Recent polling, however, indicates most people across the country hope that he won't run for president again.
A YouGov/The Economist survey, conducted from January 16 to 19, found 55 percent of those asked said they did not think Trump should be able to run for office again. Among those who voted for Trump in 2020, 12 percent said they did not think he should be able to run again.
Trump faces a senate trial, beginning the week of February 8, after he was impeached for his alleged role in inciting rioters at the U.S. Capitol on January 6. That trial could potentially result in him being banned from holding office again.
He did not attend Joe Biden's inauguration, flying to Joint Base Andrews in Maryland early on January 20, where he addressed a crowd of around 200 people for about 10 minutes.
"I wish the new administration great luck and great success. I think they'll have great success," he said, before heading to Palm Beach with his family.