'Perfect Match': Chloe Reveals 'Insane' Connection With Shayne After Split
Perfect Match contestant Chloe Veitch has opened up about her surprising romance with Love Is Blind star Shayne Jansen.
Veitch is a very familiar face to Netflix viewers. She featured on Too Hot to Handle Season 1 and The Circle Season 2, and is now part of the cast of new dating show Perfect Match.
The show first premiered on February 14. The first four episodes saw reality television favorites like Jansen, Dom Gabriel from The Mole, Francesca Farago from Too Hot to Handle and Joey Sasso from The Circle travel to a tropical location in search of romance.
A batch of four new Perfect Match episodes, hosted by Nick Lachey, arrived on Netflix on February 21. Veitch was brought into the fold after Jansen was set up on a date with her, and the pair hit it off.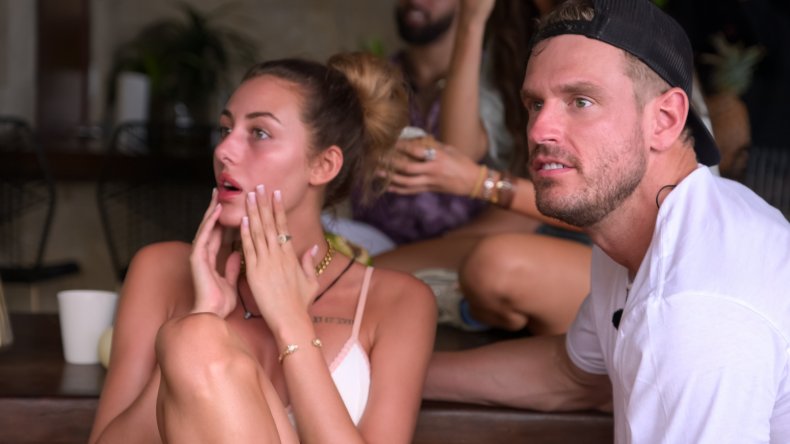 Veitch, 23, and Jansen, 33, were seen enjoying a romantic date where they seemed to form a strong connection, and the duo then matched up.
On Perfect Match, contestants must couple up with the co-star they think they have the best connection with. They then compete in a series of games and compatibility challenges.
Speaking ahead of her debut on the show, Veitch opened up about her strong bond with Jansen, which came as a surprise to viewers: and the star herself.
Veitch told Newsweek that she didn't know anything about Jansen before Perfect Match, and hadn't seen him on television before.
"I'm going to be honest with you, I didn't even watch Love Is Blind the season that he was on," she said of Jansen. He starred on the second season of the Netflix show that sees contestants date and get engaged in special pods, which prevent them from seeing their potential suitors face to face.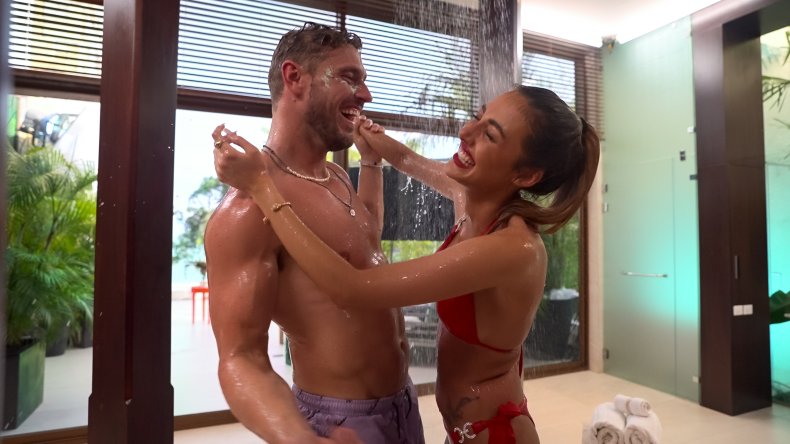 Veitch added that she was surprised at how quickly she fell for Jansen, and that she fell in love with him during their time together.
"It was a complete shock when I first [saw] him. For me, it felt like love at first sight. The connection that we had was insane," Veitch said.
"It was a duo that I didn't know I needed to be in!"
Veitch added: "We were inseparable, and then obviously things turned a corner."
The "corner" Veitch is referring to is the arrival of her ex-boyfriend and former The Circle co-star Mitchell Eason, whom she dated throughout 2021.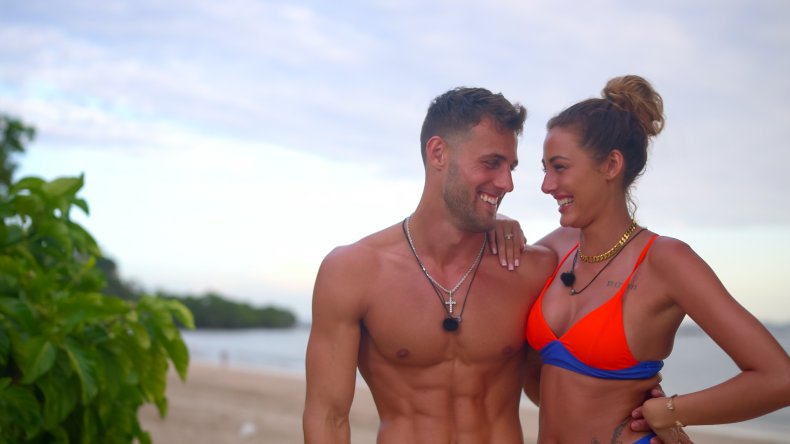 Eason joined the cast of Perfect Match shortly after Veitch and Jansen first matched up. During a romantic date together, the former couple kissed.
Veitch was then forced to choose between her new love Jansen and her old flame Eason. She ultimately decided that she wanted to give things another go with her ex.
Jansen was unable to match up with any other contestants, meaning he had to leave the villa.
Veitch and Eason are now up against the other couples together on Perfect Match. They include Dom Gabriel and Georgia Hassarati, Francesca Farago and Damian Powers, and Joey Sasso and Kariselle Snow.
With more episodes still to come next week, anything could happen and, ultimately, only one pairing will be crowned the Perfect Match during the season finale.
The first eight episodes of Perfect Match are available to stream on Netflix now. The final four episodes will be released on February 28.