Pete Buttigieg Wants a 'Grand Bargain' on Immigration Including Pathway to Citizenship, Border Security and 'Something to Do for Dreamers'
Pete Buttigieg has given some details about his position on immigration, suggesting that "something" should be done about Dreamers while arguing more border security was also necessary.
The South Bend, Indiana, mayor and 2020 presidential candidate said in an interview with Vogue magazine published Monday that immigration was not actually as divisive as it may often seem to be. "The dark miracle of this administration is that it's taken immigration—a subject on which basically there's a consensus on the part of people about what to do—and turned it into a wedge," Buttigieg said.
Buttigieg, who has been criticized over his decision to avoid releasing specific policy proposals for the time being, told Vogue he envisioned a "grand bargain" on immigration, including "pathways to citizenship, reforms for the lawful-immigration system, something to do for Dreamers, and some kind of border-security package."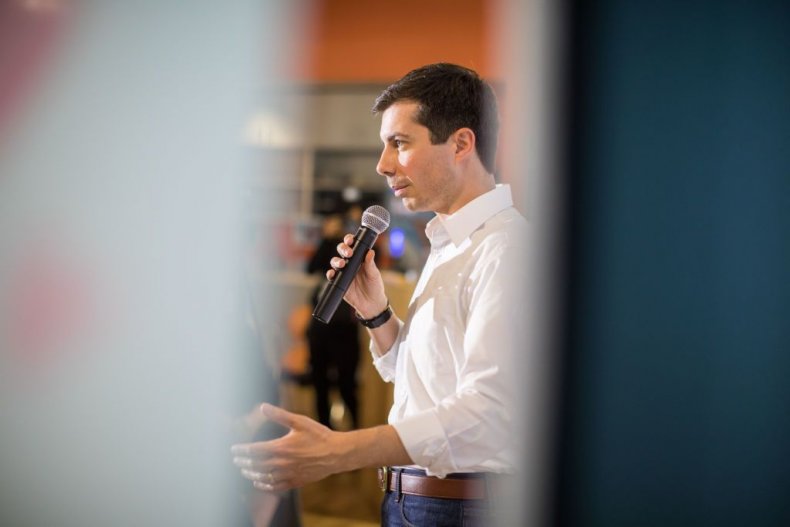 Buttigieg's campaign did not immediately respond to Newsweek's request for further clarification.
In a February interview with Newsweek, Buttigieg said he believed the way forward on the issue was "comprehensive immigration reform."
"Border security alone isn't going to solve this problem," he said at the time. "First we need border security, but by the same token, a fence or a wall alone isn't going to solve border security. This requires a lot of different pieces, and requires a more rational approach, as opposed to the president's highly emotional and highly divisive approach."
In his interview with Vogue, Buttigieg also weighed in on the stakes of the 2020 election, suggesting that whoever wins could have an outsized impact on the future of the country. "The next presidency could, I'd say, define an era in no smaller way than either FDR or Reagan," he said.
Virtually unknown on the national stage when he launched his presidential campaign exploratory committee in January, Buttigieg has quickly risen in prominence and seen his poll numbers jump. The current average of national polls by Real Clear Politics shows the South Bend mayor in fourth place among declared candidates, with 7.5 percent. He trails former Vice President Joe Biden (29.3 percent), Senator Bernie Sanders (23 percent) and Senator Kamala Harris (8.3 percent). In recent Emerson and Morning Consult polls he came in third place, with 9 percent, just ahead of Harris, at 8 percent.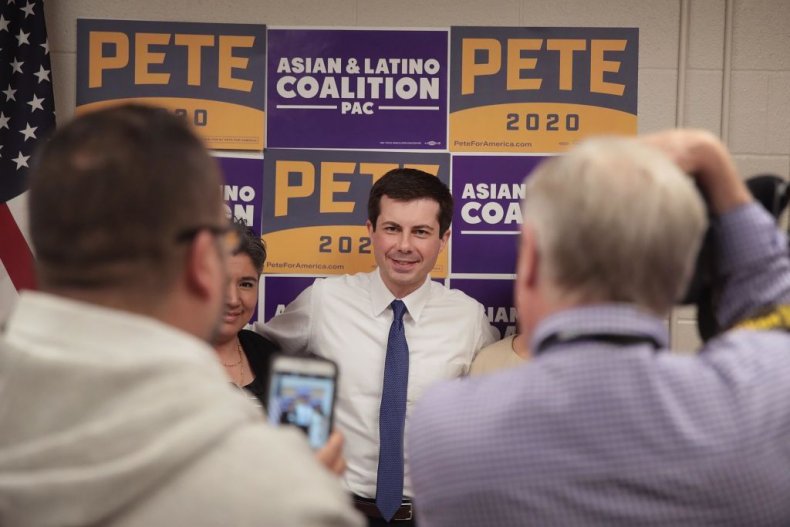 He has also drawn criticism. Concerns have been raised about his efforts to address poverty among minorities in South Bend during his tenure as mayor. Others questioned his position toward Israel and the Palestinians. And some have complained that he has offered few concrete policy positions, focusing instead on building his national profile without offering substance.
But Buttigieg has come out in favor of several key Democratic policies, including the Green New Deal championed by progressive Congresswoman Alexandria Ocasio-Cortez of New York. He also criticized the Trump administration's efforts to add a citizenship question to the national census, and argued that many of the nation's wealthiest are "not paying their fair share."
Although he has voiced support for several progressive policies, he has also drawn a line between himself and Sanders. In a recent interview with The New York Times, Buttigieg said that "people were refreshed by the novelty of [Sanders'] boldness" back in 2016, but suggested he did not think the 77-year-old self-described democratic socialist would appeal to voters in the 2020 general election. "I have a hard time seeing the coalition ultimately coming together there," he said.