Pete Buttigieg Leads Joe Biden in Key 2024 Primary State: Poll
Transportation Secretary Pete Buttigieg holds a narrow lead over President Joe Biden in New Hampshire, traditionally the first state to hold a Democratic primary for president, according to a new poll on the 2024 race.
Some Democrats are already looking for alternatives to Biden, who has said he plans to run for reelection in 2024 but faces low approval ratings amid concerns about his age and Democrats' worries that the White House could flip back to GOP control.
The University of New Hampshire's poll shows Biden's waning popularity among Democrats may be slipping enough to threaten his chances in the Democratic primary should he face a serious challenger.
Buttigieg received 17 percent of support from likely Democratic primary voters, while Biden had 16 percent. This marks a shift from earlier polling, which found Biden holding a solid lead against potential Democratic opponents even as his approval rating was dropping.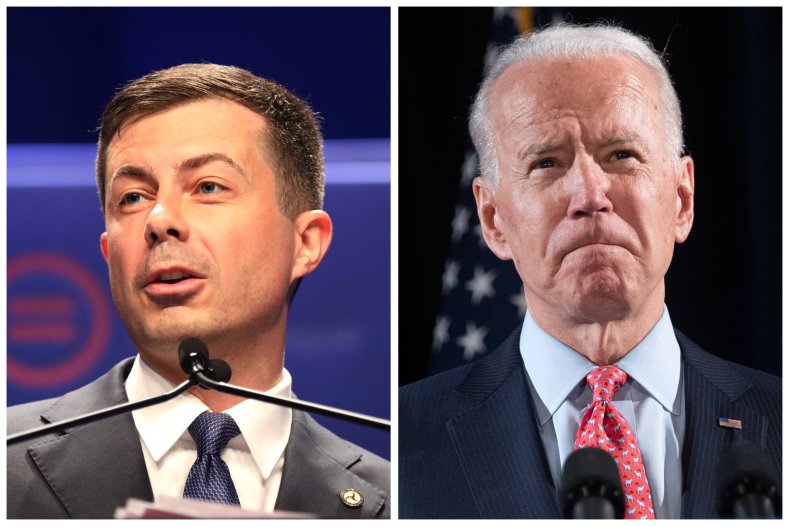 The new poll had Massachusetts Senator Elizabeth Warren and California Governor Gavin Newsom getting 10 percent support, Minnesota Senator Amy Klobuchar at 9 percent, Vermont Senator Bernie Sanders at 8 percent and Vice President Kamala Harris at 6 percent.
With a little over two years until the general election, only 6 percent of voters said they were unsure whom they would vote for, according to the poll.
Why New Hampshire Is a Key Primary State
New Hampshire holds outsize importance in the Democratic presidential primary. While it has been the first state to hold a presidential primary, the Democratic National Committee is reevaluating this for future elections as it considers states viewed as more representative of the general electorate.
Candidates who do well in early primary states such as New Hampshire are often viewed as serious contenders for the party's nomination and receive more media attention as well as political momentum.
Advocates for keeping New Hampshire as the first primary say it remains a key battleground state in presidential elections that Democrats have won recently. The state has a trigger law that moves its primary ahead in case any state tries to schedule its primary before the Granite State's.
In 2020, Biden struggled to win significant support during New Hampshire's Democratic primary race. He received only 8 percent of the vote in the state. Sanders won just under 26 percent, while Buttigieg got about 24 percent.
Ultimately, Biden's success in the South Carolina primary, less than a month later, helped him secure the Democratic nomination, despite his weak showing in New Hampshire—which he won in the general election by more than 7 points.
Buttigieg Is Quiet on Possible 2024 Bid
Buttigieg, meanwhile, has been mum about the possibility of running for president again. It would remain unusual for a Cabinet member to run against the president, should Biden seek another term.
If Biden does run, he would likely face a difficult campaign. Polls show that he and former President Donald Trump, who has hinted he will run in 2024, would be in a highly competitive race.
Biden already has his first official Democratic opponent for the 2024 nomination. Political activist Jerome Segal announced his campaign on Monday, noting what he called Biden's "embarrassing" trip to the Middle East earlier this month.
Newsweek reached out to the White House for comment.