Pete Buttigieg Rejects Narrative of 'Rivalry' With Kamala Harris as Her Approval Tanks
Transportation Secretary Pete Buttigieg rejected the narrative that there is a rivalry between him and Vice President Kamala Harris as her poll numbers have tanked and some have speculated that he could mount another presidential campaign in 2024.
President Joe Biden has said publicly that he expects to seek a second White House term, but due to his age and sinking approval rating, some analysts have suggested he will step aside and allow another Democratic candidate to run instead. Although Harris, as vice president, would be seen by many as the first choice, her poll numbers are even worse than Biden's—leading some to speculate about a Buttigieg campaign.
The White House, Harris and now Buttigieg have publicly dismissed any reports of internal tensions within the administration. The transportation secretary was asked about the issue during a Sunday interview with NBC News' Meet the Press.
"Every time something's written about Vice President Kamala Harris' political standing, your name seems to be in every one of those articles. Has it at all impacted your relationship with the vice president, that it seems as if there's this narrative of a rivalry developing between the two of you?" host Chuck Todd asked Buttigieg.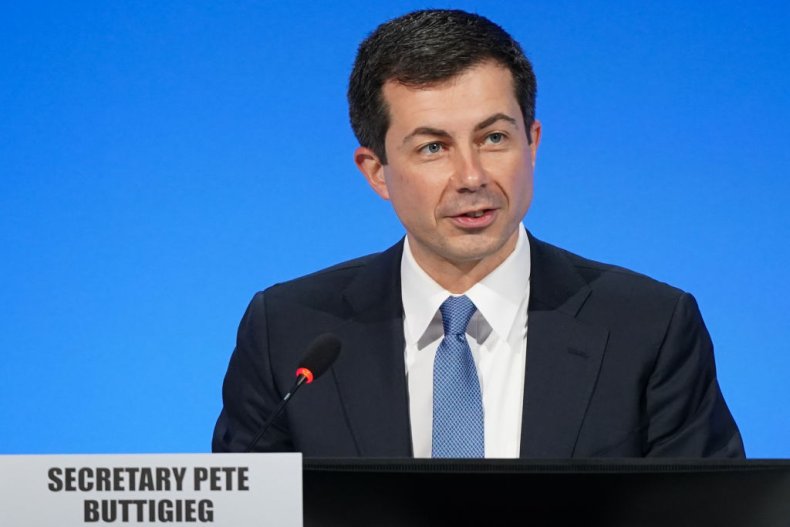 Buttigieg dismissed the suggestion. "No, because she and I are part of a team that is disciplined and doesn't focus on what's obsessing the commentators. We're too busy with a job to do," he responded.
The Biden administration official said that he and Harris are "laser-focused on getting the job done," adding that "there's no room to get caught up in the parlor games" and he's "proud to be part of the Biden-Harris team."
Newsweek reached out to the White House for further comment but did not immediately receive a response.
Biden started out his presidency with an approval rating among the American public above 50 percent. That rating has plummeted over the past year, as a number of crises have plagued his administration. The current FiveThirtyEight average of recent polls shows 42.5 percent of Americans approve of the president.
Meanwhile, Harris has seen an even more substantial drop in her approval rating. As of April, FiveThirtyEight had the vice president's average approval rating at north of 55 percent. That number has tanked precipitously to just 36.9 percent as of the present.
Although there has been speculation that Biden—who will be 81 at the time of the next presidential election—will step aside, Harris said last week that they are not currently discussing the 2024 election. Asked by ABC News whether the next presidential election was a topic of conversation between her and Biden, Harris replied, "absolutely not."
Harris and Buttigieg both ran unsuccessfully for the Democratic presidential nomination ahead of the 2020 election. They eventually dropped out and endorsed Biden.
Harris suspended her campaign in early December 2019, before the caucuses and primaries were underway. Buttigieg—the former mayor of South Bend, Indiana—ended his presidential bid and endorsed Biden in early March after the now president won decisively in South Carolina's Democratic primary.