Poll Finds Strongest Abortion-Rights Support Since 2003 Start of Question
Support for abortion-rights in the U.S. has hit a record high since a poll from NBC News first began surveying the issue in 2003.
The poll, which was released on Sunday, was conducted after a recently leaked draft opinion from the Supreme Court stated that a majority of justices are prepared to overturn Roe v. Wade, a landmark case that has protected federal abortion-rights since 1973. The latest survey found that 63 percent of Americans oppose abolishing the legislation.
In total, the poll found that 60 percent of those surveyed believe abortion should be a legally protected right. Of those, 37 percent said it should always be legal, while 23 percent said it should be legal most of the time. However, 32 percent said abortion should be illegal with exceptions while 5 percent said it should have no exceptions.
Those figures represent the highest level of support for abortion-rights in the U.S. since the NBC News poll began nearly two decades ago. In last year's survey, 54 percent of respondents said that abortion should be legal, while just 44 percent said the same in 2003.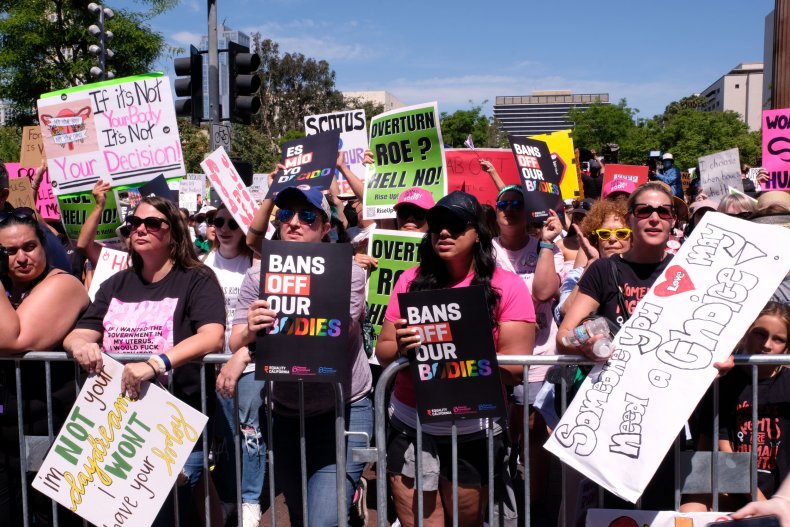 Across party lines, the latest poll found that 84 percent of Democrats and 63 percent of independents said abortion should be legal, while just 33 percent of Republicans agreed. Additionally, 52 percent of all registered voters said they are less likely to vote for a candidate who supports overturning Roe v. Wade.
The poll was conducted using 1,000 adults from May 5 to 7 and May 9 to 10. It has a margin of error of plus or minus 3.1 percentage points.
The Supreme Court draft does not mark a final decision, but it has since sparked outrage among activists who fear what the U.S. will look like if abortion-rights are left entirely to the states. As Newsweek previously reported, nearly half of the country could soon outlaw access to safe abortions if Roe v. Wade is officially overturned. In some states, lawmakers have even vowed to implement a total ban on abortion, with no exceptions for pregnancies that result from rape or incest.
This weekend, thousands of advocates marched across major U.S. cities to protest the leaked draft opinion. Activists have also rallied outside of the Supreme Court, and gathered near the homes of conservative justices to demand federal abortion protections.
Supporters have largely blamed the issue on the current makeup of the court, which is comprised of six conservative-leaning justices and three liberal-leaning justices. Earlier this week, Senate Democrats failed to pass legislation that would codify abortion-rights at the federal level, with every Republican lawmaker voting against it.
"To protect the right to choose, voters need to elect more pro-choice senators this November, and return a pro-choice majority to the House," President Joe Biden, who has long been an advocate for abortion-rights, said in response to the effort. "If they do, Congress can pass this bill in January, and put it on my desk, so I can sign it into law."