Biden Ignores Manchin's 'No' Vote While Slamming GOP Over Abortion Bill
As Democrats move to wage a midterm battle over abortion, President Joe Biden criticized Senate Republicans for their votes against a bill seeking to codify Roe v. Wade.
However, one Democratic lawmaker was among Wednesday's "no" votes that quashed the effort to lock in the right to abortion nationally as the Supreme Court prepares to overturn the landmark case.
Senator Joe Manchin of West Virginia, a moderate Democrat who has repeatedly voted out of step with his party, was the only one to break from party lines in the Senate vote. Yet Biden, who has previously promised to codify abortion rights into law, left Manchin's name out of his response to the failed vote, shifting the blame onto the GOP senators who blocked the passage of the Women's Health Protection Act.
"Republicans in Congress—not one of whom voted for this bill—have chosen to stand in the way of Americans' rights to make the most personal decisions about their own bodies, families and lives," the president said in a statement.
Although Manchin said he supports the codification of Roe, he told CNN's Manu Raju ahead of the vote that the bill under consideration was "too broad of an expansion."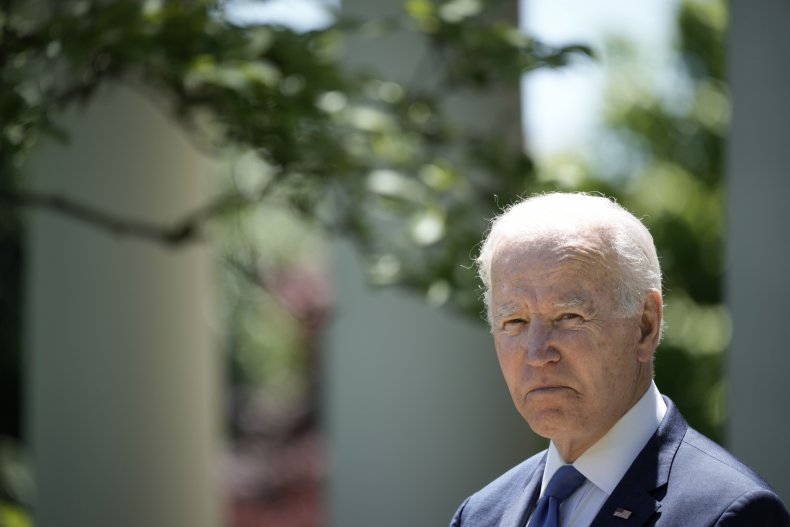 Biden used the opportunity to urge Americans to show up at the voting booth during the midterm elections and to cast their ballot for Democrats in a slew of congressional races, promising that a wave of blue victories would help guarantee the passage of similar legislation to codify Roe.
"To protect the right to choose, voters need to elect more pro-choice senators this November, and return a pro-choice majority to the House," he said. "If they do, Congress can pass this bill in January, and put it on my desk, so I can sign it into law."
Biden said that although the bill, which would have created a federal statute guaranteeing health care providers' right to provide abortions and the right of patients to seek and receive them, did not pass, his administration would continue to work to uphold the ruling in Roe.
The president, a practicing Roman Catholic, has rarely been a vocal supporter of abortion rights, but last week's leaked draft from the Supreme Court has turned Biden into an unlikely champion of reproductive rights.
While he's addressed the issue in recent days, he has often shifted the conversation to a larger concern that a ruling overturning Roe—alongside fears that Republicans would enact a national abortion ban should they win legislative majorities in the midterms—could threaten other individual liberties of Americans.
"This is about a lot more than abortion," Biden told reporters last week, pointing to gay rights and birth control. "What are the next things that are going to be attacked? Because this MAGA crowd is really the most extreme political organization that's existed in American history—in recent American history."
Newsweek reached out to the White House for comment.